Thank you for making Paint for Preservation 2016 a stunning success!
Ninth Annual
Wet Paint Auction Benefit and Raffle
Sunday, July 10, 2016
Spurwink Farm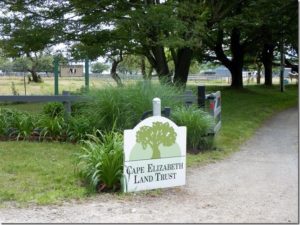 On Friday, July 8, Saturday, July 9, and Sunday, July 10, thirty artists from Maine and beyond – all participants in CELT's 9th annual Paint for Preservation Wet Paint Auction – braved the sometimes cold and rainy weather to set up easels in some of Cape Elizabeth's most scenic locations. On Sunday evening, these artists were joined by nearly 400 guests at Spurwink Farm, a bucolic working farm, for a tented reception and live auction. All paintings were sold, with proceeds shared between CELT and the artists. New to the event this year was a Mystery Box Art Sale which quickly sold out. Proceeds of that sale, too, were shared between CELT and the artists.
With appreciation we recognize:
Hosts
Phineas and Mary Lou Sprague
Media Sponsor
Maine Home + Design
Preservation Sponsors
Ethos
KeyBank
R.M. Davis, Inc.
Conservation Sponsors
Atlantic Parking Services
Inn by the Sea
Nappi Distributors
Town & Shore Associates
Wright-Ryan Homes
Stewardship Sponsors
Casco Bay Frames & Gallery
Eyecare Medical Group
Maine Limousine Service
Ocean House Gallery and Frame
ReVision Energy
Veterinary and Rehabilitation Center of Cape Elizabeth
Restaurant Sponsors
Aurora Provisions
C Salt Gourmet Market
The Cookie Jar
CVC Catering Group
Harbor Fish Market
The Local Buzz
Otto
Rudy's
Saltwater Grille
Scratch Baking Company
Solo Italiano
SoPo Bar and Grille
Terra Cotta
We extend a special thanks to Brett Cary, Personal Chef, for his graceful coordination of the event's catering.
Event Sponsors
Thomaston Place Auction Galleries, Kaja Veilleux, Auctioneer
Music
Cul de Sax
Wet Paint Juror
Elizabeth Moss, Elizabeth Moss Gallery, Falmouth, Maine
Artists
Joshua Adam
Jacob Aguiar
Kevin Beers
Catherine Breer
Daniel Corey
Marsha H. Donahue
F. Michael Dorsey
Cooper Dragonette
Erin McGee Ferrell
Philip Frey
Margaret Gerding
Roberta Goschke
Frank Gregory
Alison Hill
Jill Hoy
Berri Kramer
Marguerite Lawler
Caren-Marie Michel
John David O'Shaughnessy
Colin Page
Pratima Rao
Bjorn Runquist
Matthew Russ
John Santoro
Caleb Stone
Janet Sutherland
Judy Taylor
Emily Leonard Trenholm
Michael Vermette
Peter Yesis
(Event photos coming soon!)
Thank you for supporting the Cape Elizabeth Land Trust!