Annual Meeting
Sunday, November 10, 3:00-5:30 p.m. Purpoodock Golf Club, Cape Elizabeth
Each year, members, supporters, and friends of the Cape Elizabeth Land Trust (CELT) gather for our Annual Meeting on a Sunday afternoon in November to socialize and celebrate connection to community, to hear a well-known speaker or speakers address a timely topic on conservation in the community, and to engage in lively discussions to explore the issues raised by the speaker.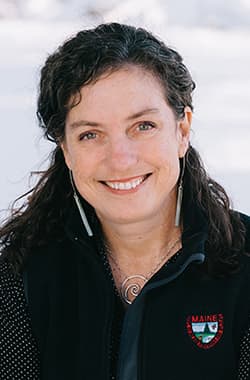 Our Keynote Speaker this year is Judy Camuso, Commissioner of the Department of Inland Fisheries and Wildlife
Judy Camuso is the first woman to serve as Commissioner of the Department of Inland Fisheries and Wildlife, overseeing the preservation, protection and enhancement of the inland fisheries and wildlife resources of the state. Camuso has over 20 years' experience with MDIFW and Maine Audubon, and has led several statewide natural resource initiatives as wildlife director for MDIFW. In 2018, Camuso was named one of Maine Magazine's 50 Mainer's of Maine and, in 2015, she received MDIFW's Employee of the Year, Governor's Award. She is a licensed bird bander and an avid birder, as well as a hunter, who canoes, hikes and bikes.
Participation is open to the general public and free to all to attend. Please RSVP to info@capelandtrust.org by November 1, 2019.

Many thanks to our event sponsors, whose support is critically important for our work:
Frank Strout, Realtor
RE/MAX Oceanside
Sponsors are Welcome

Sponsorship support is critically important to CELT's ability to engage and attract a large number of people to attend.
As a community-based land conservation and educational non-profit, CELT enjoys exceptionally strong brand awareness among town residents – 87% feel that the organization is a 'valuable resource' to the community, according to a survey conducted by Critical Insights. CELT is supported by a wide cross-section of demographics, and attendance at this event reflects a diversity of gender, age and income. Median family income in Cape Elizabeth is $103,474. Ninety percent of CELT members live either full- or part-time in Cape Elizabeth and the surrounding communities.

Click to view the Levels and Benefits of Sponsorship.

If you are interested in becoming a sponsor, please contact Patty Renaud, Membership and Development Manager, 207.767.6054 patty@capelandtrust.org.