Paint for Preservation 2020
Thank you to everyone who participated in Paint for Preservation, joined our CELTebration, or just followed along through our emails and social media posts! As you know, this is our only fundraising event, and we really didn't know what to expect this year with everything else going on.
I am happy to report that we received over $100,000 total from the auction and mystery box sales, which will be split between the artists and CELT in support of both our mission and the local art community. An additional thank you is due to all of our corporate sponsors and members of the inaugural host committee, whose additional contributions helped cover the costs of the event and made up for the lack of paid ticket sales compared to our usual event.
It is a testament to our membership and community that we can carry out a successful fundraiser, launch a capital campaign, and celebrate a new land acquisition all within the span of a couple of weeks. Thank you to all of you for contributing to our ongoing work.
With gratitude,
Cindy Krum
Executive Director, CELT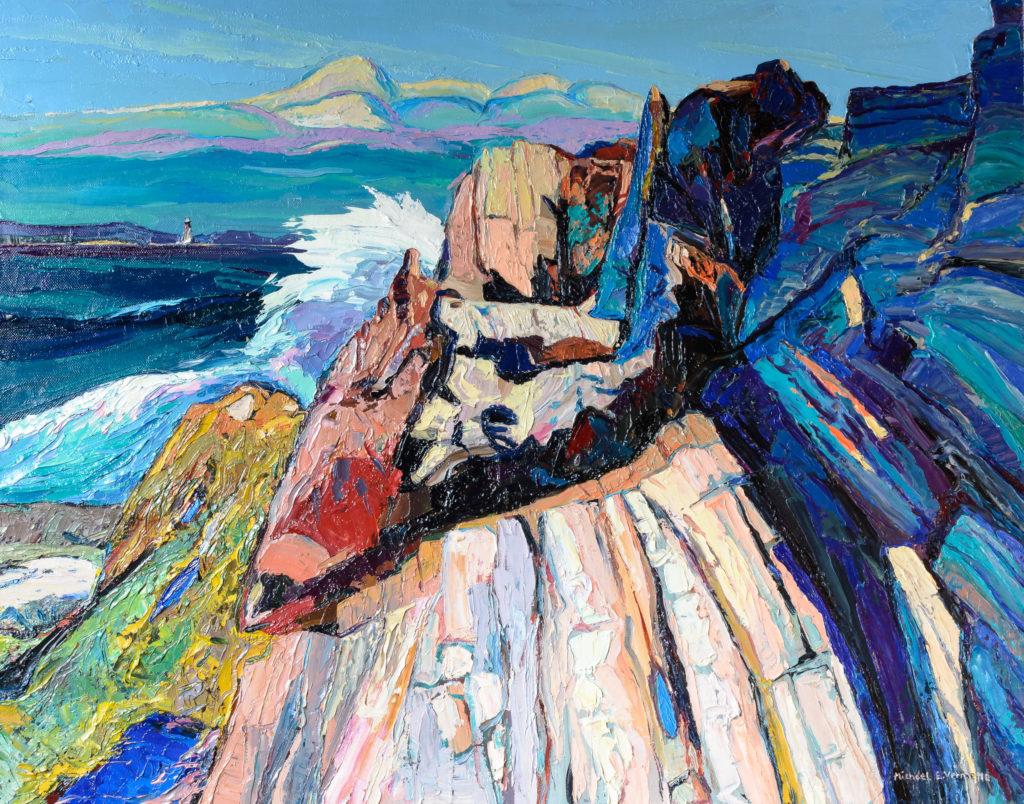 Quick Links:
Online Auction Details
Thirty-two of Maine's leading plein air artists contributed to this year's Paint for Preservation, and, as always, their paintings are stunning.
Bidding opens Saturday, September 12 at 8 a.m. and closes at 9:00 p.m. Sunday, September 13. Even if you have made a donation already, you must be registered at the auction site to bid!
No need to buy a ticket, but we ask that everyone register on the site whether you bid or not. It's free!
Paint for Preservation funds about 25% of CELT's budget, and we hope you will make a donation while you're there. (Or, donate now!)
Mystery Boxes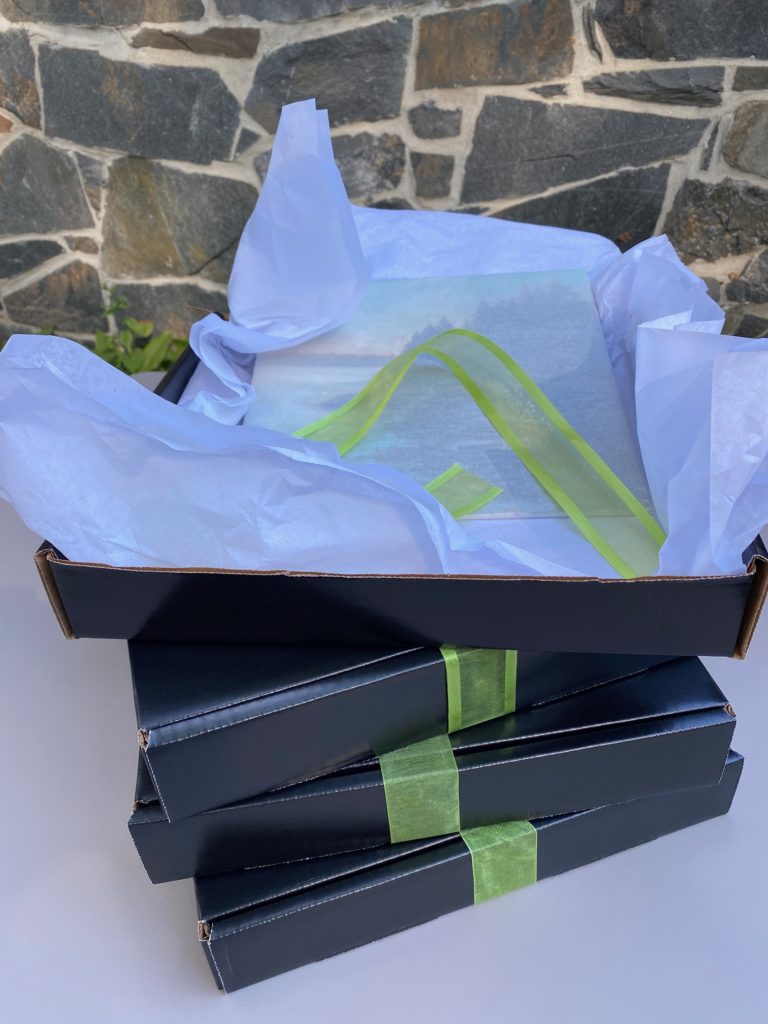 The ever-popular Mystery Boxes containing smaller works by participating artists will be on sale for $250 starting Saturday as well. These smaller works by participating artists always sell out quickly — we have a limited quantity — so don't miss yours!
Online "CELTebration"
Sunday, September 13, 5:00-6:00 p.m.
Make yourself a "CELT Color Theory" signature cocktail (recipe below) and join us in celebrating Cape Elizabeth's amazing places and the amazing artists who bring those places into our homes each year. Our line up includes live interviews with trail users and artists, amazing video footage created by CELT volunteers Dave Pratt and Steve Underwood, and an update on CELT activities by Executive Director Cindy Krum.
The CELTebration will be accessible on both Zoom and Facebook Live. (Many thanks to our emcee Kymberly Dakin-Neal and tech support Kate Stenberg.)
CELT Color Theory Cocktail
(or Mocktail)
Thanks to Inn by the Sea bartender Eddie Inness for creating this signature cocktail to help recreate the feel of our traditional Paint for Preservation seaside reception! He named it, "Color Theory" as a nod to our artists, because you mix three different colors and get a new one. And, the blueberry syrup (or blueberry vodka) brings out its Maine roots. This drink – and its non-alcoholic counterpart – will be available at the bar at the Inn all weekend, too.
So, pull out your bar utensils and get ready to craft this delicious blend, then settle in for our CELTebration and get bidding on the exquisite pieces of art in the auction.
INGREDIENTS
1.5 ounces of vodka*
.5 ounces of limoncello
6-8 ounces of lemonade
.25-.5 ounces of grenadine
.25-.5 ounces of blueberry simple syrup
Pour vodka & limoncello in a rocks glass with ice. Add lemonade to fill the glass a little over 3/4 from the top. Pour the Grenadine over the back of a spoon into the glass – this will cause a layering effect. Pour the simple syrup into a spoon and drizzle into the glass. Once everything is added, use the spoon to stir, creating a wonderful new color.
Are you making a MOCKTAIL? Eliminate the vodka and limoncello, and you have yourself a light fruity drink.
*for more of a blueberry taste you can use Blueberry Vodka.
Blueberry Simple Syrup: Boil equal parts water and sugar, then add in another equal part of blueberries once the sugar is fully melted. Take the pot off the heating element and strain before the blueberries start to burst (usually around 4-5 minutes). Store refrigerated.
Thanks to Participating Artists
Click here to read their bios.
Lyn Asselta • Olena Babak • Charles Fenner Ball • Paul Bonneau • Ken DeWard • Marsha Donahue • Mike Dorsey • Carol Douglas • Cooper Dragonette • Erin McGee Ferrell • Margaret Gerding • Frank Gregory • Alison Hill • Jill Hoy • Anne Ireland • Lisa Kyle • Marguerite Lawler • Janet Ledoux • Nathaniel Meyer • James Mullen • Colin Page • Holly Ready • Bjorn Runquist • Matt Russ • John Santoro • Lou Schellenberg • Caleb Stone • Janet Sutherland • Judy Taylor • Emily Trenholm • Michael Vermette • Graham Wood
All artists donate a portion of art sales to benefit CELT's conservation programs.
Enter your email to stay up to date!
Get news about Paint for Preservation in your inbox.
Thank You to our Inaugural Host Committee
Our Host Committee recognizes those who demonstrate their commitment to bringing art and conservation together by giving an extra level of support to ensure that this great event continues. We're grateful for the overwhelming support we've received. Thank you!
Greg and Impy Altznauer
Stephanie Anderson
Bob and Linda Ayotte
Bath Savings Institution
Laura and Wyman Briggs
Anne Carney and David Wennberg
Chris and Mary Anne Cary
Bruce and Phyllis Coggeshall
Julian and Maryellen Coles
Claudia Dricot
Nate Fick and Margaret Angell
Carol Fritz
Emily and Jamie Garvin
Mike and Malisa Gatje
Lisa and Steve Gent
Amy Gilfenbaum
Elizabeth Goodspeed and Aaron Parnes
Lisa Hallee and Eric Sharpe
Priscilla A Harrison and Peter O. Dixon
Jean C. Hayes
Susanna Measelle Hubbs and Rob Hubbs
Kathleen and Herb Janick
Curt and Nancy Kelly
Brigitte and Hal Kingsbury
Mary Kurucz
Bill Luneburg
Jim and Nancy Martin
Kay and Tim McDonald
Suzanne and Neil McGinn
Jan Molleur and Gary Bickford
Liz and Tom Murley
Bo Norris and Cathy Houlihan
Anne and Vincent Oliviero
Adrienne Paiewonsky and Paul Girdis
Arlyn Roffman and Bill Greenberg
Nancy Ross and George Viles
Jim and Patricia Staley
Frank and Nancy Strout
Sue Sturtevant
Michael and Alison Tumas
Dr. Joe and Ann Wight
Tim and Liz Williams
A Big Thank You to our Sponsors!
We rely on the generous support of sponsors, without whose contributions we could not offer this event.