Tim Blackstone is a bit of a different type of CELT volunteer. Rather than helping us fight invasive plants, lead nature walks or build trail bridges, Tim is steering the redesign of our website, which is being entirely donated by VONT Performance Digital Marketing of Westbrook. Scheduled to be revealed next month, the website rebirth is a huge undertaking and CELT is extremely grateful to Tim and to all the folks at VONT for this incredible donation of time and talent.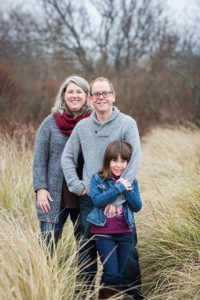 "We visited Maine (in January!) to determine if it was a good fit, and we were hooked.
We felt an instant connection to Cape Elizabeth in particular with the proximity to the ocean, the natural spaces, the neighborhood feel. We love being outdoors and we found this location has so much to offer – hiking, trips to the beach, camping, afternoons at Ft. Williams and Two Lights – the list goes on and on."
"When our daughter was born, we fell in love with Cape Elizabeth in other ways; the outstanding teachers, the cultural opportunities, the summers…. Seen through the lens of being a parent, Cape Elizabeth is truly an exceptional place. We live in Shore Acres and absolutely love the closeness of the schools, the established community feel, exploring Trundy Point (where we spend a lot of time), riding bikes to Kettle Cove, strawberry picking at Maxwell's Farm, and hearing the sound of the ocean."
"Working on this project has added an additional dimension in getting to know the team at CELT – not just as an organization, but as individuals – and see their enthusiasm and commitment to the community first-hand."
Tim's commitment to this project is a gift to Cape Elizabeth, as the redesigned website will facilitate a closer connection for our neighbors to our initiatives, our events and our properties. Tune in next month to see what Tim and his team at VONT have created!