Self-Guided Walk at Maxwell Farm — Dyer Field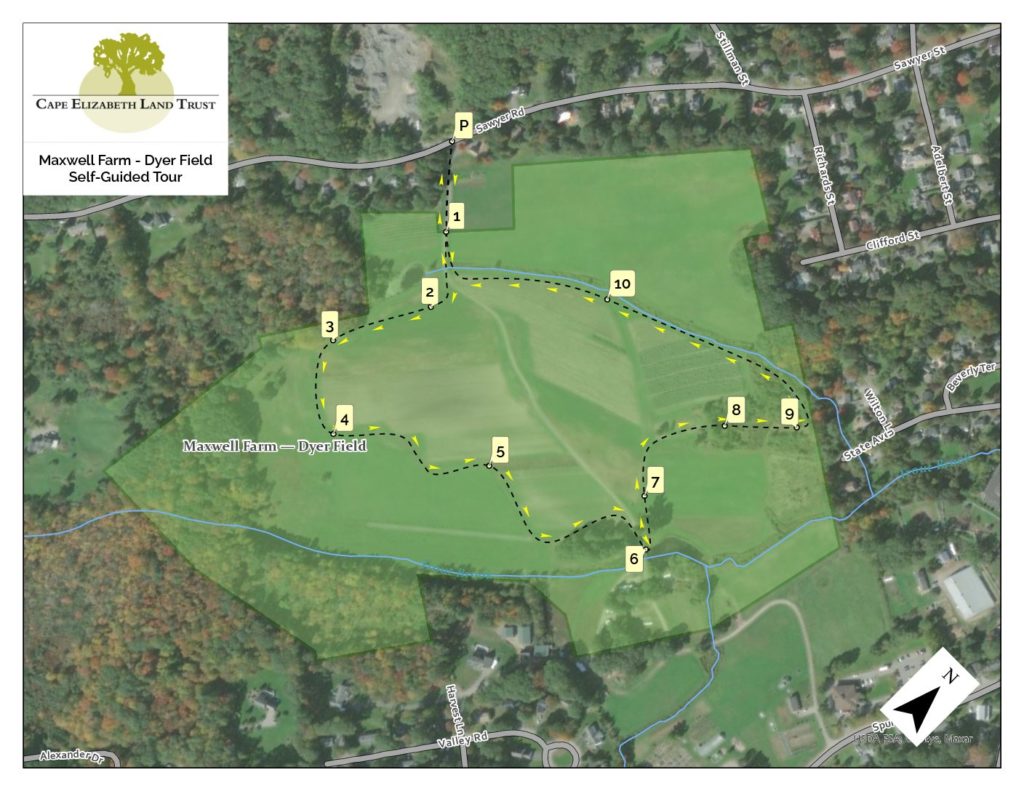 Welcome to Maxwell Farm!  Thanks to the generosity of Nate and Cathy Maxwell, we are able to enjoy a special exploration through Maxwell field today. Normally this field is not open to the public since it is an active farm, but the Maxwell's have generously allowed us to share this farm with you today as part of CELT's comprehensive campaign celebration.  In November of 2020, CELT and Maine Farmland Trust partnered to place these 76 acres in an agricultural conservation easement, meaning it will be preserved as a farm in perpetuity. Maxwell Farm-Dyer Field is the largest permanently preserved farm within the Portland urban area! Pretty special!
Maxwell Farm is a third-generation family farm. Nate and Cathy Maxwell have owned this property since 2006. Originally, the farm grew primarily cabbage. Over the years it evolved and grew a variety of vegetables and fruits, supplying the entire Cape community and beyond. The family opened a farmstand store in Portland in 1974, then moved it to Spurwink Ave in the building that is now Ocean House Child Development Center, operating it from 1991-2006.. Today, the fields are primarily used to grow hay and corn as feed for local animal farms. The farm is also used by a tenant farmer- Nick Tammaro's "Down Home Farm", which has a pasture raised beef cattle business, and raises goats, pigs, lambs, hens and turkeys.
As you walk along the trail please look for pink markers to lead you through the tour. The 10 stations along the trail will be numbered on the flag.
Please follow the marked trail and do not wander into the farming fields or pastures. THANK YOU!
Let's Get Started!
1. As you walk into the field, take a moment to stop and imagine what this land looked like before European colonists arrived here. Like most of Cape Elizabeth, this land was probably covered in a mixed forest of deciduous and evergreen trees. The ground would have been uneven and rocky. Many years of agricultural use sculpted the smooth rolling hills you see today.
2. Walk down the dirt road into the field. Notice the pond on your right. This pond is man-made, to be used as an additional irrigation pond for the fields. The pond was created in the 1960s. At one point there was a pipeline that was as long as the distance from the pond to Nate's house. In the summer green frogs, turtles, mallard ducks, the occasional great blue heron, and many other animals make this pond their home.
3. Just beyond the pond take a right and follow the path, keeping the woods on your right hand side. Pause to take a look at the old stone wall. Do you know why you see so many stone walls throughout New England? When settlers first farmed these lands, they had to clear the land of stones and boulders. These stones were then collected to create property boundaries. That's why many New England stone walls are not uniform in style! Those boulders and stones certainly came in handy for many early farmers and look better than big piles of rocks in a field!
Continue along the path as it takes a left turn at the beginning of the post fence, keeping the fence on your right. WARNING! THIS FENCE IS ELECTRIFIED. DO NOT TOUCH THE FENCE.
4. This field behind the fence is where Nick Tammaro grazes his cows. The main herd is Hereford, and he also raises Angus and Aberdeen cattle. Nick has been raising beef animals since he was 14 years old in the Cumberland County 4-H club. He typically has around 25-30 head of cattle grazing at any one time. This spring he is expecting to have 8 calves to be born on the farm between April 1st and May 31st. There are also 2 bull on site. Can you spy any calves in the field? How many do you see? The farm also will have piglets that typically arrive around April 15th.
We know that these fields were farmed prior to the 1940s, but were then grown over until the Maxwells purchased the fields. When they bought it in the early 1950s they started clearing the land and adding farmland on an annual basis. It was a slow progression to get to the area farmed today. So the Maxwells have actively farmed this land for 70 years.
Healthy soil is critical to growing healthy produce. Over 75% of this farms' soils have been identified by the state as "prime soils", "soils of statewide importance", "soils of local importance", "unique soils", or are soils that are otherwise suitable for agricultural.
*Did you know that the Maine state soil is called Chesuncook, a highly productive forest soil that supports hundreds of thousands of acres of timberland?
*Did you know that soil is alive? There are more organisms in a handful of organic soil than there are people on earth.
*Fifteen tons of soil pass through an earthworm annually-WOW!
Soil is the bottom of the food chain, yet it is the cornerstone of life on our planet.
Did you know that soil needs 11,000 gallons of water to produce one bushel of wheat? Or that 10% of the worlds carbon dioxide emissions are sequestered in soil? Crop rotation and low- or no- till practices can help boost that percentage.
Follow the path around the perimeter of the field keeping the fence on your right hand side.
5. Look off to your left and notice the stand of 3 large eastern white pines. What bird of prey would find this stand ideal for hunting and why.
If you said an owl you are correct! An owl could have an excellent view of the entire farm field from this stand of trees.
And what would that owl be looking for? A meal most certainly! From that vantage point an owl could see any movement from mice, moles, voles or any other potential meal.
6. Once the fence ends continue along the path by following trout brook to the pond. This irrigation pond is used regularly during the growing season to water the crops. This man made pond periodically has been dug out over the years, and it's believed to be done by LP Murray with an old dragline in 1955. Trout Brook was dug out in the late 1960s. Over the years, sometimes they used a pipeline that carried water to and from the two irrigation ponds.
7. Walk towards the stand of 3 eastern white pines. Remember we talked about how owls might like this stand of trees for hunting? Look for signs of owl activity like owl pellets on the ground or "white wash" on the trunk of the tree. Owl pellets are the regurgitated bones, fur and feathers of the owls last meal that its body cannot digest. White wash is owl poop that has stuck to the truck of the tree.
Do you see the old farm equipment? What do you think this old farm equipment used for? It is a snowplow, rear blade and homemade cab for the snow plow, built around 1964.
8. Continue on the path towards the woods past the checkered flag on your left. Look for the path to enter the woods. You'll quickly be amongst a stand of pine trees having needles in packets of 3.
What type of pines are these? They are Pitch pines, Pinus Rigida. They can be distinguished by the number of needles, or leaves, in a cluster and the reddish-brown color of its bark as well as the shape and size of its cone. The Pitch pine is native to Maine and common throughout the state.
Continue until you are now in a stand of white birch. Native Americans used the bark of white birch to build canoes and build shelters. This bark was chosen because when a birch dies, it decomposes from the inside out, and the bark is the last to decompose. It is quite a sturdy building material.
9. Follow the path through the birch stand, can you see the tributary for trout brook running between you and the neighborhood on your right. As you come out of the birch stand, follow the path as it turns left.
Trout Brook is a 2.9 mile stream that runs through South Portland and Cape Elizabeth and drains into Casco Bay at Mill Cove, next to Hannaford. Trout Brook has three major tributaries including Kimball Brook, which flows through Hinckley Park in South Portland.
Trout Brook is currently being restored to the healthy waterway it once was. In the past it had unfortunately become a polluted waterway devoid of much of the aquatic life that should have been abundant. but through the cooperation and hard work of the towns of Cape Elizabeth and especially South Portland plus the work of the Maine Department of Environmental Protection(DEP), the brook's recovery is well underway and now supports an array of aquatic wildlife.
The City of South Portland was awarded a DEP grant to develop a watershed management plan. The plan will outline strategies to fix existing stormwater and habitat problems in developed parts of the watershed and to reduce stream impacts from future development in planned growth areas.
What can you do to help Trout Brook?
If you live next to Trout Brook or another stream, leave a natural buffer of trees and shrubs along the stream. This buffer filters runoff from lawns and paved areas, anchors the stream bank and provides food and habitat for stream life. Bring leaves and yard waste to the transfer station or pile in areas outside of this buffer.
10. As you come out of the birch stand, you will see a little stream. This is a man made drainage ditch that is used to allow the farm fields on either side to drain off excess water. As you follow this follow little stream look for drainage pipes that are empty into the drainage ditch. These pipes run for many feet under the fields on either side of the ditch to allow for drainage so the fields do not have standing water in them and are able to grow crops.
Continue to walk along the brook until you come to the dirt road where you started the walk by the first irrigation pond. Take a right onto the dirt road and head back up the hill.
Thank you so much for joining us today at Maxwell Farm – Dyer Field! We hope you will explore some of our other properties and trails. We hope you had fun and learned something too!