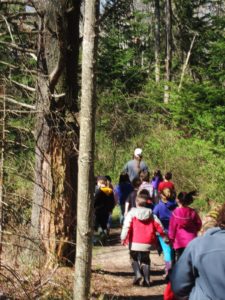 Alongside land preservation and stewardship, education is one of the most important areas of our work. CELT's education programs began in 2005 and have continued to grow. They are designed to generate a greater appreciation and awareness of our local natural areas. As a common resource preserved for public benefit, we depend upon our members and friends to help with the care and maintenance of our lands.
Supported almost exclusively by grants from private foundations and donor-designated gifts, our education programs are organized by the Education Coordinator and CELT's Education Committee. The committee is comprised of local residents who attend several meetings each year to oversee the creation and implementation of new projects.
Please contact our Education Coordinator for more information about any of the programs and opportunities listed here.
Are you a teacher with questions about scheduling, student supplies for programs, etc? Please refer to our School Program Policies.
Schools:
Field Trips
 Field trips are offered throughout the school year to the 1st, 3rd and 4th grade classes at Pond Cove Elementary School, using curriculums co-developed by CELT and teachers. These field trips address current required educational standards and the Next Generation Science Standards. The 1st grade trip (winter and spring) focuses on sensory exploration of the habitat at Great Pond, and investigating the ways that wildlife use food, water and shelter to survive. The 3rd and 4th grade trips take place in different parts of Robinson Woods. The 3rd grade trip (spring) investigates lifecycles and population dynamics through a pond study and the game "Oh, Deer!" The 4th grade trip (fall, winter and spring) shows the students how the habitat and wildlife change in each season and the adaptations that allow those changes to occur. Each field trip focuses on hands-on learning and exploratory investigations. Field trips are led by the Education Coordinator and a group of trained, dedicated volunteers.
Trail Work
 Now a rite of passage, each eighth grade classroom participates in our annual service-learning trail project building bridges and learning about local ecology.
Interpretive Signs
Robinson Woods is now home to three interpretive signs thanks to funds provided by the Ed Meadows Conservation Fund. The first sign describes the history of Robinson Woods Preserve and can be found on the Outer-loop Trail just past the welcome kiosk. A second sign detailing a sensitive vernal pool habitat can be found on the Wildflower Trail. The third and final sign highlighting inhabitants of a pond stands along the pond trail. View Image Attributions

The Environmental Resource Center
At the Pond Cove Elementary School's media center, CELT has created a hands-on Environmental Resource Center (ERC) to provide the elementary school teachers access to resource materials on environmental education, field guides, nets and other materials that can be 'checked out' for use in the classroom, or on field trips.
View the ERC inventory
Request new materials for the ERC
Senior Transition Projects and Student-Driven Learning
Each spring CELT is fortunate to offer and supervise community-based trail service projects to Cape High School seniors. Our STPs relate to our mission areas: conservation, stewardship and education. Previous STPs have included trail maintenance, trail photography and event coordination assistance. We are also open to supervising Student-Driven Learning experiences related to our mission. These could be trail-related or could focus on our education programs.
Teacher Grants
 Over the years CELT has distributed over $10,000 in "mini-grants" to Cape teachers in support of environmental education in their classrooms. These grants are available to teachers at all grade levels for classroom materials, professional training, subscriptions and field trips.
Download the Mini-Grant application form here
A history of previous mini-grants awarded
Pond Cove Natureland and Raised Bed Gardens
 For almost 10 years, volunteers from the Land Trust have worked with 2nd, 3rd, and 4th graders in the raised bed gardens that are part of "Natureland," a part of the playground where they are encouraged to learn about science and the environment. In the spring, seeds are started in the classroom. It is here that the students learn about plant cycles, seed and plant needs. Later in May, their seedlings, along with other donations from local farmers, are planted in the raised beds. They plant potatoes, carrots, winter squash, and seasonal vegetables – those that have been historically successful for Maine farmers due to our short growing season and the need for winter storage. They are taught about gardening organically and about composting. Throughout the summer, the students and their families will water and tend the gardens. In the fall, there is a harvest luncheon where these veggies are incorporated into the menu and the flowers and gourds are used for decoration. Students dedicate the harvest from one raised bed to a local food pantry.

On-Site Education
 Our Education Coordinator can assist teachers in elementary, middle and high school in providing environmental education within their classrooms and on the school grounds. Please contact the Coordinator well in advance of your desired classroom time to arrange scheduling.
Community Programs:
Community Services
 Through our local Community Services office, CELT offers a variety of Nature Walks open to the community. These programs include:
Vernal Pool Walks (spring)
Wildflower Identification Walks (spring)
After-school hikes for 3rd and 4th graders (fall, winter & spring)
Winter Snowshoe Exploration (winter)
Annual Cross-town walk (fall & spring)
Preschool Trips
 We provide preschool guided walks for a small fee on the trails as an introduction to the wildlife habitat of the natural world.
Scout Programs
 We assist local Scout troops in environmental and wildlife-related programs.
Explorer Backpack Program

Find your next adventure with a CELT's Explorer Backpack! Explorer Backpacks, filled with family-friendly activities for CELT's trail walks in Cape Elizabeth, may be borrowed from the Cape Elizabeth Land Trust office when an adult leaves a credit card or driver's license as collateral. Woodlands ecology or seashore themed Explorer Backpacks are available.