During the month of April, members of our community submitted poems and photos that are "related to nature," with participants encouraged to interpret "nature" as broadly as their hearts desired. The winning submissions and honorable mentions are on display at Thomas Memorial Library throughout the month of June.
Thank you to everyone who participated in or assisted with this year's contest:
Alexa Mallory · Ara Jerahian · Bill Daviero· Bob Harrison · Carl Wolf · Catalina Melo
Clara Kerkam · Corin Brosnan · Cynthia Gray · Deb Brucker · Ellen Liss
Erik Nielsen · Grace Gayer · June Pidhajecky · Keira Brady · Lucas Foster
Lucy Backman · M. Catalina Melo · Margaux White · Mark Braun · Mark Braun
Mary Ann Bentley · Mary Mahoney · Max Bernardini · Max Nudd · Meadow de Vries
Melissa Kim · Noah Van Allen · Paige Orcutt
Paula Briggs Laverty · Samantha Altznauer
Sheila Wellehan · Sophie Brown · Sophie Pidhajecky
Winners
Surge
by Paula Briggs Laverty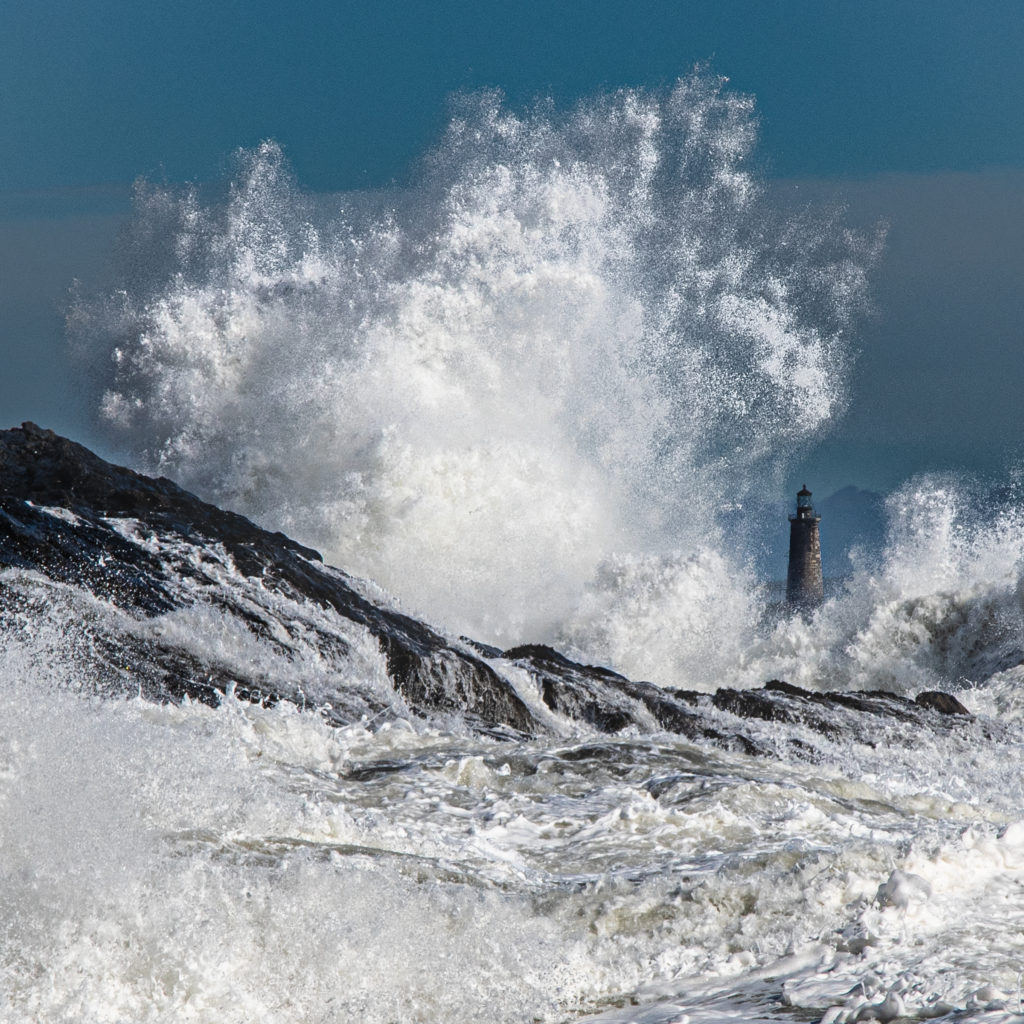 River of Diamonds
by Sophie Pidhajecky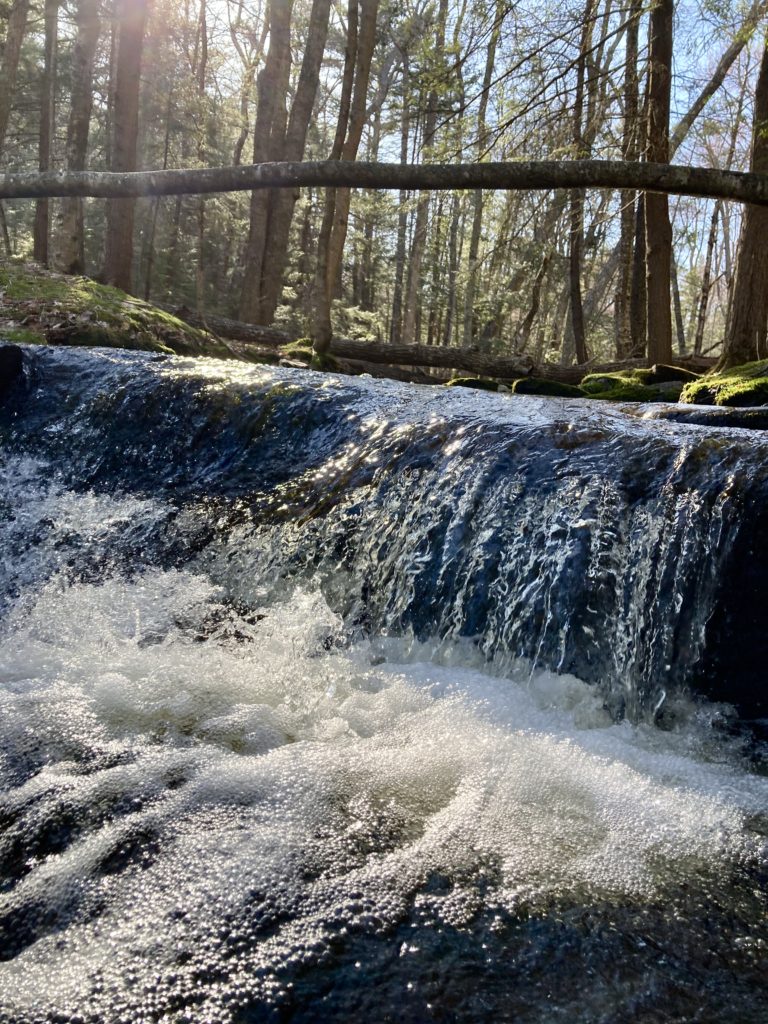 Search Party
by Sheila Wellehan
We were a scene from a movie—
search party strides through the woods—
but instead of a missing person,
our quest was environmental evidence.
Some of us yearned to keep the forest alive.
Others needed the money
that would come from destroying it.
We stared as hard as we could
for the glisten of undiscovered
vernal pools. Listened for songs
of endangered black tern and sedge wren.
Peered into the brush for New England cottontail.
Gazed into ponds for Blanding's turtle.
We hoped the muck our boots stuck in
was high tier wetlands.
We walked and walked
then we walked some more.
We stepped gingerly around poison ivy
and hopped over long-abandoned rock walls.
We hoisted ourselves over fallen trees,
brushed limbs away from our faces,
and swatted bugs too late.
We noted more boulders. More ledge.
We prayed abundant glacial remains
would help save this place
That night, rare northern long-eared bats
flew through our dreams.
We'd hunt for them first thing in the morning.
Tandem
by Samantha Altznauer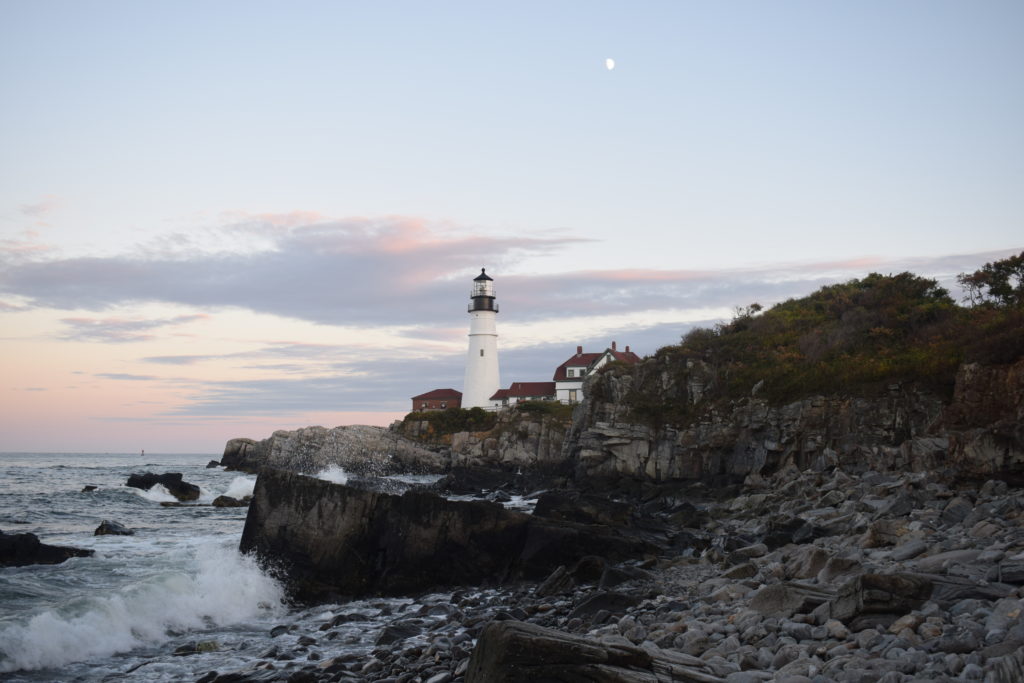 Near the same lighthouse,
I walk the same graveled path
to the same rocky beach,
but it is magical that this
is never quite the same beach,
as this is never quite the same walk
The tides will shift and position themselves to the moon
and the sea will take into her belly the sand and currents,
changing the mural of the shore
I am alone, but we sit in tandem
with contemplation and practice,
as two friends reclaiming lost time
The ivory froth of your cool waters folds forever,
one swell after another, occurring in no particular order
scattering a silky spray into the syrupy saline air
If love had a sound, it would be
the smooth melody of polished stones
pushed and pulled over each other,
rolling indefinitely,
nest eggs of the waves along a different beach
on a different path, near the same lighthouse
The Heron
by Mark Braun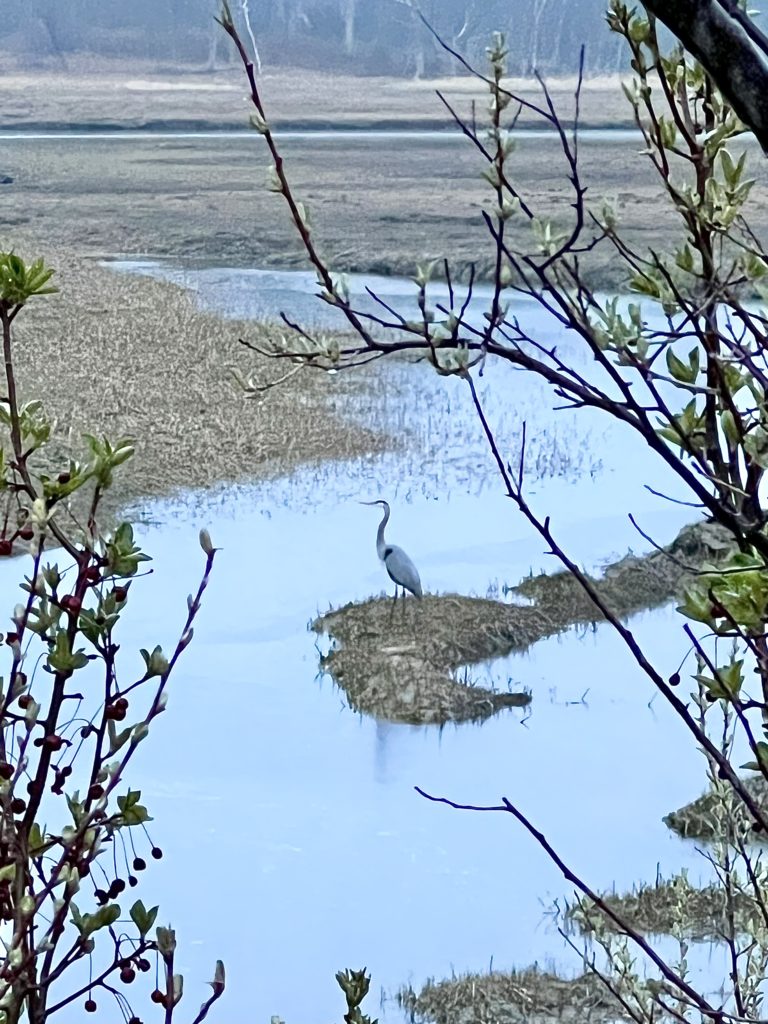 Tonight driving home
I stopped in the light rain
To look out on the river as
The tide was coming in
And discovered a treat
No one else saw as
The noisy cars hissed by
Blind with determination
A heron standing on the marsh
Noticed me but kept fishing
Keeping me warily in view as
I watched with awe
I walked to the other side
To take in the swirling tide
Of curly Qs and foam and
The next I knew it was gone
Little Green Stream
by Clara Kerkam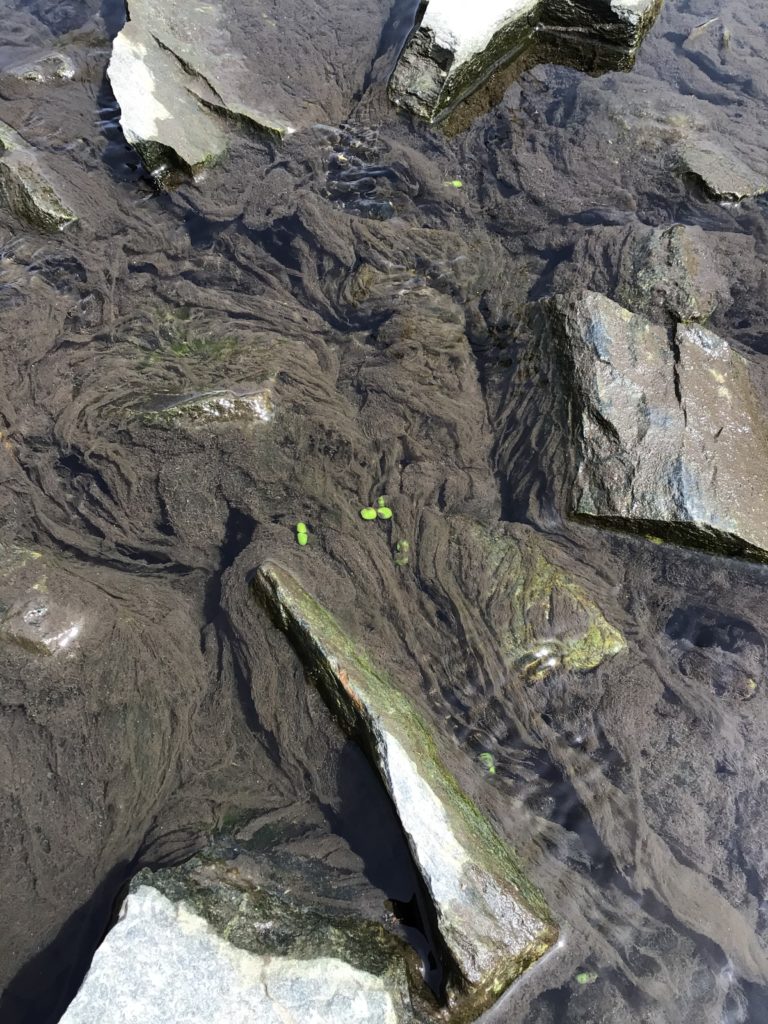 The gentle stream
Drifts through my dream
Longing for me to chase it down
Hoping for me to look all though town
A little green
Pokes through that screen
Of life and death
So pretty it takes my breath
Even if it seems keen
A quiet place
To set my pace
A beautiful stream
A place to dream
A dream I can chase
A place that I can stay
I will never go away
I love the feel
The curves and peel
Sitting in the day
Honorable Mentions
Wish Rock Sky
by Mary Mahoney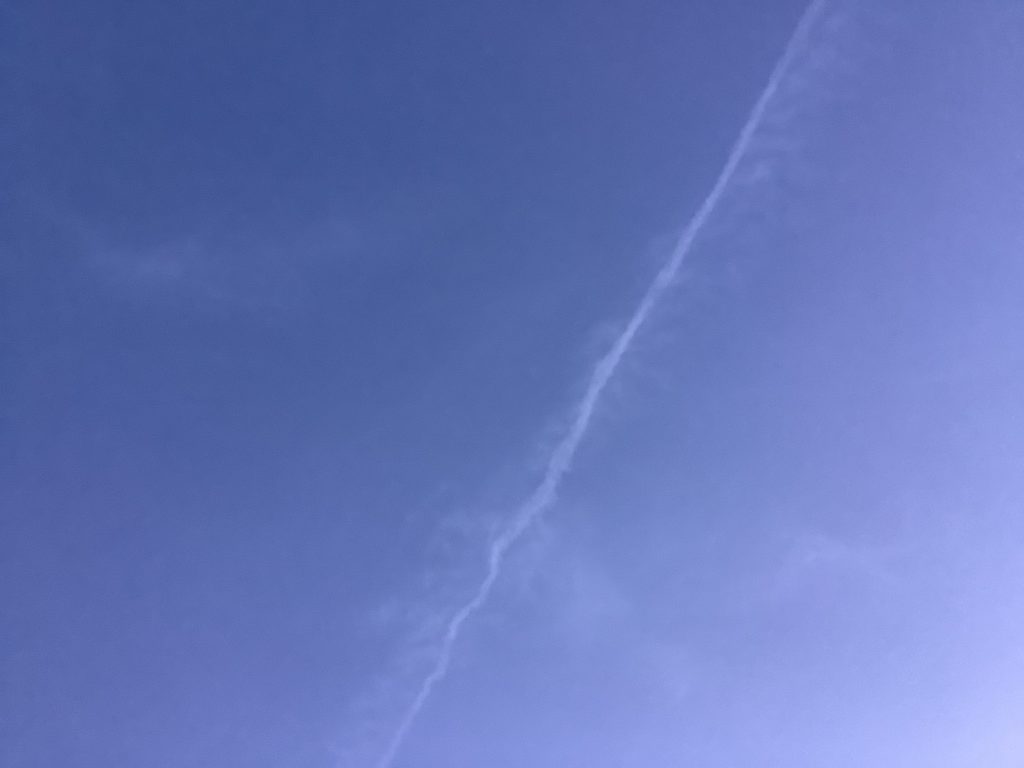 I look up at the sky
I make a wish
I take a walk through greenbelt trails
I see beautiful trees and animals
I see courageous ferns popping up from the ground
I look up at the sky once again
I see my wish has come true
New Hope
by Sophie Brown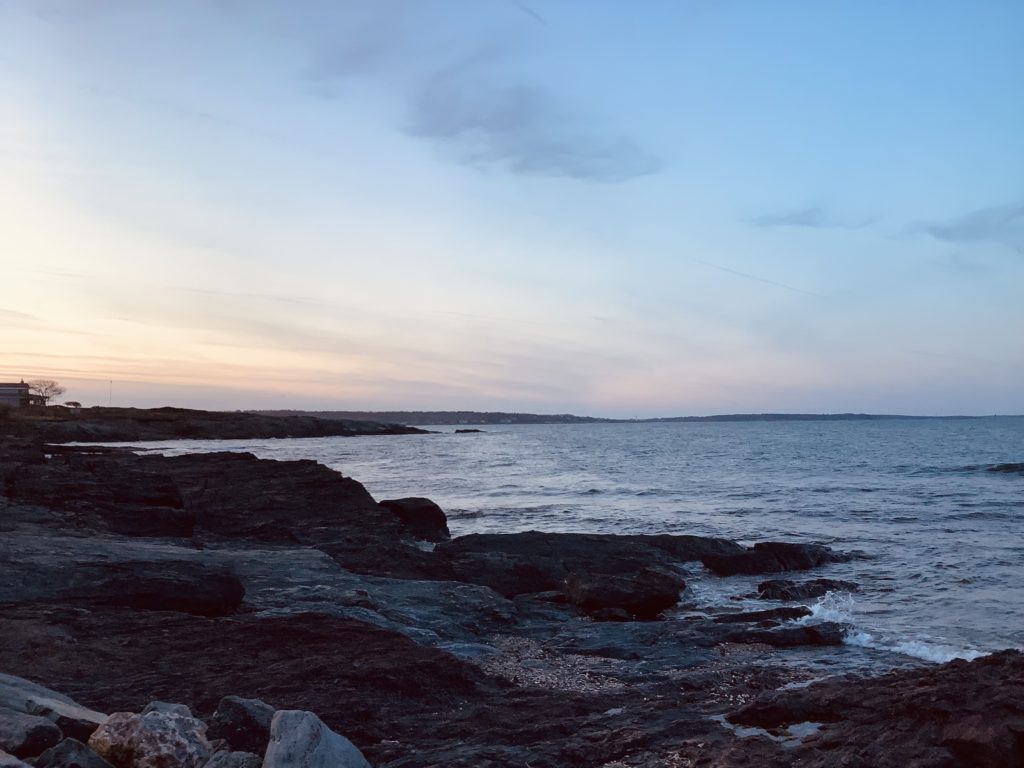 The sun sets slowly
Rising in another world
Color appears
Lighting up the sky
Silent waves unfold onto the
rocky shore
At last the sun's rays
vanish from sight
Only to be replaced by glowing stars
Each one as significant as the next
Tracing a map across the universe
Stay
Until the only light in
the sky is yours
Shining with hope and renewal
A new day will come
Dahlia
by Mark Braun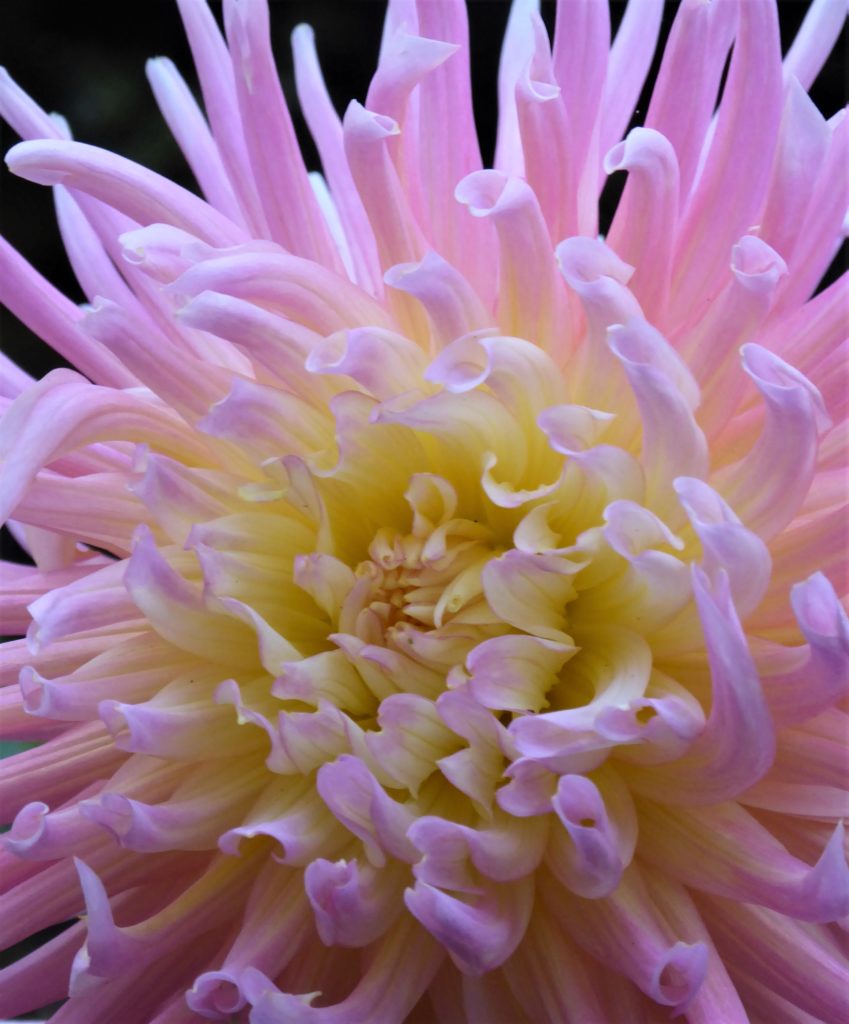 Owl Face
by June Pidhajecky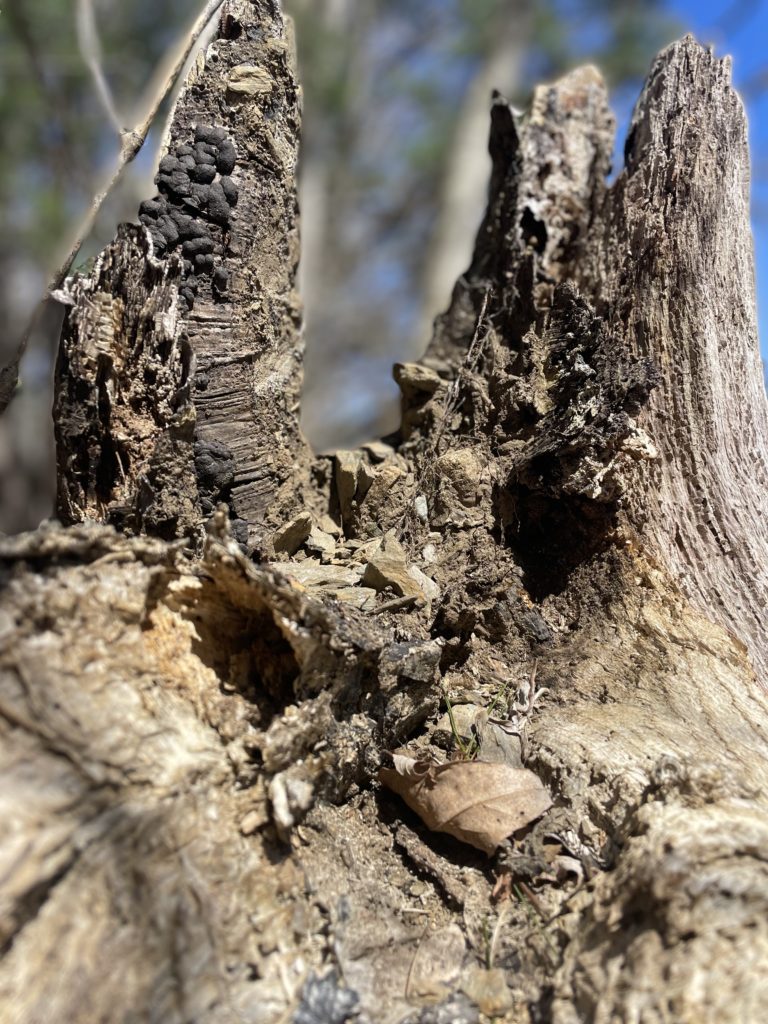 Heart Nebula
by Ara Jerahian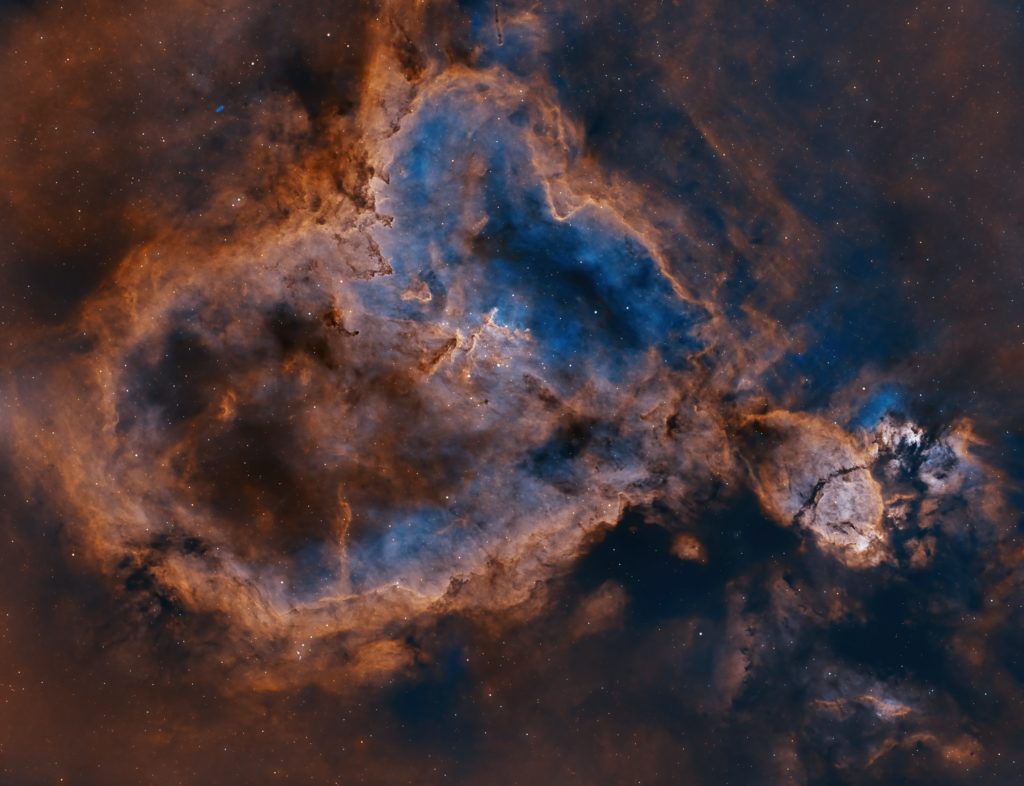 Out My Front Door
by Ellen Liss
RENEWAL
by Mary Ann Bentley
What is this lightness in the breeze
Gently grazing on its way
Brimming with bird calls
The dawn outpouring of a new day
Ah, such renewal
As green paints the earth
Captured in emerging buds
Escaping from their berth
And scent streams forth
In a heady, dizzying whiff
The blooming kaleidoscope
Exudes this perfumed gift
The wildlife scampers
A romp of newborn babes
Rejoicing in the sunlight
Within nature's arcades
The answer to this puzzle
Should be an easy thing
A consistent miracle
For it is Spring!
All Entries
The Dark Tree
by Corin Brosnan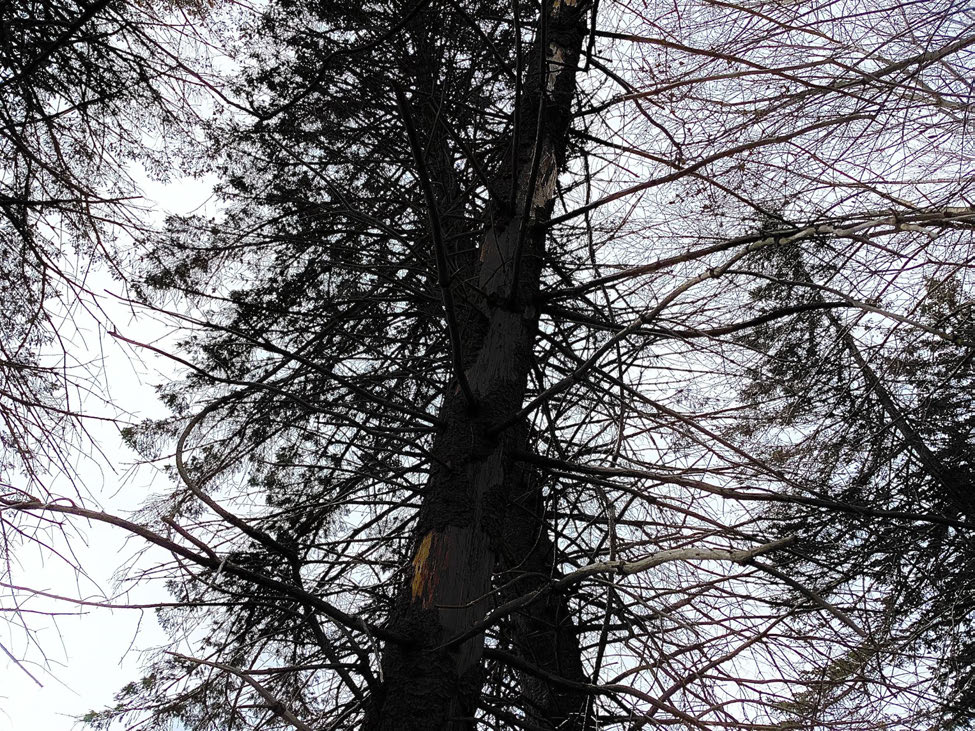 The dark wood makes me feel like
I am under the shadows of the moon
Even though the sun still shines through
The trees are filled with the excitement
to finally bloom again as they had last spring
As the seasons change the world fills
with color and joy
When I look at this tree
I imagine people lost in the woods
But the little color left
will help them
find their way back
This is what I see when I look at this tree
Forest Poem
by Lucas Foster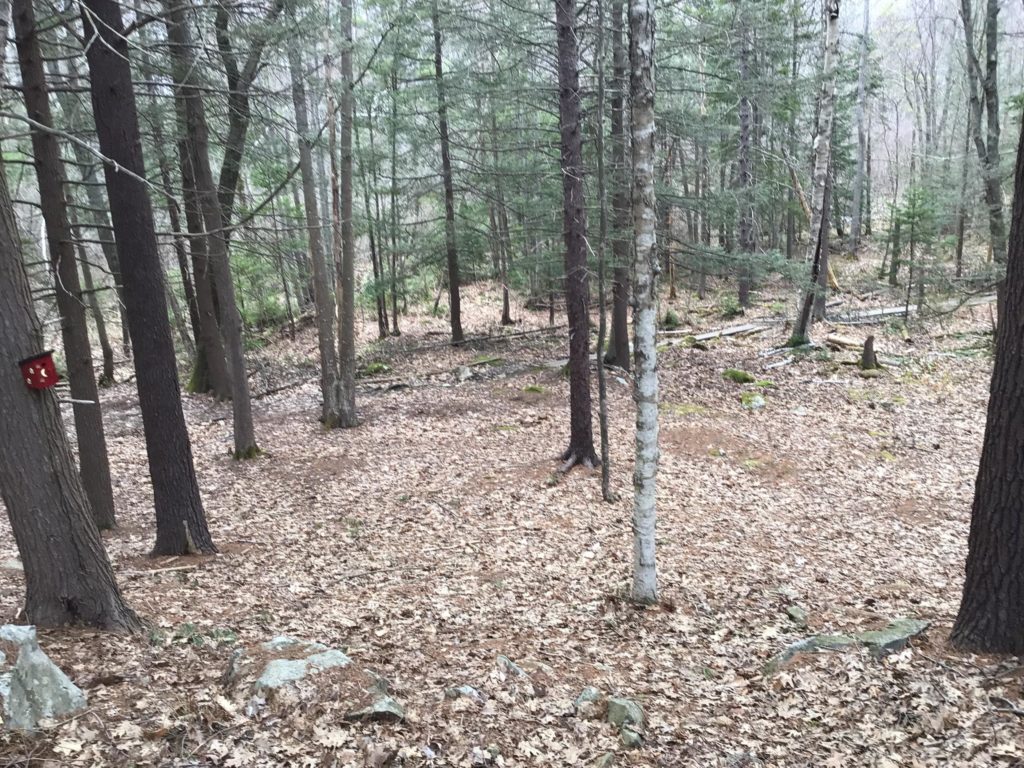 Funny creatures
Original grounds
Rattling branches
Edible eats
Startling bears
Trickling streams
The Lake of Shining Waters
by Lucy Backman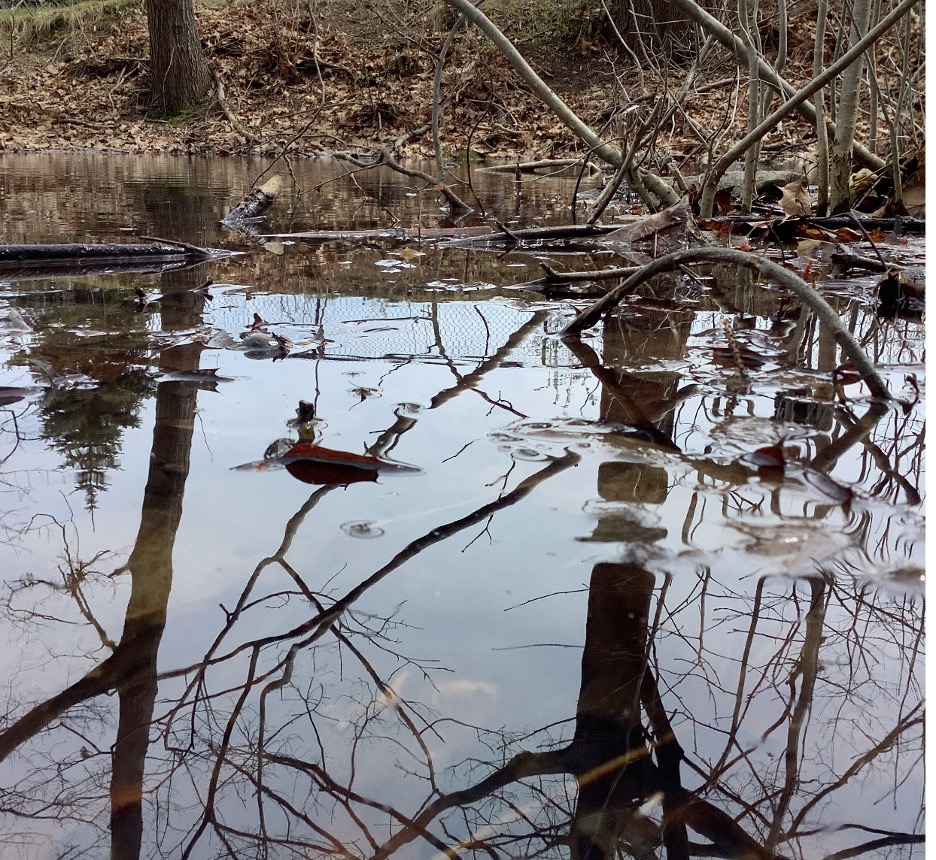 Where the leaves are in piles,
where the crisp air is wild,
the lake of shining waters
Where the trees reach to the sky,
as pretty as blue eyes,
the lake of shining waters,
Where the rocks lay so wet and dark,
floating by is the trees bark,
the lake of shining waters,
I look down into the deep
as i hear the birds peep,
In the reflection there I see dirt, rocks, trees, and me…
Yellow Flower
by Margaux White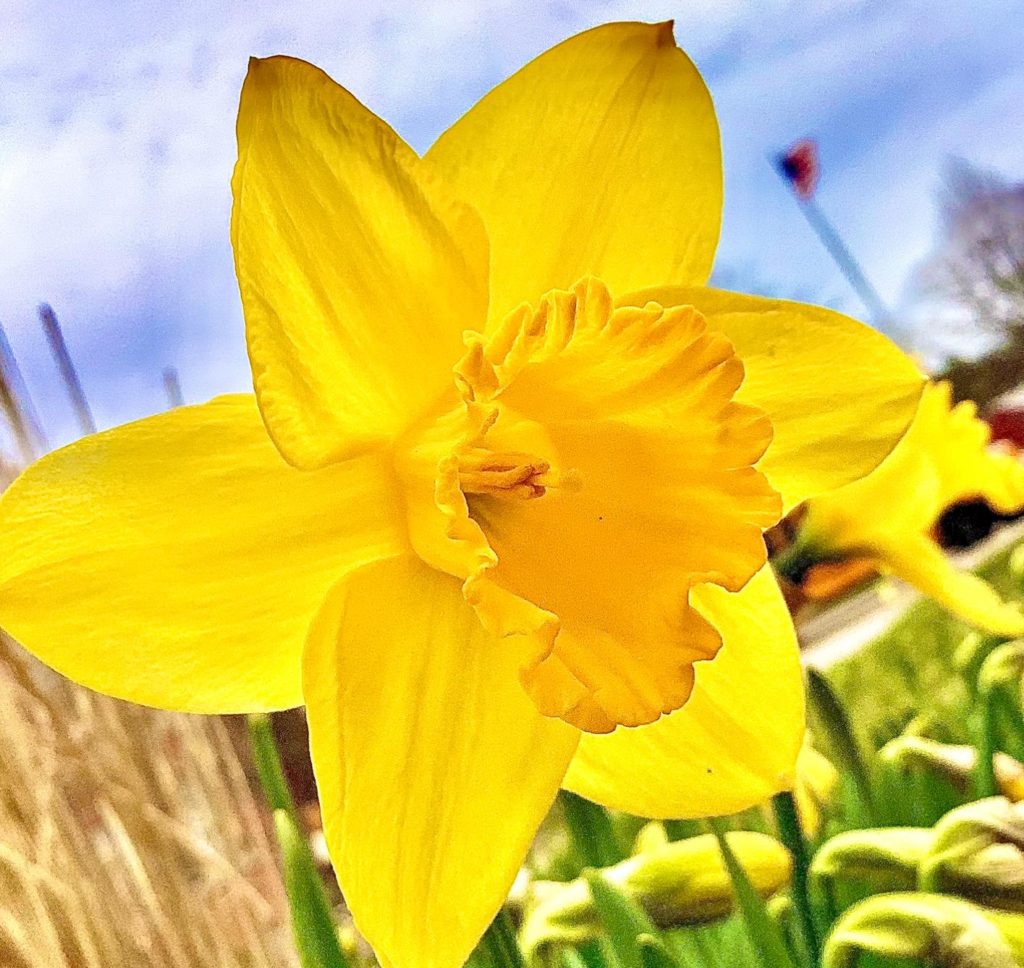 Glistening in the rays of light
Swaying in the wind like a kite
Standing out in the big crowd
Petales are as soft as clouds
Blowing pollen in the air
Yet standing still just right there
I have been waiting for almost a year
Finally spring is here
The Flower
by Paige Orcutt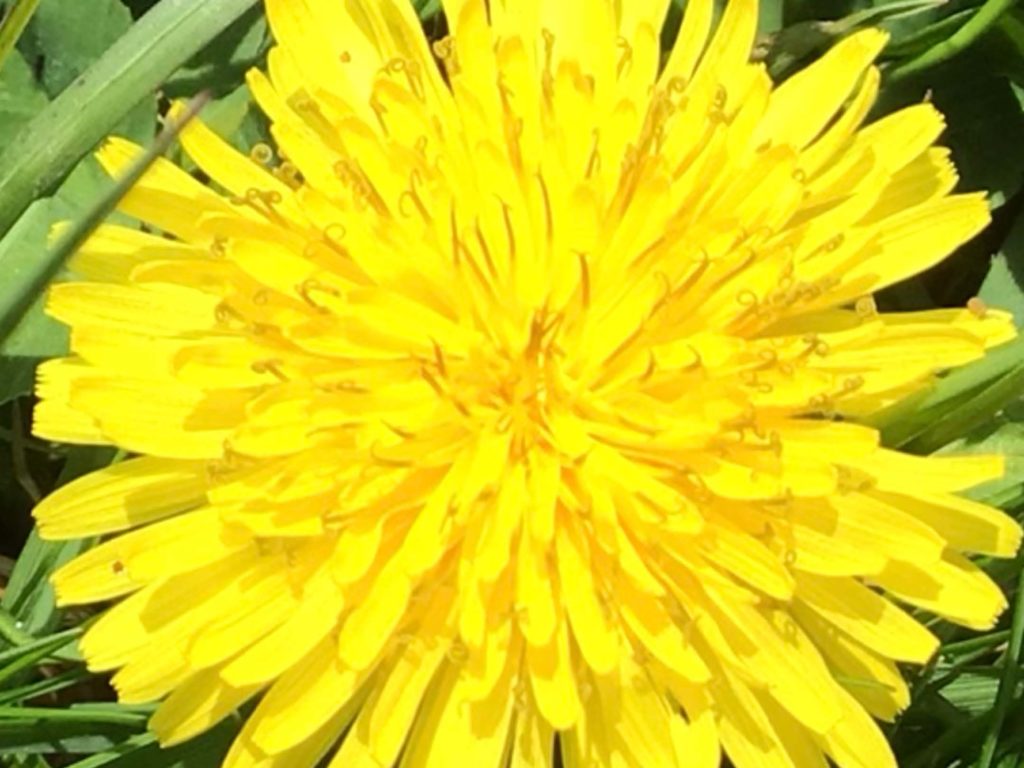 It's bright like the sun
The flower is beautiful
The grass is so green
Sparkles in the sun
The petals are so pretty
With green leaves
The petals are long
The flower is so yellow
Big dandelion
Wolfe's Neck
by Carl Wolf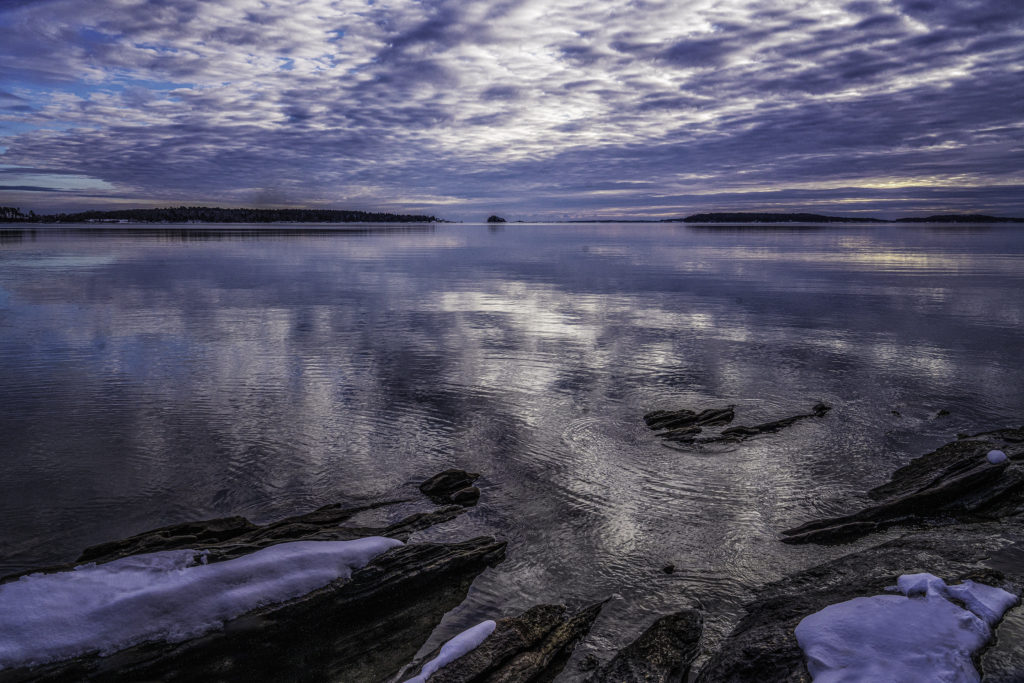 Doe and Fawn on a Foggy Morning
by Deb Brucker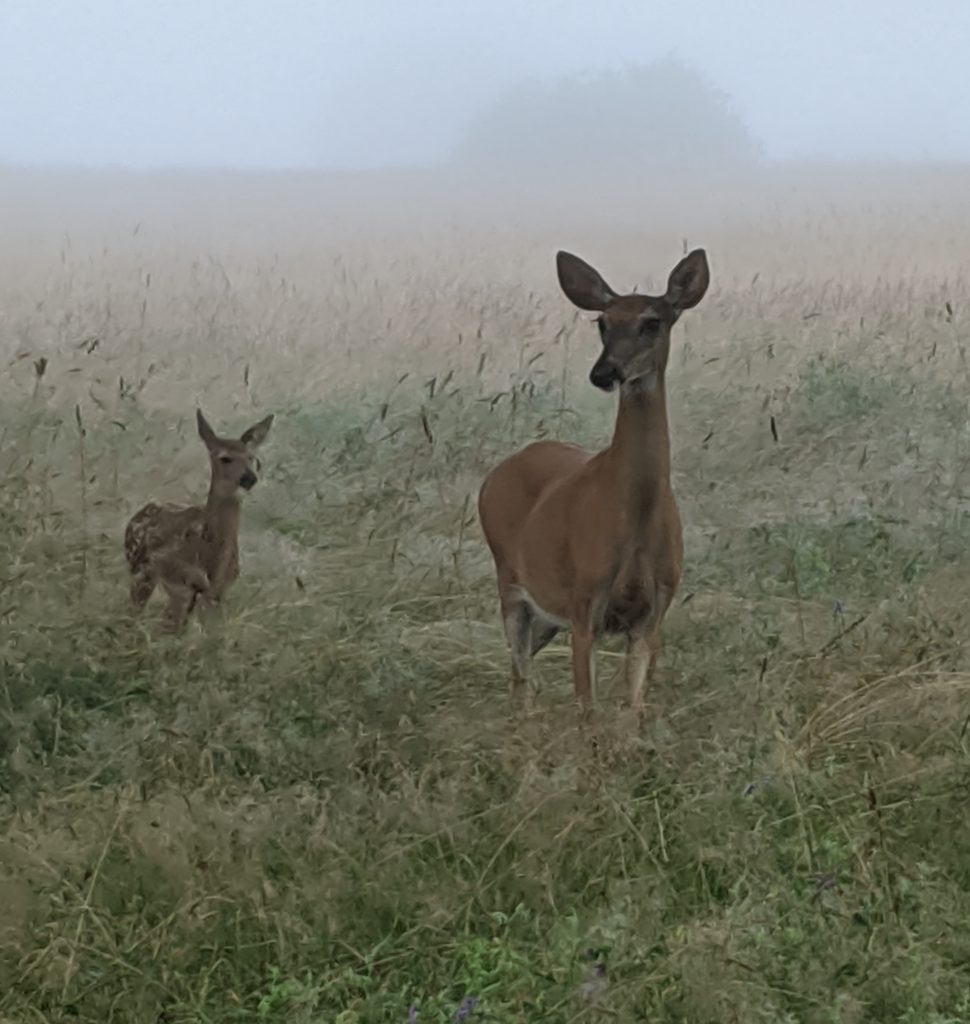 Kettle Cove
by Erik Nielsen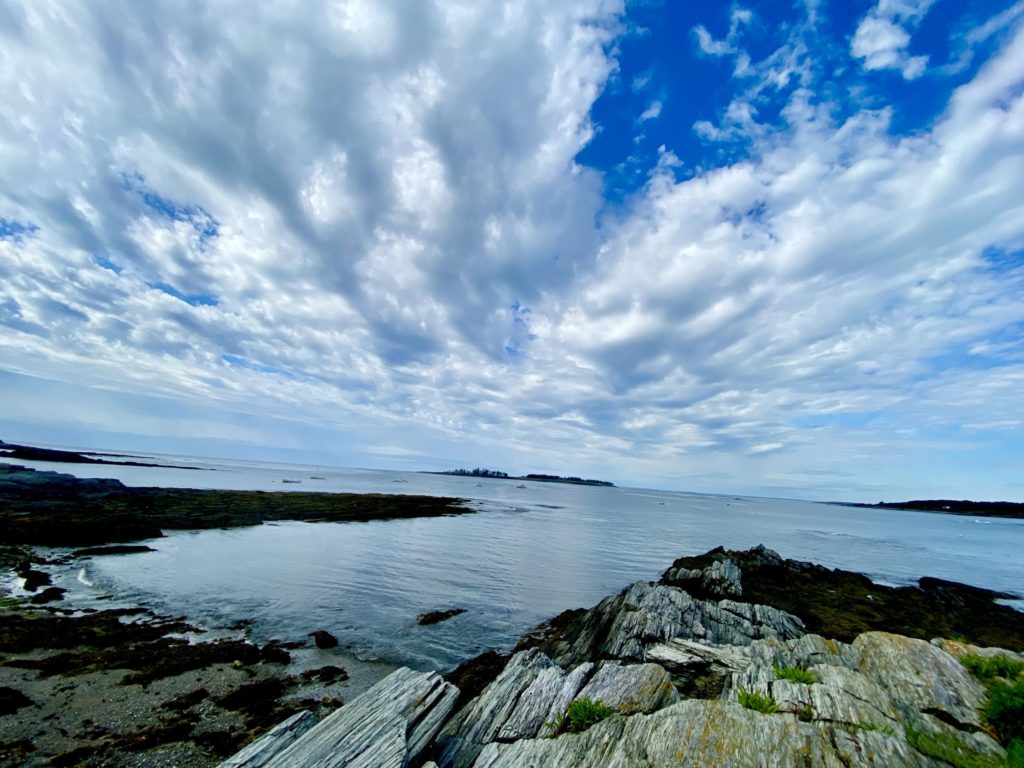 Light by Night
by Noah Van Allen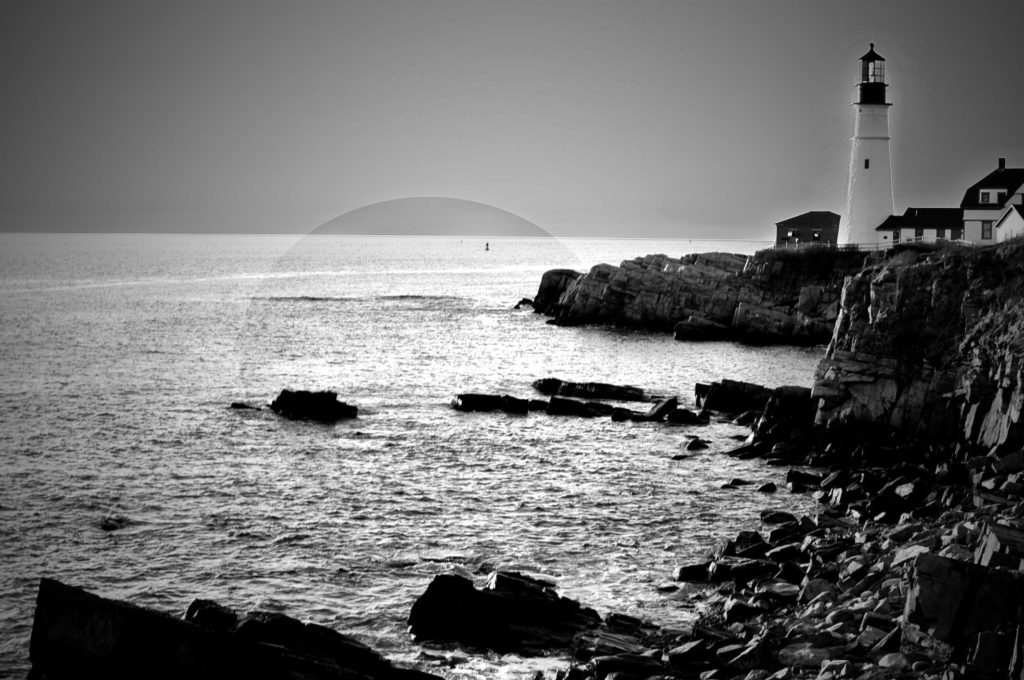 A Jewels Setting
by Bill Daviero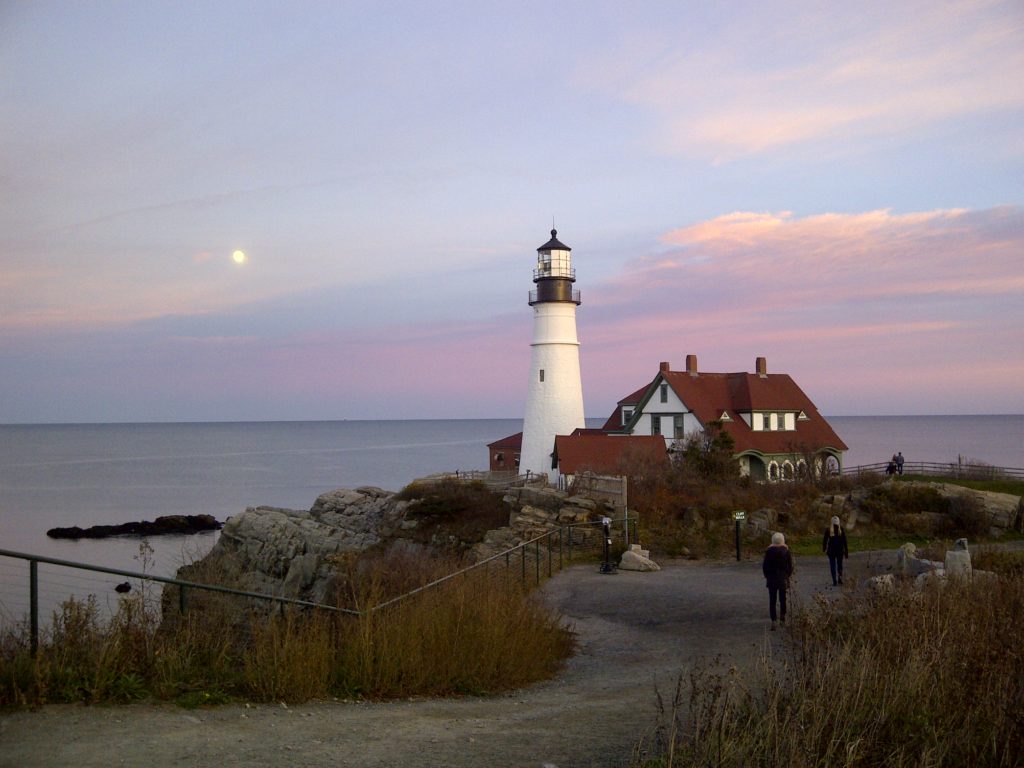 Morning will arise and treat my eyes,
To a place that draws me near.
Without any hinder many are the stops,
With such pleasure and delight to seduce my sight.
Noon, no different, but with warmer feelings,
I'm drawn to a vast emerald or sapphire sea.
The sun burns away any hazy display and,
Unencumbered, I settle in with contentment.
At days' end the sky is on fire,
Coloured reds, purples, and blues frame above,
A lighthouse on a rocky coast standing on high,
Waters magnificent as an emerald or sapphire In a jewels setting.
Rainbow
by Cynthia Gray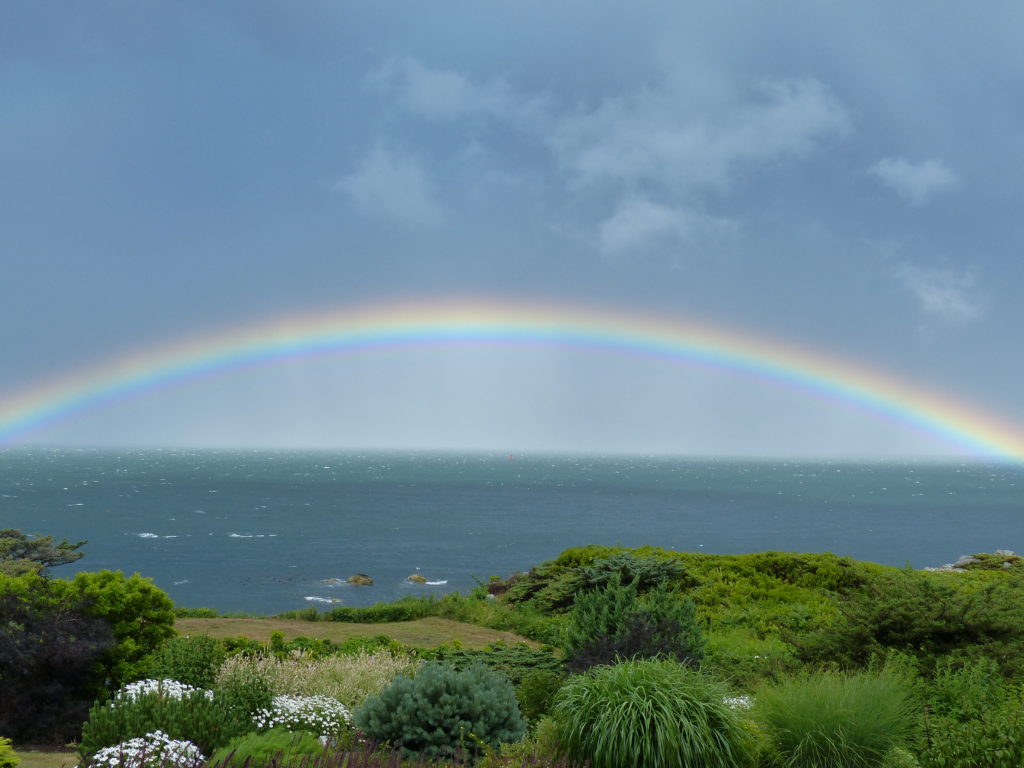 The gift of a rainbow from Mother Nature
is saturated with love.
She encourages us to pause
and ponder
the impossibility of such astonishing beauty.
She longs to wake us up.
She helps us to see
if only for a moment
that magic saturates everything.
We just need to take a deep breath
engage our senses
and pay attention.
These small moments
when we are truly captivated
can change our lives.
They pluck us from our ruts.
Then we can gaze
with newborn eyes.
Wonder is everywhere.
Canal Meditation
by M. Catalina Melo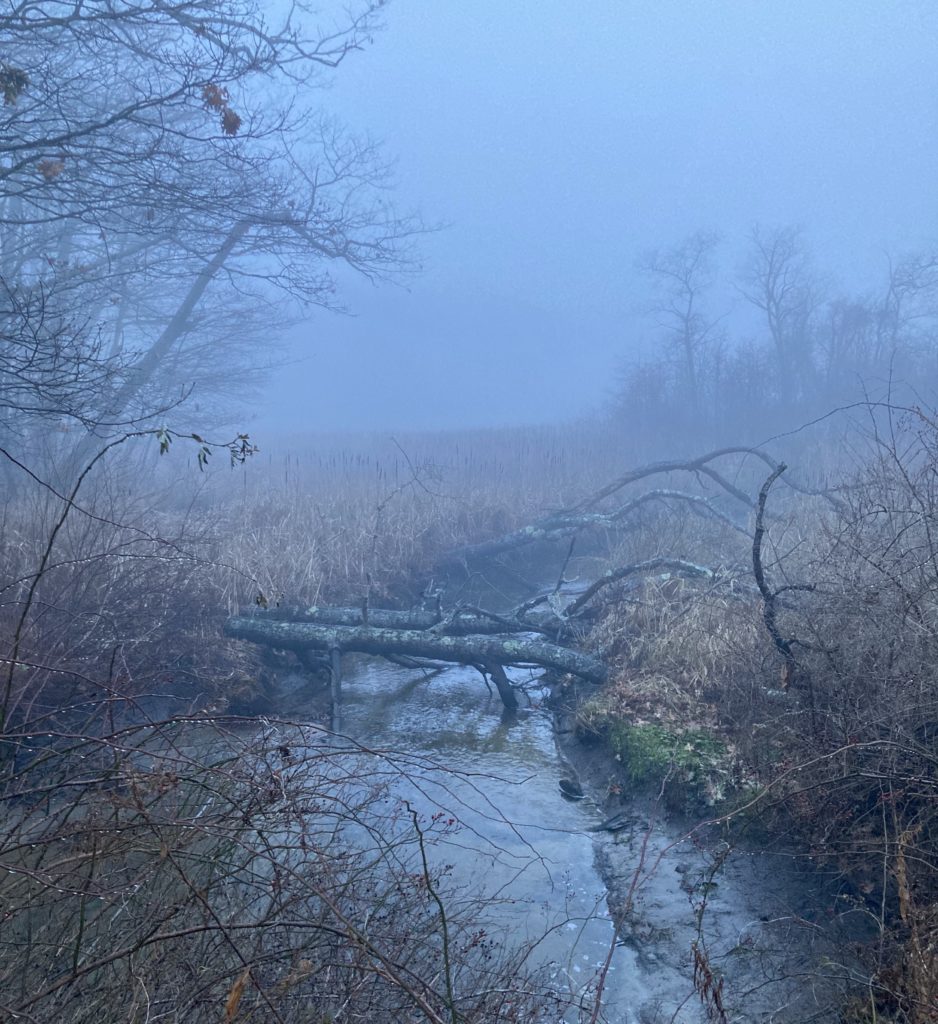 to tend to my grotto
i invented a prayer
there are stone and substance
and the sky in deeper
it could look like a thought
in the shape of a cloud
half crepuscule half cuspid
or the wind bringing great silence
i sit and contemplate my projection
in a center of a time
i walk through fog and light
and dream awake of things in their darkness
space is a lullaby
while the air in transfiguration
i become invisible amongst the turf
and offer my gift to dream-time
Fresh Buds
by Alexa Mallory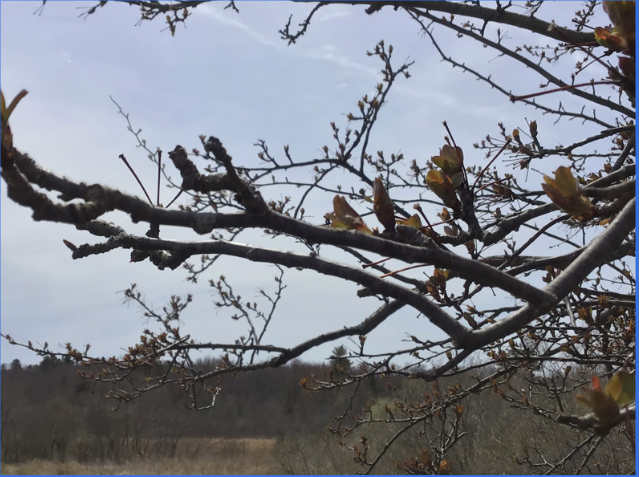 The buds springing up from a cold winter
They are starting to grow
and soon will bloom brightly
when you look at them you can feel
warmth, spring, and beauty
The sun casting beautiful shadows along
different parts of the blooming flowers
Representing the different stages of life
and how everything has to change somehow
All the buds look like a troop of soldiers
some up close, some far away
Reminding lost souls
that there is always a new beginning
Water and Rocks
by Grace Gayer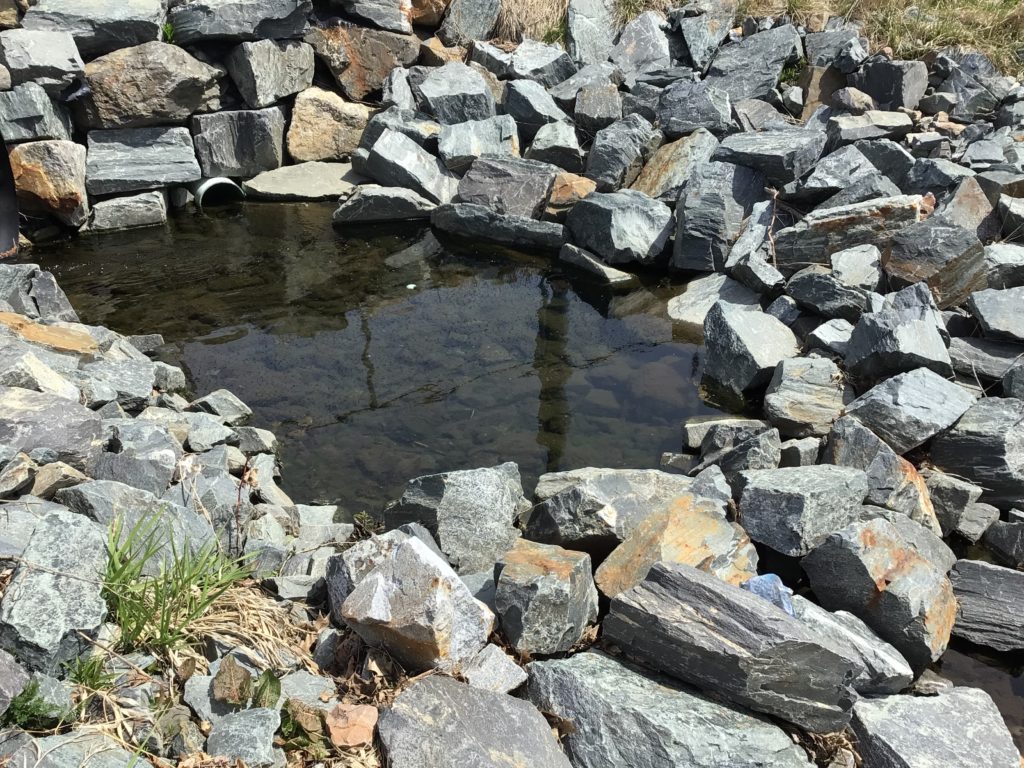 Wonderfully wet
A wonder of nature
The most beautiful place
Exquisite
Ridiculously calm
And
Radiating peace
Ominous
Cold
King of all things hard and gray
Stunningly simple
The Life of Roots
by Keira Brady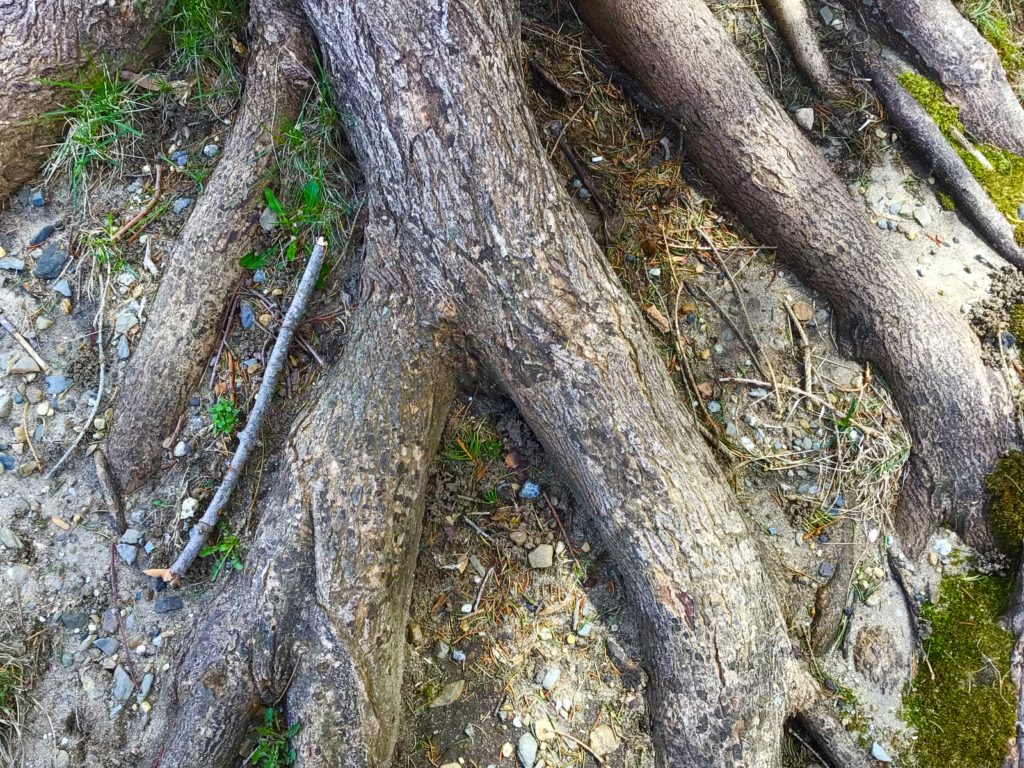 What's below us is a mystery of strength.
The tall beautiful trees are not complete without their roots.
Even though we pass by these wonders we never really consider how important they
are. Roots connect with everything plants, humans and all living things.next time you walk past
a root think about the concepts it holds with other things in your life.
Rain Pond
by Max Bernardini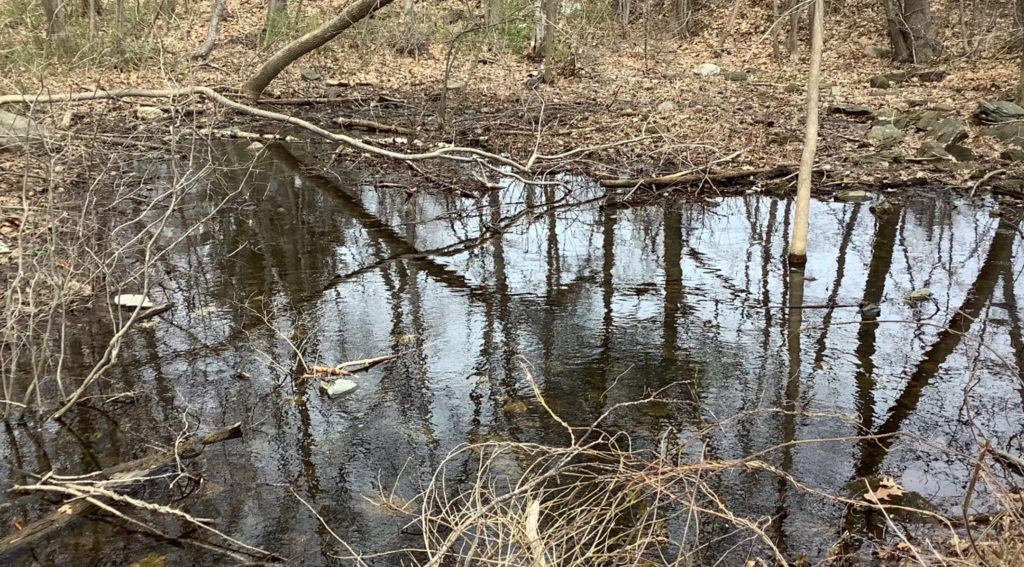 Hot or cold is doesn't matter
The water is clear
Filled with rocks, trees, and leave
Reflections
Brown wet leaves surround the pond
Green signs of spring beyond
Bugs and critters coming back to life
This pond will not last forever.
The Place
by Max Nudd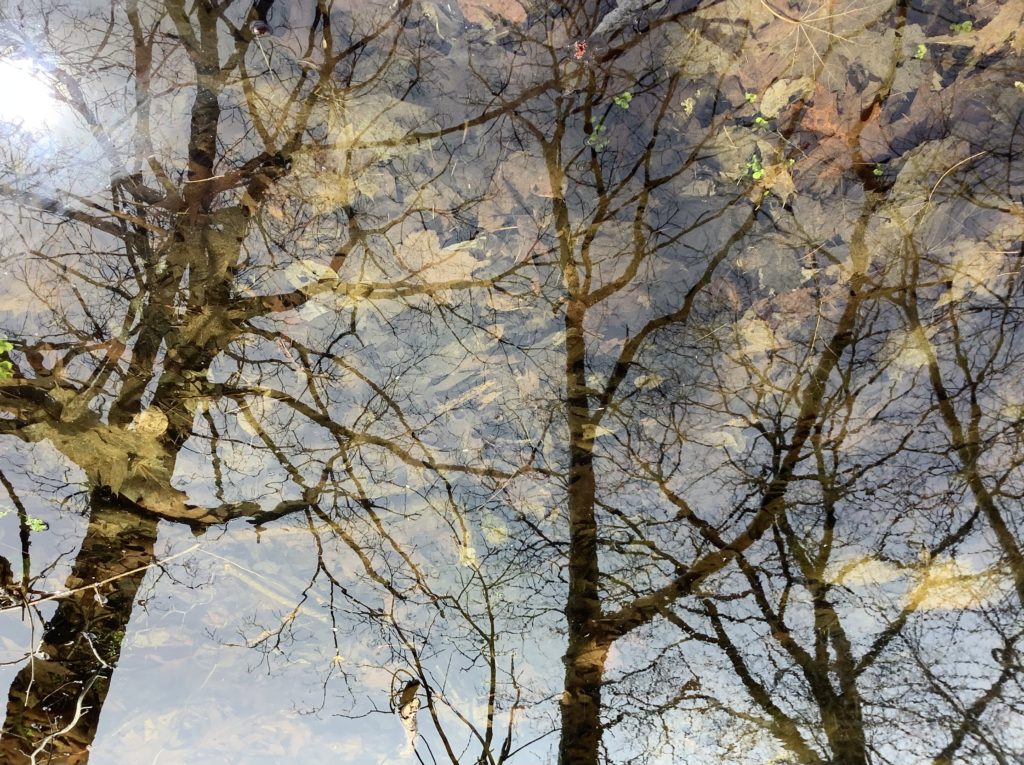 Sun or dew
This place is for you
Mosquito or bee
This place is for me
Canoe or snowshoe
This place is for you
Log or tree
This place is for me
Spring or fall, big or small
This place is for all
Nature In My Eyes
by Meadow de Vries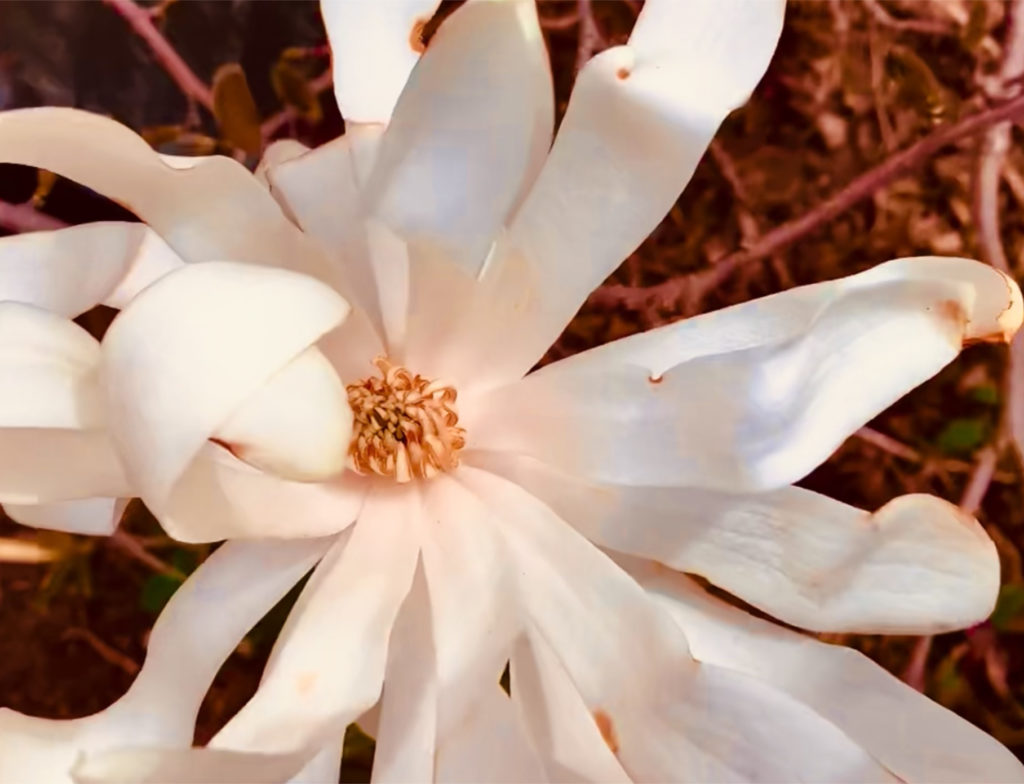 FLOWERS
COLORFUL BRIGHT
SWAYING DANCING BENDING
BLOOMING IN THE SUN
SPRING HAS SPRUNG
Magnolia
Silky white
Reaching climbing running
Just as I am
Cape is blooming