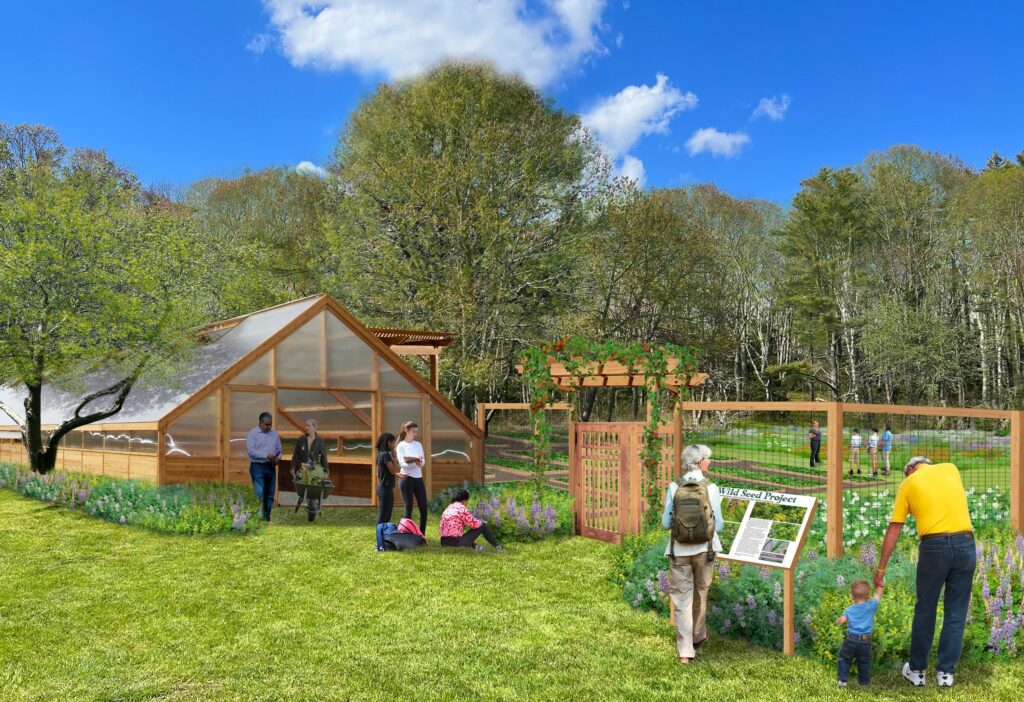 Last year, CELT began collaborating with Wild Seed Project (WSP) to develop a first-of-its-kind Native Seed Center at Turkey Hill Farm. Right now, the project is starting with seed development – seeds from many species are getting the time needed over the winter to germinate for the next growing season.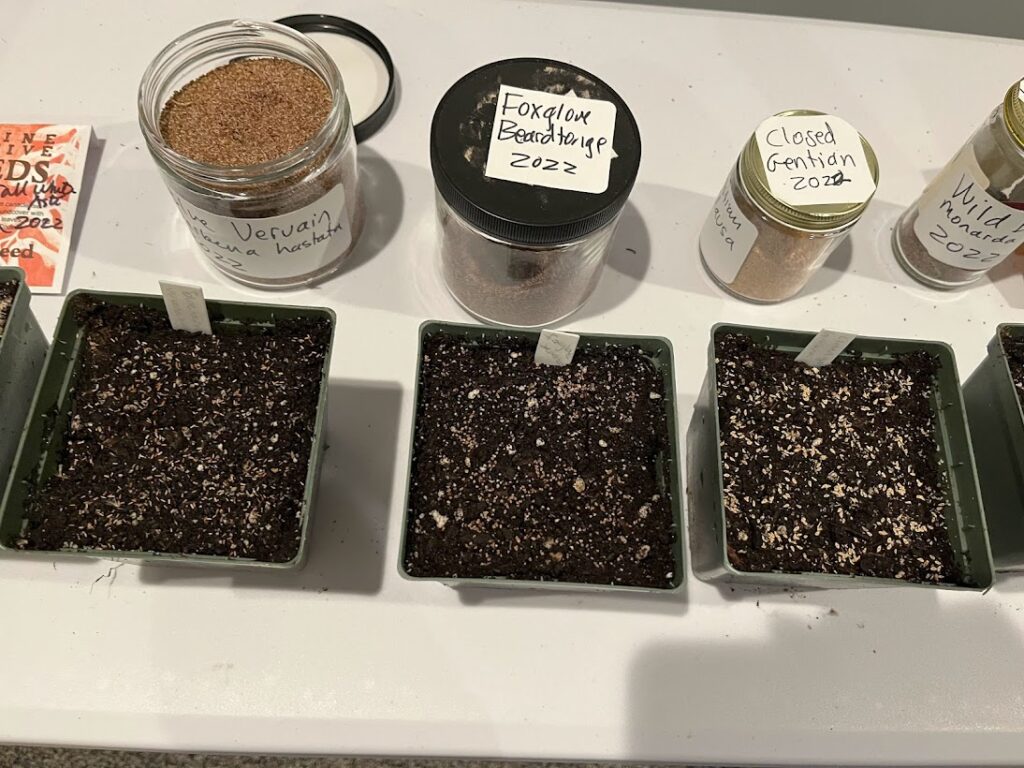 Seeds for this collaborative project started when CELT received the generous donation of the Turkey Hill Farm property from the late Peter Eastman. Our board of directors set up a working group, the Friends of Turkey Hill Farm, to gather community input and devise goals and a vision for the property. The resulting vision statement has translated into priorities for the Farm that include providing environmental and farming education, holding community events, and supporting native species including native seed propagation.
This vision aligned directly with the mission of Wild Seed Project, which is to build awareness of the vital importance of native plants and provide people with the tools to restore biodiversity in their own communities, in order to expand wildlife habitat and build climate resilience. In order to expand access to northeast native seeds, WSP shares over 3 million native seeds with the community each year. For the past eight years, those seeds have been hand-collected by volunteers all over the state, and each year, these volunteers find that populations of native plants are shrinking more and more. To address this growing problem, WSP recognized a need for a seed collection and propagation nursery, and Turkey Hill Farm seemed like the perfect location. The CELT board agreed, and the collaboration was begun.
Why native plants? Wild plants have evolved and adapted to our unique region over millions of years, and along with the food webs and wildlife they support, they are losing out as we face expanding human impact, loss of biodiversity, and a rapidly warming climate. By rebuilding populations of plants native to our region, we welcome back the insects, amphibians, birds, and mammals who have been driven out of our sanitized landscapes. Native plants support rich habitats teeming with life, while improving soil health and sequestering carbon, wherever they are – in backyards, on city stoops, in pots and containers, along sidewalks and roadways, in farm fields and forests.
What's happening at Turkey Hill? Site plans for the Native Seed Center at Turkey Hill Farm include a greenhouse built near the old vegetable garden, unobtrusive deer fencing around the growing area, the building of attractive and ecologically functional plant beds and hedgerows, planting areas throughout the property with restorative species, and adding native edible trees to the existing orchard. Within the fenced area, WSP staff and volunteers will be growing plants from wild seed for both their fall plant sale and educational landscapes throughout the state, as well as planting beds of important native plants to use as living seed banks/seed collection plots for reliable seed availability.
Last summer, Wild Seed Project began moving plants from staff and volunteer's homes to Turkey Hill Farm. They worked hard laying weed barrier fabric and setting up temporary fencing to protect the young plants from deer.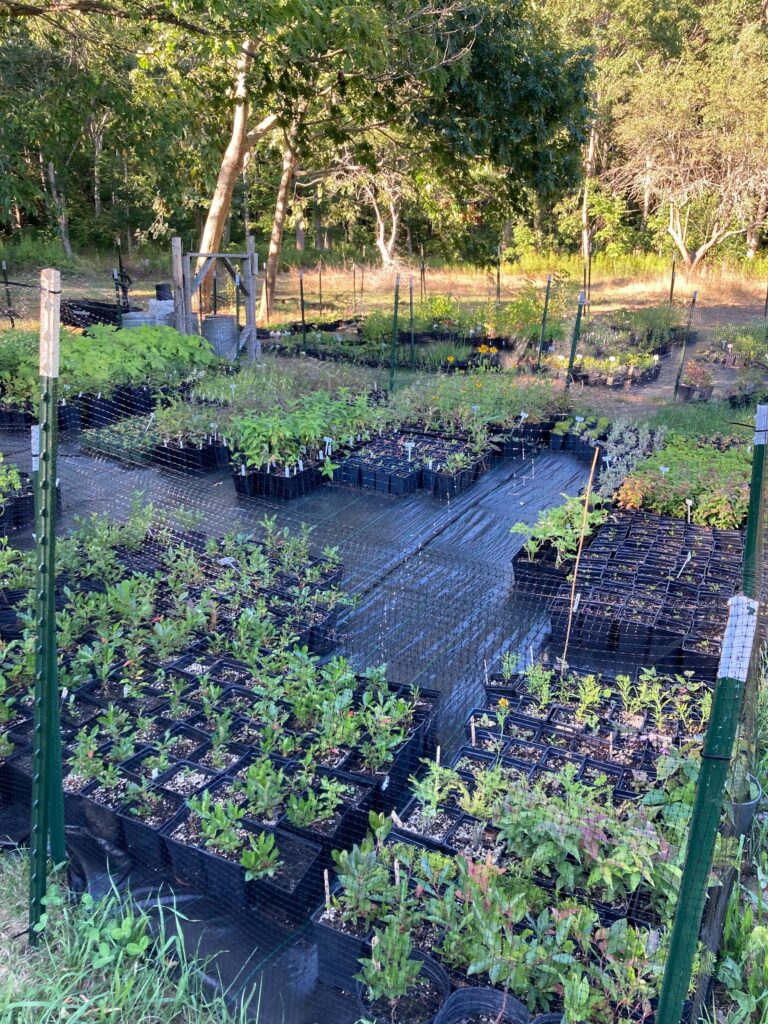 This winter, WSP staff have been busy sowing seeds into pots. This time of year is the best time to sow most native plant seeds – many species have evolved to need a cold wet winter in order to germinate. Seeds are sown outside in the fall and winter months in frames, and protected by wire mesh to keep rodents out. Some seeds will start to germinate as early as March, and others will germinate throughout the spring. Some even take two years to germinate!
Once temperatures dropped to freezing, the potted plants living at the farm were covered in a frost protective cloth and "put to bed" where they will stay until spring temperatures start to warm.
We look forward to watching the habitats and wildlife thrive at Turkey Hill Farm as the Native Seed Center continues to grow.