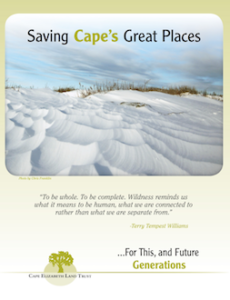 Every fall, the Cape Elizabeth Land Trust publishes an Annual Report to highlight the past year's accomplishments.  We're proud to present CELT's 2014 Annual Report, and we invite you to reflect on the accomplishments highlighted in the summary, as they wouldn't be possible without CELT's donors, volunteers, partners, supporters, Board of Directors, committee members, and staff.
 If you would like to request a hard copy of the report, please contact CELT at 767-6054 or via email, admin@capelandtrust.org.
Please consider a donation to CELT; click here, or you can stop into the office, or give Willa a call at 767-6054.