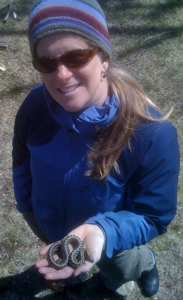 After a year "off" (where she continued to volunteer with CELT's Education Committee), Lisa Gent has come back on our board – for her 10th year. Lisa has been integral in helping to create our educational programming, including the fourth grade walk program, and regularly leads youth walks for CELT.
 Lisa has put her degrees in education and environmental studies into ardent practice, teaching for many years in many capacities – young children to adults, both in the public and private sector.  She's also been an environmental education consultant, and spent several years with the Maine Audubon Society as manager of the Environmental Center in Falmouth.  During this time she served for six years on the board of directors of the Maine Environmental Education Association, and as its president for two years.
Lisa is also a well-known jeweler and this past fall created a recognition pin for CELT's newly formed Oak Society.  "I was very honored to make this piece," she says.  "It's a perfect combination of my love for the outdoors, commitment to CELT, and my passion as a jeweler."  The pin is based in form on CELT's logo, the mighty oak tree.  Lisa hand formed and forged the tree from sterling silver, using various mallets to achieve different textures, followed by a process called oxidizing to further enhance those textures.
Lisa and her husband Steve have three boys, and make their home on Sawyer Rd.  Look for her on our trails – surrounded by children!