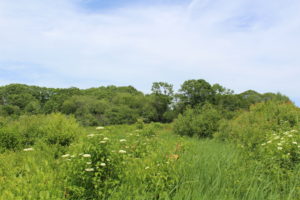 We are thrilled to have now closed on the purchase of 30+ acres of fields, forests, and wetlands now permanently conserved for the benefit of the public!  Said CELT President Elizabeth Goodspeed, "This property offers so many opportunities – from farming to recreation. Now that the acquisition phase is over, CELT's volunteer board is diving in to planning its future uses." 
"498 Spurwink Avenue" is located between the CELT-owned Runaway Farm preserve and the Town's Gull Crest property in Cape Elizabeth, Maine, which both allow public access. Conservation of this 30-acre parcel will allow for critical trail connections between these two properties, expanding opportunities for hiking, snowshoeing, cross country skiing, birding, outdoor photography, and more.  
Although we intend to allow public access, there is much work to be done to prepare the site for visitors. It will initially be posted "no trespassing" while it is prepared for recreational use. Says Goodspeed, "We ask that you give us a bit of time to make safety improvements and develop trails. As always, we welcome volunteers interested in helping!"
If you want to help get the property ready contact stewardship@capelandtrust.org.
The varied and inviting landscape near Pollack Creek includes fields, swaths of lush forests, rich wetlands, a lively small pond and high-quality farm soils. It is also potential habitat for the cottontail rabbit and declining species of birds such as Red-shouldered Hawk, Blue-winged Warbler, Northern Flicker, Blue Heron, Wood Duck, and Bald Eagle.
"Visitors can experience a sense of going back in time as they walk through fields and forest and ponder the wild and unseen footsteps of the many animals who call this land home," said Krum. An exciting new large loop trail will become possible. "Imagine meandering from Runaway Farm, across Pollack Creek, and onto the new property," she continued, "then hooking up with the Town's Gull Crest trails, Town Farm and Spurwink Trails and back to Runaway Farm."
We also envision expanding our popular education and community programs to this property in the future.
"We are glad to have obtained this spectacular property at below appraised value, with interim financing made possible with the support of The Conservation Fund," said Cindy Krum, Executive Director of the 33-year old non-profit land trust. "The sale closed on August 8, and we are still raising funding for its purchase and long-term stewardship."