More than 400 people braved lightning, thunder, and downpours to celebrate the iconic landscapes of Cape Elizabeth at Paint for Preservation 2019 on June 30. They were rewarded with a rainbow, fabulous artwork and a great time at the gala. Stay tuned for photos and a complete story!
Our 30 Paint for Preservation artists are eagerly scouting out their assigned painting locations in anticipation of CELT's 12th Annual Wet Paint Auction next Sunday, June 30th.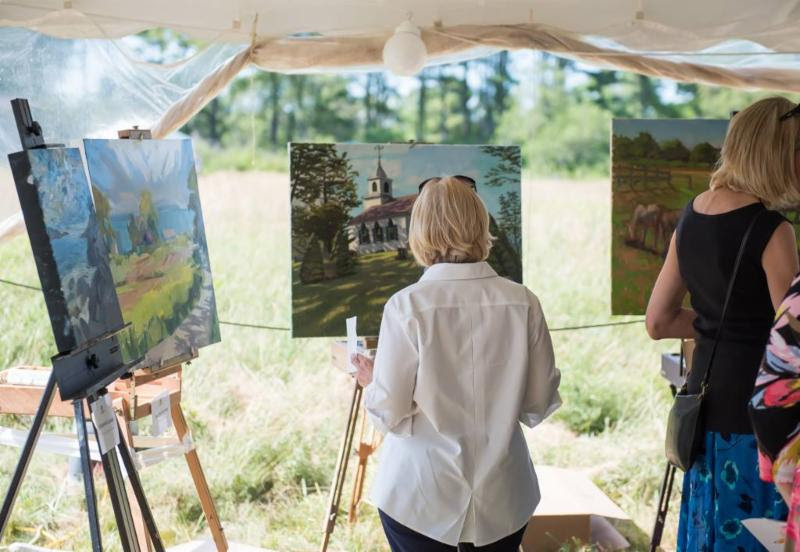 Painting sites showcase Cape Elizabeth's iconic landscapes. Most are in public areas, so over the weekend of June 28th-30th, you can watch the paintings come to life – then come to the auction and buy your favorite. Stop in to the CELT office each day to see who is out painting. Click here for a map of artist locations.
Each year, guests also hurry to buy one of the limited "Mystery Boxes," which contains a smaller, signed work by one of the event's talented artists.
More than 60 volunteers bring this benefit to life, including The Rotary Club of South Portland-Cape Elizabeth, which organizes parking. Cape Elizabeth chef Brett Cary of Chimney Rock Food Co. caters, using locally sourced foods. Live jazz is provided by Cul de Sax with Jim Huebener. The auctioneer will be the ever-entertaining Kaja Veilleux of Thomaston Place Auction Galleries. Beverages this year are generously provided by Geary Brewing Co. and Lone Pine Brewing Co.
This is CELT's only fundraiser. In addition to ticket sales, artists donate a portion of art sales, and generous support comes from businesses including: ETHOS, Key Bank, R.M. Davis, Inc., 360 Uncoated, Eyecare Medical Group, Inn by the Sea, Oak Hill Distributors, Town & Shore Associates, Wright-Ryan Construction, Inc., Casco Bay Frames & Gallery, The Marc Gup Real Estate Group of Keller Williams Realty, Huffard House Interior Design, Knickerbocker Group, Maine Limousine Service, Two Lights Dental, and the Veterinary & Rehabilitation Center of Cape Elizabeth.