Robinson Woods is a popular spot to bring your dog with its 197.5 acres and 8.3 miles of public trails.
Dogs of all types are welcomed at Robinson Woods, which is one of the central reasons we have both on-leash and off-leash hours. Many dogs love their personal space, and they only feel safe when all other dogs are also on leashes. Many are being actively trained to stay close to their owner, which means a leash is needed when in the woods. Also, many human visitors trust that dogs will be leashed when visiting the trails, especially if seeking personal space for reflection, or if on a big, fast, mountain bike (aka a scary machine to dog-eyes). On-leash and off-leash hours mean that all types of visitors can all experience the magic of Robinson Woods.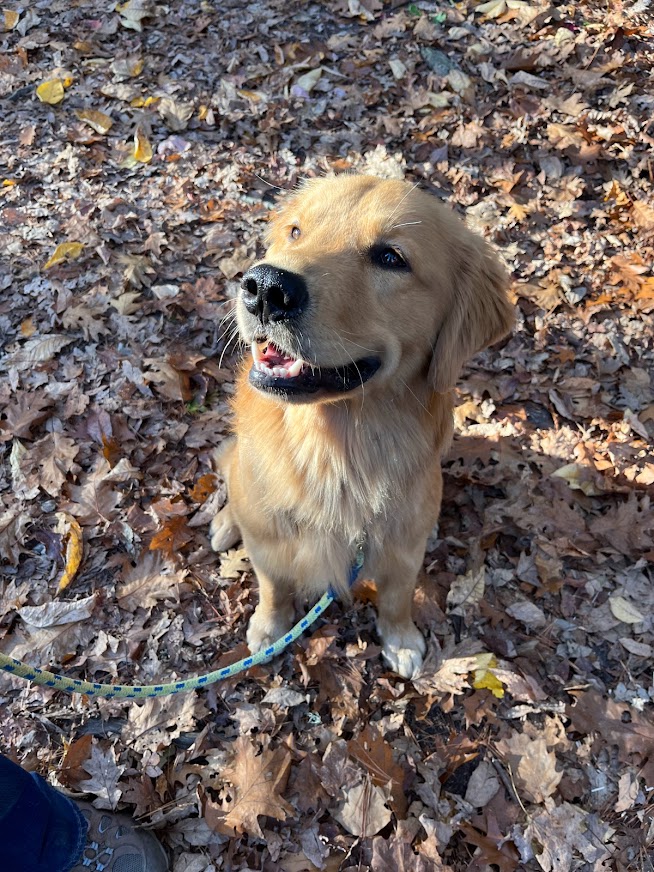 This season, CELT has created and posted new signs for the Robinson trails highlighting the existing leash requirements. Take a look next time you're visiting for new signs and maps around the area!
Leashes are required from 9am – 3pm every day on all trails at Robinson Woods, now that it's past September. In the summer, leash hours expand until 5pm, since the longer daylight allows for trail walks into the evenings.
Between sunrise and 9am, and between 3pm and sunset, leashes are only required on the Wildflower Trail, along the fields, within 10 feet of roads, and on the southern bit of the Cross-Town trail as it enters the Canter Way easement (see red trails on map below). (Leashes are always required on the Canter Way easement trail, according to CELT's legal agreement with the land owner.)
If before 9am or after 3pm for all other public trails at Robinson Woods, dogs must be in sight and under voice control if off-leash (see yellow trails on map below).
Look out for the new signs and maps along the beautiful trails, enjoy the woods this season, and thanks for your help in making our trails safer for a wider range of visitors!