"Casco Bay from Back Cove to the Cape"
Eric Hopkins' original watercolor Casco Bay from Back Cove to the Cape will soon be available for sale at auction, to benefit CELT's land conservation, stewardship and education work. The painting, which measures 29" wide by 37" high (framed) and 22" wide by 30" high (unframed), will be included in Thomaston Place Auction Galleries Summer Auction on August 23-25.
Where You Can View the Painting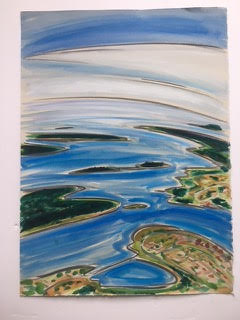 Local residents and others have the opportunity to view the painting on exhibit at Inn by the Sea from July 1st until August 8th. The painting will also be featured in a one-day only show of Eric Hopkins' broader work at a community open house hosted by Ocean House Gallery & Frame in the Cape (299 Ocean House Road) on Saturday, August 10th from 1:00 p.m. to 4:00 p.m. The show will include additional work available for purchase that day. Proceeds from the August 10th exhibit will be shared by the artist, CELT, and Ocean House Gallery. Hopkins will be present at the community open house to answer questions and discuss his work. Beverages and snacks will be provided. All are welcome.
How You Can Bid
You may bid on the painting at Thomaston Place Auction Galleries (51 Atlantic Highway, US Route 1, Thomaston, ME) or online at www.thomastonauction.com, where the full online catalog, schedule, and auction details will be available on August 1. To register for online bidding, visit www.live.thomastonauction.com. For a printed catalog, available by August 6, call Thomaston Place at 207-354-8141 or email jeniffer@thomastonauction.com.
A Collaboration of Many Partners
The offering of this painting for sale at auction entails a remarkable collaboration of CELT, Eric Hopkins, Thomaston Place Auction Galleries, Inn by the Sea, and Ocean House Gallery & Frame.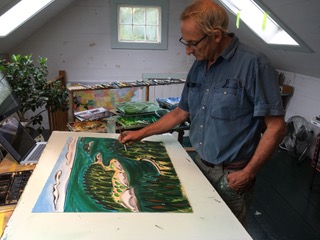 One of Maine's most acclaimed artists, Eric Hopkins has been a supporter of Maine lands trusts for decades. Born in 1951 in Bangor, Maine, and raised on North Haven Island, Hopkins works in many different mediums, including watercolor, oil, glass, wood cut-outs, and more. In a style characteristic of many Hopkins' paintings, Casco Bay from Back Cove to the Cape provides perspectives of the earth from the sky, a vantage point designed to promote reverence for the natural environment. "I'm proud to be part of CELT's vision and mission, and in my work, I choose to focus on the power of nature," said Hopkins. "As Albert Einstein said, "look deep into nature, and then you will understand everything better."
Thomaston Place Auction Galleries, Maine's premier international auction company and a leader in discovering Maine's antique and fine art treasures, has conducted the Land Trust's major auction benefit, Paint for Preservation, since 2011. This new collaboration is an extension of that support. In describing the auction, Thomaston Place owner Kaja Veilleux says: "We are big supporters of the preservation efforts of the Cape Elizabeth Land Trust, and we've been honored to partner with them for many years in their fundraising programs. This wonderful Eric Hopkins work will be the perfect addition to our annual summer auction which will feature outstanding fresh-to-the-market fine art and decorative rarities."
The exhibition of the painting at Inn by the Sea reinforces another long-term partnership, as the Inn has been an annual sponsor of CELT's Paint for Preservation auction benefit since 2010. Michael Briggs, the Inn's General Manager expressed his support: "Inn by the Sea feels privileged to have the opportunity to briefly host this wonderful Eric Hopkins painting of a very local, coastal scene for the Cape Elizabeth Land Trust. Eric Hopkins perfectly captures the essence of the Maine coast in this aerial view of the Cape Elizabeth area. We do hope the painting will generate a great deal of interest for CELT and help support their important conservation work. We welcome all those dropping in at the Inn to view the painting to enjoy the Inn's permanent installation of regional art, including another Hopkins."
Graham Wood, the founder and owner of Ocean House Gallery & Frame, is also a dedicated CELT supporter. The gallery and frame shop has been a sponsor of Paint for Preservation from 2015 through 2018. Graham, himself an artist, has been a participating painter in the Paint for Preservation event from 2017 through 2019. Speaking about the community open house, Wood said "For decades, Eric Hopkins' aerial views of coastal Maine have charmed and challenged us to enlarge our appreciation and co-existence with the earth. His exuberant blues and greens accentuate the urgency essential to protect land and sea everywhere. We are pleased to host this one-day show, which will exhibit the painting to be subsequently auctioned. The show will also include other Hopkins' work for sale and proceeds will be shared among the artist, CELT and Ocean House Gallery."


"This collaboration unites many of CELT's partners from different perspectives," said CELT Board President Elizabeth Goodspeed. "We are grateful to Eric Hopkins and Thomaston Place owner Kaja Veilleux for making the auction of this painting possible and to Inn by the Sea and Ocean House Gallery & Frame for their promotional exhibitions."