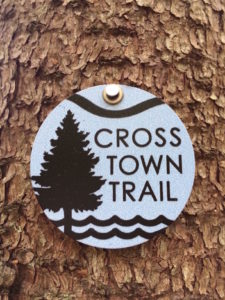 Since the first Greenbelt Plan was prepared in 1975, the town has pursued a goal of creating a greenbelt trail that extends from Fort Williams Park to Crescent Beach. The Town of Cape Elizabeth and the Cape Elizabeth Land Trust (CELT) have both worked to preserve land and acquire public access rights to make this trail a reality.
The Cross Town Trail is actually several trails that have been nurtured over decades. Of the 7.5 miles that make up the Cross Town Trail, 4.1 miles are on land or easements held by the Town of Cape Elizabeth. CELT hosts 1.3 miles of trails. CELT and the Town jointly host another 1.1 miles of trails. The final 1.1 miles are located on town roads.
The Cross Town Trail is located on publicly owned land, land owned by CELT and on private lands where property owners have provided rights for public access. The incremental development of the Cape Elizabeth greenbelt is exemplified in the Cross Town Trail. Almost 40% of the trail length has been acquired by purchase of property or easements. Approximately 32% has been acquired through development review by the Planning Board, with advice from the Conservation Commission. About 5% has been acquired through the generous donation of land or easements by Cape property owners and about 17% is located on public roads.
The trail traverses the special ecosystems of Cape Elizabeth. Starting with views of Casco Bay and the islands, the trail winds trough woodlands, past vernal pools, and across bridges spanning fresh and saltwater habitats. Users of the trail will visit the majestic Great Pond near the end of their journey. Visitors will conclude their trip at Kettle Cove with additional lovely ocean views. The rich natural and human history of the conservation properties will be discussed on the annual National Trail's Day Cross Town Walk.