Don't be shy, enter your pie!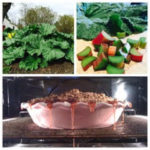 Whether you are a master baker or just learning to use an oven, bring along a pie to CELT's Harvest Party! This light-hearted pie contest is very informal and you are welcome to donate more than one pie. Awards are given out in four categories – best fruit, prettiest, best chocolate or cream, and people's choice. 
Please deliver pies to the Fort Williams picnic shelter between 3:00 – 4:00 PM on Sunday, September 17, 2017.
If you'd like to donate a pie or help serve, please email Anne Carney.