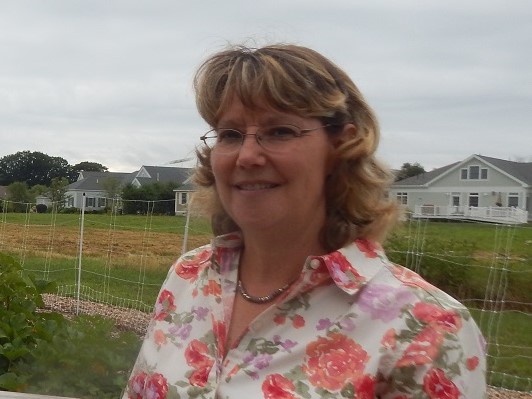 CELT has a long history of taking students on field trips to our preserves. Most of these trips are led by volunteers who work with our education coordinator to learn content, practice activities, and ultimately lead classroom groups.
A recent addition to our Education team, Amy Witt brings a valuable cache of knowledge and experience to our group of core leaders. Read on below!
Tell us a little bit about who you are and where you're from.
I am an educator, horticulturist, and naturalist with years of experience developing, coordinating and providing horticulture and nature-based educational programs for children and adults.
I grew up in Pittsburgh, PA. I went to college at Boston University and graduate school at the University of Oregon. I have lived in Maine since the late 1980's. I am married to Hans Hackett, have 4 cats, and love walking on the CELT trails.
What previous experience do you have teaching or leading?
For 17 years, I was the Horticulturist with the University of Maine Cooperative Extension in Cumberland County. In my role with UMaine Extension, I established and managed the UMaine Gardens at Tidewater Farm; developed and delivered a wide variety of educational programs for children and adults; and coordinated the Master Gardener training program.
I have a degree in Horticulture, am a Maine Master Naturalist, Master Gardener Volunteer and a Habitat Steward. I am a current trainer for Landscape for Life and was also an instructor for the National Wildlife Federation's Habitat Steward Program.
Tell me more about your current work.
I am the founder and director of Earth Walkers www.earthwalkers.me which provides nature-based educational programs for children and adults, as well as one-on-one garden coaching services. For the past two years, I have also taught a monthly nature-based program for the preschoolers at Appletree School in Cape Elizabeth.
When did you first interact with CELT? What/who caused you to get more involved?
My husband and I have been members of CELT for several years. In 2018, I was enrolled in the Maine Master Naturalist program and Betsy Winslow was my mentor. She introduced me to the program CELT had with Pond Cove School and invited me to participate in some of the walks. In 2019, I signed up to help lead some of the school programs and nature walks for the Inn by the Sea. Last fall, Lisa Gent invited me to serve on the Education Committee. In January, my husband and I led a Cross Town Trail walk for CELT members, and in June I hope to co-lead an invasive species walk with Andrea Southworth at Pollack Brook.
What do you see as CELT's strengths as an organization?
Collaboration with the Cape schools and awesome trails.
Do you have any favorite moments from volunteering with CELT so far?
One of my favorite moments was leading a walk last summer on Crescent Beach for the guests at the Inn by the Sea. One of the participants on the walk was a 9-year boy. He was so excited to learn about the ecology of the beach and adjacent wetlands, as well as the sea life. He was very engaging and asked me some great questions. It was nice that he really wanted to participate and learn, and that the walk wasn't an activity that his grandparents made him do.
Thank you, Amy, for all you do for CELT, as well as the greater Cape Elizabeth community!