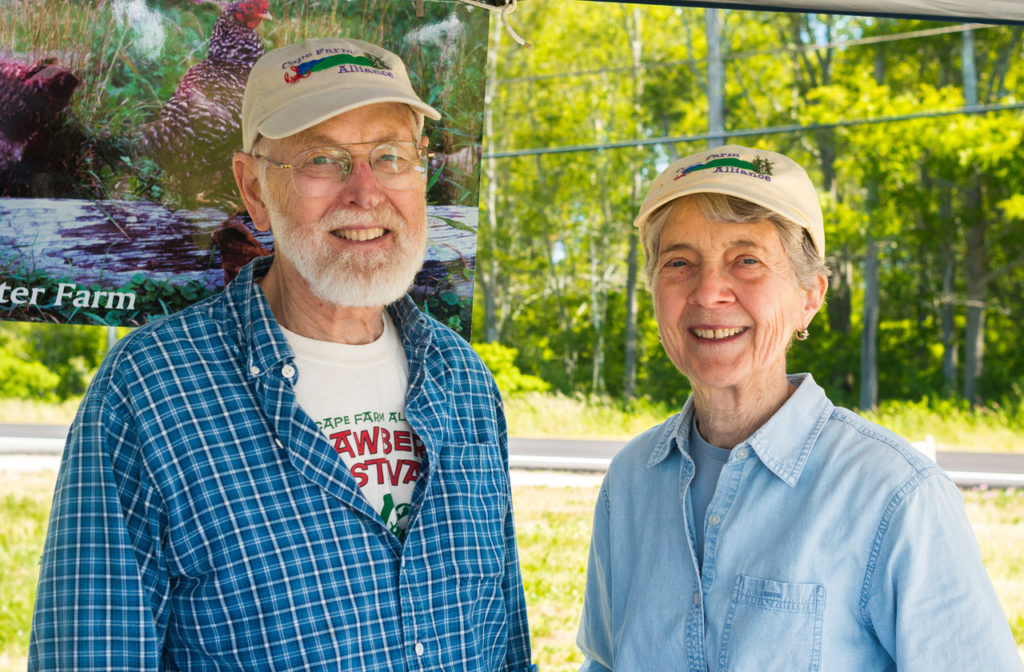 Two actively dedicated supporters of land conservation and farmland preservation will be leaving us this fall, moving from Cape Elizabeth to Hanover, New Hampshire. Nancy and Frank Miles will be dearly missed, but their numerous contributions will continue to enrich our community for many years to come.
Their volunteerism has been broad and deep; both supported CELT in several capacities. Nancy served on our board for nine years, chaired the Governance and Education committees, was board secretary for five years, and was our liaison with the Conservation Commission. (She was also a charter member of the town's Recycling Committee.) As chair of CELT's Education Committee for six years, she led initiatives and coordinated projects in all three schools, including the extensive 8th grade trail work project and the start of the high school STP program – programs which today continue to educate students and support important curricula.
Frank was a founder of Maine Farmland Trust (MFT). Past CELT Executive Director Chris Franklin (now a Farmland Protection Project Manager at MFT) recalls, "Frank was persistent in his efforts to have CELT become more active in protecting farmland, through introductions to landowners, helping with the formation of the Cape Farm Alliance, and helping to strengthen the relationship between Maine Farmland Trust and CELT."
Nancy and Frank have also been enthusiastic supporters of the Maine Organic Farmers and Gardeners Association; they are prolific growers themselves. Nancy is a Master Gardener and was a co-founder (with Carol Fritz and Judy Simonds) of the town's first community garden at Gull Crest, where Frank worked tirelessly by Nancy's side building the infrastructure. Nancy oversaw management of the garden for many years and worked with the Maxwell family to establish a second community garden on Spurwink Ave., eventually creating a total of 90 individual plots. Frank's passion for birds led him to build and install a number of bluebird nesting boxes at the gardens and on other town property.
The community gardens served as a springboard for the creation of the town's first food pantry in 2010, an initiative which Nancy led for many years, only recently turning over the reins to Beth Owens and many other volunteers.
"Frank and Nancy Miles epitomize the type of support small organizations need to thrive," Chris Franklin says. "Their innumerable contributions to CELT (and MFT) brought a wealth of knowledge, compassion and enthusiasm in support of our organizations' missions and the communities we serve."
Though Nancy was celebrated with the town's Ralph Gould Award in 2005, she and Frank never seek accolades for their contributions. Nancy recently allowed however, when asked about her volunteerism, that she had taken the motto of her alma mater, Wellesley College, to heart: "Non Ministrari sed Ministrare. Not to be ministered unto, but to minister." It's been Cape Elizabeth's and CELT's great fortune to experience the boundless dedication that they've both given to that mission. We send them off to their new home with our most sincere appreciation and deep gratitude.