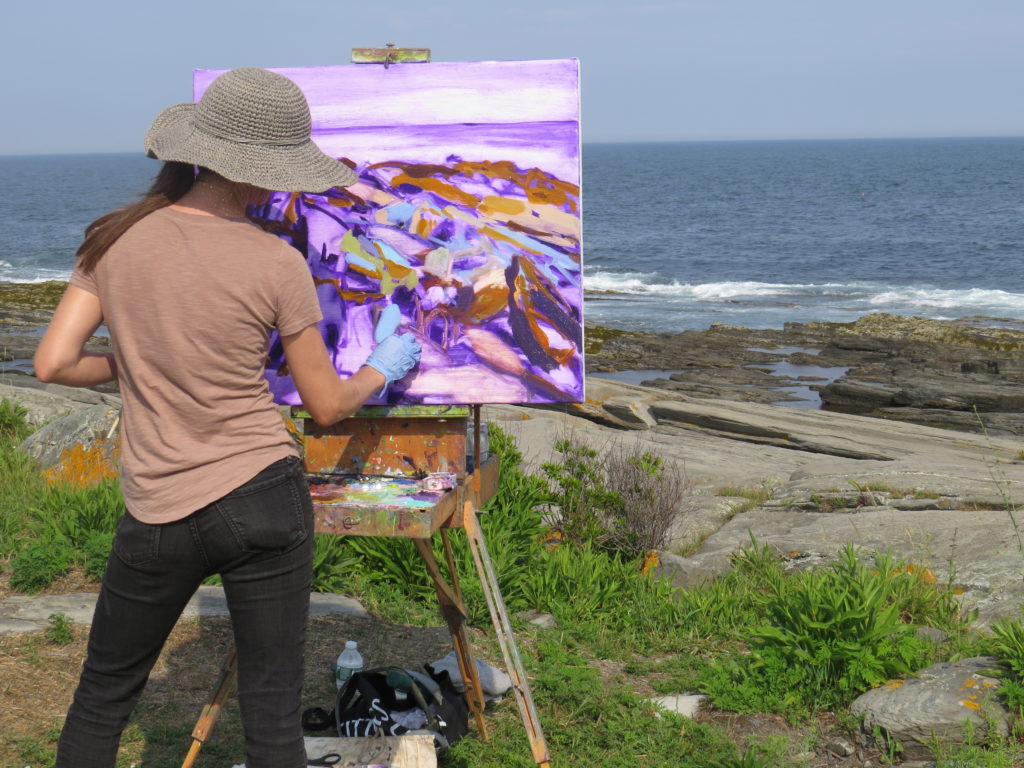 After a very competitive jury process, 30 accomplished artists have been selected to participate in the 12th Annual Paint for Preservation Wet Paint Auction on June 30.
Selected artists this year include both first-time and veteran participants:
| | | |
| --- | --- | --- |
| Olena Babak, Hartland, ME | Alison Hill, Monhegan, ME | Bjorn Runquist, Spruce Head, ME |
| Charles Fenner Ball, Bangor, ME | Jill Hoy, Somerville, MA | Matthew Russ, Waterville, ME |
| Ken DeWaard, Hope, ME | Anne Ireland, Bath, ME | John Santoro, Portland, ME |
| Marsha Donahue, Millinocket, ME | John Knight, Portland, ME | Holly Ready, Cape Elizabeth, ME |
| Mike Dorsey, Ipswich, MA | Marguerite Lawler, Portland, ME | Lou Schellenberg, Litiz, PA |
| Carol Douglas, Rockport, ME | Janet Ledoux, Biddeford, ME | Caleb Stone, Rockport, MA |
| Cooper Dragonette, Cape Elizabeth, ME | Nathaniel Meyer, So. Portland, ME | Judy Taylor, Seal Cove, ME |
| Erin McGee Ferrell, Falmouth, ME | James Mullen, Portland, ME | Charles Thompson, Saco, ME |
| Margaret Gerding, Kennebunkport, ME | John O'Shaughnessy, Wells, ME | Michael Vermette, Indian Island, ME |
| Lindsay Hancock, Gray, ME | Colin Page, Camden, ME | Graham Wood, Cape Elizabeth, ME |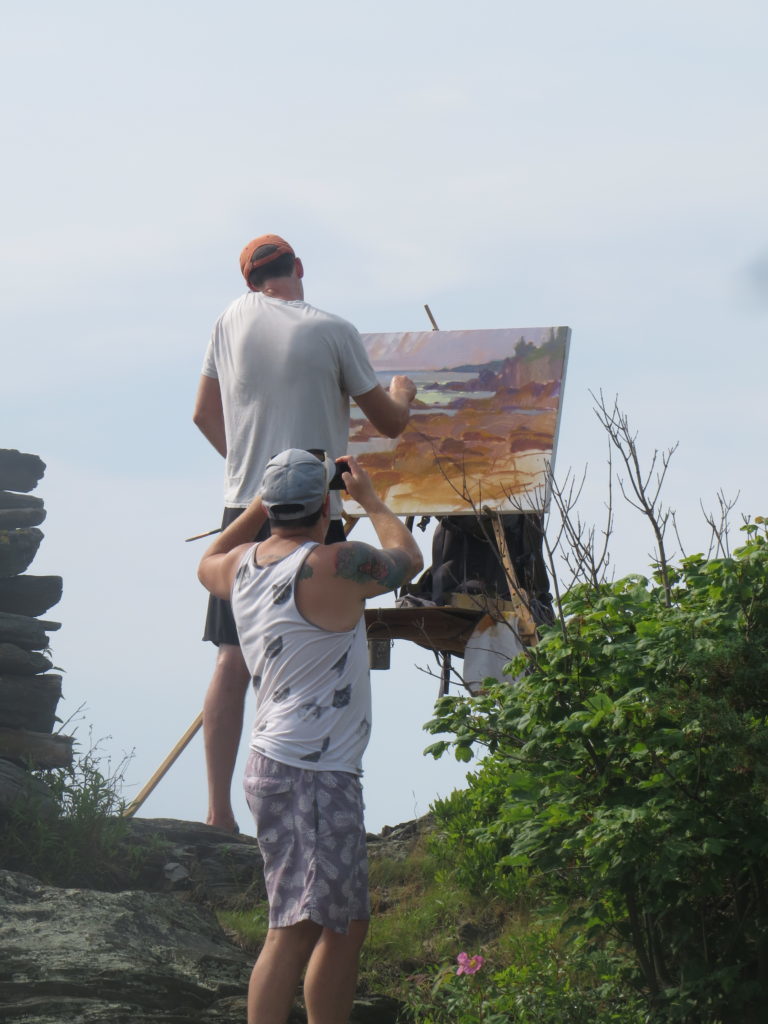 Preview samples of each artist's work here.
A map of the artists' painting locations will be available as the date nears. Anne Zill, director emerita of the University of New England Art Gallery and an independent art curator, juried the artists.
These 30 artists will fan out across Cape Elizabeth from June 28-30, painting outdoors – en plein air – throughout the weekend, at locations that highlight the incredible land- and seascapes of Cape Elizabeth. The entire community feels the weekend excitement – people tour Cape Elizabeth throughout the weekend just to see the artists at work. Their creations will be auctioned (many while still wet) at the gala reception on Sunday evening, June 30, at a stunning seaside home looking over Pulpit Rock. Proceeds, including a portion of the art sales donated by the artists, benefit the Cape Elizabeth Land Trust. In addition to the larger paintings, art lovers may purchase an unmarked Mystery Box containing a smaller painting by one of the participating artists. For many, this is the highlight of the event.
Tickets for the cocktail reception and auction sell out every year. They will be on sale May 1st.
The event has garnered generous sponsorship support from area businesses, including:

360 Uncoated ♦ Casco Bay Frames & Gallery ♦ The Marc Gup Realty Group of Keller Williams ♦ Huffard House Interior Design ♦ Knickerbocker Group ♦ Maine Limousine Service ♦ Two Lights Dental ♦ Veterinary & Rehabilitation Center of Cape Elizabeth
Beverages have been donated from Lone Pine Brewing Co. and Geary Brewing Co.
Cape Elizabeth native Brett Cary, Chef of Chimney Rock Catering Co., will be preparing the delicious treats, and Kaja Veilleux of Thomaston Place Auction Galleries is donating his time and talent as auctioneer.
Parking is provided by the Rotary Club of South Portland-Cape Elizabeth.
Many thanks to all of these great supporters!