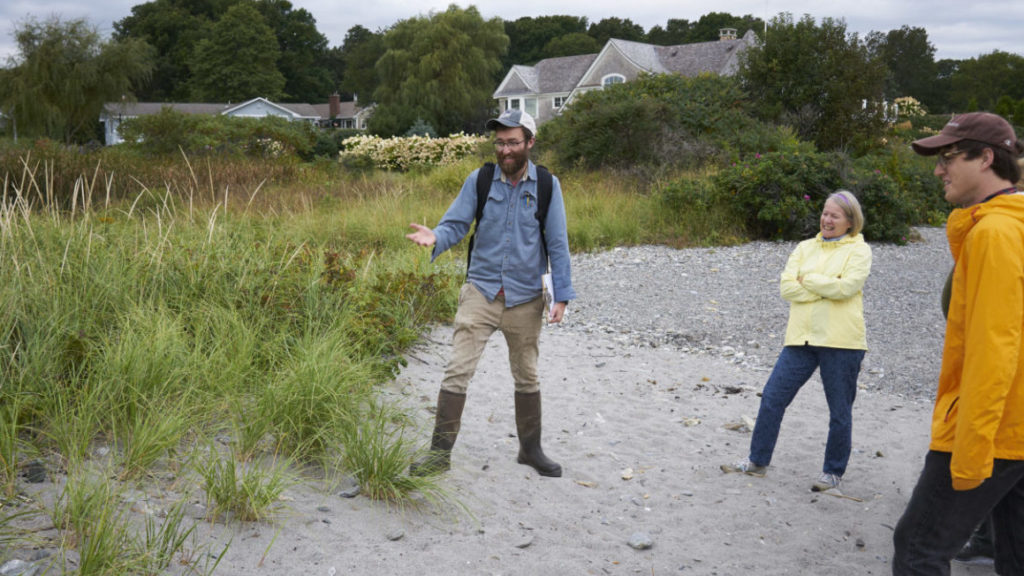 We are very sorry to be saying goodbye to CELT Stewardship Manager, Christian Schorn!
Chris joined CELT last year as our very first staff member dedicated solely to stewardship, taking on care and management of all 770 acres of CELT's conserved lands. You might have met Chris on one of our walks at Pollack Brook Preserve, Robinson Woods III, or Trundy Point, or during a monitoring visit on an easement property. In his time with us, he helped organize and coordinate our stewardship efforts, bringing increased efficiency and collaboration to a critical component of CELT's work.
Chris oversaw the management planning for Pollack Brook Preserve, which includes protecting and restoring habitat for the endangered New England Cottontail, making new trail connections, and managing traditional uses of the land, such as hunting and farming. He coordinated a successful 2019 field season with interns, contractors, and over 700 hours of volunteer help spent on removing invasive species and maintaining trails. In addition, he assisted in CELT's reaccreditation process with the Land Trust Alliance, examining and strengthening our stewardship policies along the way.
Chris shared: "One of my favorite parts of the job was getting to meet and work with community members. There are so many passionate people in Cape Elizabeth who care deeply about protecting the Cape landscape for their kids, or because they grew up here, or because they care about protecting biodiversity from the worst consequences of climate change. It was a privilege getting to know you, hearing your stories, and being able to work alongside you to make a difference."
Chris has joined Midcoast Conservancy, closer to his home in Bowdoin, as their full-time Senior Land Steward. He bids a fond farewell to all–especially the New England cottontails nesting peacefully in their brush piles at Pollack Brook Preserve, the industrious beavers of Robinson Pond (and the trees they've cut down), and the seals of Trundy Point—and asks that nobody take for granted the beautiful and special landscapes of Cape Elizabeth.
We wish Chris the best in his new position, and look forward to hearing of his future endeavors!