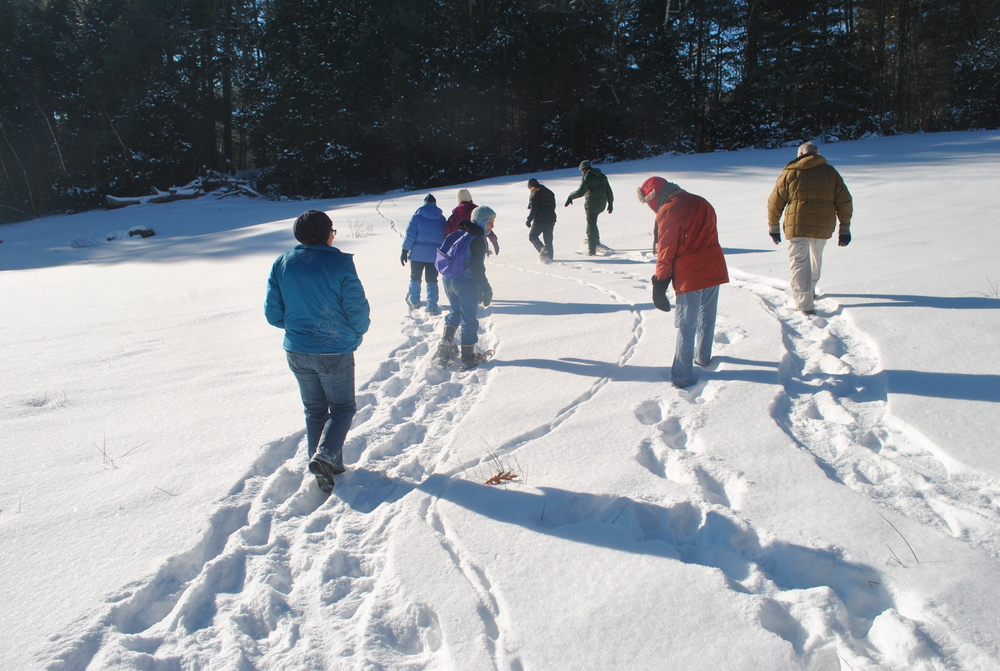 When you work in a position that covers education for all ages, it's inevitable that you will eventually be asked to teach about a subject that you aren't actually an expert in. That moment came for me this past November, when I was informed that I would be teaching an intro to winter tracking for families in February. It's often said that teaching is the last stage of learning, so in that spirit I borrowed some books, booked a slot in an evening course, and prepared to soak up as much as I could so I could share it with the CELT community. Here's a taste of what I learned.
Start by Just Paying Attention
Tracking, like most things in life, is all about patterns. A quick Google search yields a daunting glossary of terms describing animal tracks — width, pitch, stride length, straddle, etc. — that are really just specific terms for the general ideas of patterns. Human brains, like those of any other visually-oriented species high on the food chain, have evolved over millions of years to be inherently good at picking out patterns in what we see. And while you might be more interested in figuring out where the cottontails are hiding than tracking a deer for dinner, you can learn a whole lot just by letting your brain do the work.
Next time you come across the track, don't worry about identifying what the animal is, or how old it was. Just notice where it's going, where it's coming from, and where it might have stopped or change direction. Eventually, these basic observations that your brain makes almost instantly will form the basis for much more complex interpretation.
Use What You Already Know
If I gave you a picture of a paw print with four toes, clear claw marks, and an oval-ish overall shape, you might be able to pull out a tracking book and tell me that the print is most likely from the canine family, and depending on size could belong to a number of foxes or a coyote.
If I told you that I took that picture on the outer loop trail in Robinson Woods, you could save yourself the trouble and tell me that it's almost certainly just a local domesticated dog.
The trick to tracking, especially when you're just starting out, is figuring out how to connect what you already know about animals and their behavior to the tracks they leave. If you notice a hunting stand up in a tree at Pollack Brook, you might want to head that direction to look for deer prints. If you see feline prints in the backyard, it's probably just a house cat, but similar prints in the middle of Gull Crest could belong to a wilder predator.
A Print in Hand is Worth Two in the Bush
If you have a birdfeeder in your backyard, I encourage you to pull your boots on right now and go investigate for signs of marauding squirrels. Next time you're taking your dog out for a walk, see if you can tell how many other dogs have walked that trail before you. The morning after our next snowfall, take a moment while you prepare your cup of coffee to look out the windows and spot what you can from the comfort of your home. Like anything else, the sooner you build a habit of learning, the sooner you can start to learn.
Go to An Event
Last but not least, when you do have the time it's always great to learn from and share with others! Here are a couple events coming up in February:
Early Release Adventure: Winter Tracking at TML
February 5, 2:15 p.m. — 3:15 p.m.
Winter Wildlife Tracking at Maine Audubon
February 9, 9:00 a.m. — 12:00 p.m.
Animal Tracking for Families by CELT
February 20, 9:30 a.m. — 10:30 a.m.