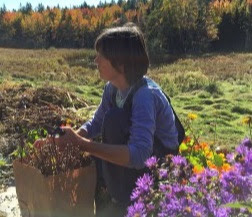 TONIGHT!
Native Plants Walk in Robinson Woods
May 23rd, 5:00 – 6:30 p.m. Join The Wild Seed Project's Heather McCargo to learn about some of our native wildflowers, ferns, shrubs and trees. Heather will talk about which species are adaptable to gardens and developed landscapes, the threats to their survival, their unusual reproductive strategies, and their edible and medicinal properties.
National Trails Day Cross-Town Walk
June 1st, 8:00 a.m. – 1:30 p.m. Our annual Cross-Town Walk will begin at Portland Head Light and traverse seven miles of Town of Cape Elizabeth and CELT trails. It offers a unique overview of Cape's diverse ecosystems including Spurwink Marsh, Robinson Woods and Great Pond. The walk takes approximately three and a half hours and includes a picnic lunch provided by CELT at Kettle Cove.
TML & CELT Talk and Walk Series: Coastal Habitats
June 20th, 1:00 – 3:00 p.m. Join CELT and the Thomas Memorial Library for the second program in our Talk & Walk series. The talk starts at 1:00, after which we'll walk near the beach to see how habitats shift near the shore. You can come to one portion of the event or both. No registration is needed and the event is free.
Invasive Plants Nature Walk
June 20th, 5:00 – 6:30 p.m. Visit CELT's newest property to learn about local invasive plants, including how to identify specific species, eradication strategies, and why invasives pose a threat to our ecosystem.
For details and registration for all events, visit our website.