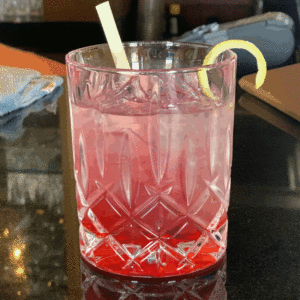 Thanks to Inn by the Sea bartender Eddie Inness for creating this signature cocktail to help recreate the feel of our traditional Paint for Preservation seaside reception! He named it, "Color Theory" as a nod to our artists because you mix three different colors and get a new one. And, the blueberry syrup (or blueberry vodka) brings out its Maine roots.
So, grab your ingredients, pull out your bar utensils, and get ready to craft this delicious blend while bidding in our auction and watching our CELTebration this weekend!
"Color Theory" Cocktail/Mocktail
1.5 ounces of vodka*
.5 ounces of limoncello
6-8 ounces of lemonade
.25-.5 ounces of grenadine
.25-.5 ounces of blueberry simple syrup
Pour vodka & limoncello into a rocks glass with ice. Add lemonade to fill the glass a little over 3/4 from the top. Pour the Grenadine over the back of a spoon into the glass – this will cause a layering effect. Pour the simple syrup into a spoon and drizzle into the glass. Garnish with a lemon twist. Once everything is added, use the spoon to stir, creating a wonderful new color.
Are you making a MOCKTAIL? Skip the vodka and add a squeeze of fresh lemon juice instead of limoncello.
*Your favorite brand will do, or use blueberry vodka for a stronger blueberry flavor.
Blueberry Simple Syrup
Boil equal parts water and sugar, then add in another equal part of blueberries once the sugar is fully melted. Take the pot off the heating element and strain before the blueberries start to burst (usually around 4-5 minutes). Store refrigerated for up to 14 days. This recipe works well with seasonal berries of any kind.