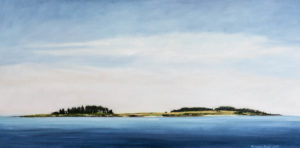 The setting sun illuminated Richmond Island as our Paint for Preservation wet paint auction drew to a close on the evening of July 9. And fittingly, Cape Elizabeth native Matthew Russ was voted by guests as the People's Choice Award winner for his painting of Richmond Island! This was Matthew's second year winning the award, which carries a $250 prize. (He shared the award with Margaret Gerding in 2016.)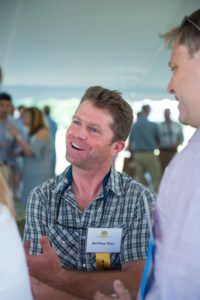 The Cape Elizabeth Land Trust's 10th annual Paint for Preservation auction benefited from a perfect summer evening at a stunning venue on Breakwater Farm Road. A big heartfelt Thank You to our sponsors and to the more than 400 friends and supporters, more than 70 volunteers, and 30 award-winning artists who gathered to raise over $75,000 toward conserving and caring for the natural lands that provide wildlife habitat, respite and recreational opportunities in Cape Elizabeth.
The artists had wonderful weather to paint en plein air (outdoors) throughout the weekend leading up to the auction of their "wet" artwork. Brett Cary's Chimney Rock Food Co. served delicious food, much of it sourced from Cape Elizabeth. Cul de Sax warmed up the audience with terrific music, before Kaja Veilleux of Thomaston Place Auction Galleries led an enthusiastic crowd in lively bidding for CELT's only fundraising event of the year.
CELT's Executive Director Cindy Krum observed that this year's Paint For Preservation enjoyed all the elements that make a successful event, "We had perfect weather, a beautiful setting, and wonderful guests.  Add talented artists and a great group of 70 volunteers and you get a fun and successful event."
We're grateful for the generous sponsorship support from many area businesses, without which the event would not have been possible. Sponsors included Maine Home + Design; Ethos; Key Bank; R.M. Davis, Inc.; Inn by the Sea; Nappi Distributors; Wright-Ryan Construction, Inc.; Browne Trading Co.; Casco Bay Frames & Gallery; Eyecare Medical Group; Huffard House Interior Design; Maine Limousine Service; Ram Island Home and Grounds; Town and Shore Associates; Veterinary & Rehabilitation Center of Cape Elizabeth; Brett Cary, Private Chef; and Thomaston Place Auction Galleries.  Bath Savings Bank and Ocean House Gallery & Frames sponsored the People's Choice Award.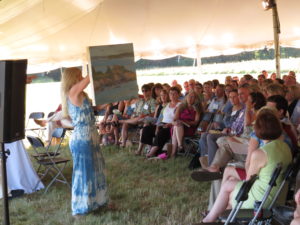 You can view beautiful event photographs generously donated by Bob Harrison and our sponsor Maine Home + Design's photographer Dave Dostie on CELT's Facebook photos page, along with Dick Sawyer's donated photos of each artist's painting.  Our special thanks to these photographers for helping us to document this event.  Please take a look, and thank you to all of our wonderful artist, guests, volunteers and sponsors for a truly magical evening.