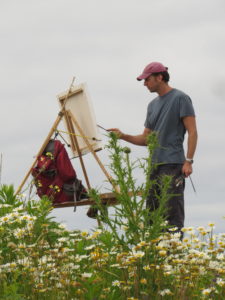 (Sunday 9 a.m.) Tickets are still available by phone 207-767-6054 or at the CELT office (330 Ocean House Road Cape Elizabeth) until 12:00. Walk in tickets are $75 at the venue, 96 Breakwater Farm Road beginning at 4 pm. 
Artists out painting at public places this morning (so far!) are Jill Hoy at Fort Williams, M.J. Benson at Two Lights State Park, and John Santoro at Town Farm.
From Friday July 7 – Sunday July 9 thirty acclaimed artists from Maine and beyond will be painting en plein air at both public and private locations around Cape Elizabeth as part of Cape Elizabeth Land Trust's 10th Annual Paint for Preservation Wet Paint Auction. The public is invited to watch the artists at work at the sites chosen to highlight Cape Elizabeth's natural beauty and character.  Here is the artist list and a map showing those artists painting in public places.  You can stop by the CELT office Friday or Saturday morning to see when the artists will be painting.
On Sunday evening from 4:00-7:30 p.m., their works will be auctioned at one of Maine's most anticipated wet paint auctions, with tented reception at a beautiful home overlooking Richmond Island. Smaller works by the artists will also be available for purchase as "Mystery Boxes". The reception will be catered by Cape Elizabeth native chef Brett Cary, and will feature delicacies sourced from local farmers and fishers. Live music will be provided by Cul de Sax.
Tickets are still available – but they often sell out, so don't miss yours!
CELT greatly appreciates the generous support from area businesses, including Maine Home + Design, Ethos, Key Bank, R.M. Davis, Inc., Inn by the Sea, Nappi Distributors, Wright-Ryan Construction, Inc., Browne Trading Co., Casco Bay Frames & Gallery, Eyecare Medical Group, Huffard House Interior Design, Maine Limousine Service, Ram Island Home and Grounds, Town and Shore Associates, and Veterinary & Rehabilitation Center of Cape Elizabeth, as well as Brett Cary, Private Chef; and Thomaston Place Auction Galleries.  Sponsors of the People's Choice Award include Bath Savings Bank and Ocean House Gallery & Frames.