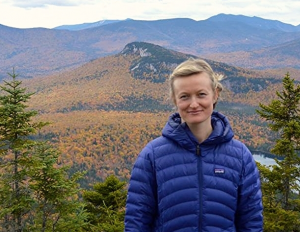 This past May, CELT had the good fortune to welcome Willa B. Antczak as the organization's first Membership and Development Manager.  Hailing from Vermont, Willa has a deep commitment to environmental preservation and a love of the outdoors. (An avid hiker and outdoor enthusiast, Willa has been exploring Maine with her fiancé and two dogs since moving to the state in 2013.) She received her B.A. in environmental studies from the University of Vermont, and earned a Masters in Urban Planning from McGill University, where she specialized in Natural Resource Management and Watershed Policy.
Prior to joining CELT, Willa worked as the Planning and Development Director in Waldoboro, where she led several environmental and land conservation projects, including a major rehabilitation of the Medomak River watershed – the state's most productive clam flat. Willa and her staff successfully secured a $250,000 grant to fund the rehabilitation work.
Willa is thrilled to be working with CELT. This summer she played an important role in coordinating CELT's very successful Paint for Preservation as well as our final Tri for Preservation, both of which have become hallmark community events in Cape Elizabeth.
Willa's priorities as Membership and Development Manager are to increase community engagement and to expand the range of programs to grow CELT's membership. She's been very impressed with the commitment and support she's received from staff, volunteers, board and committee members, and is looking forward to a very successful and productive year ahead.