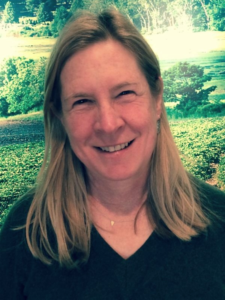 The Land Trust's newest board president has lived in Cape Elizabeth for 22 years, near Two Lights State Park. Anne Carney is a lawyer, volunteering with Pine Tree Legal Assistance, but she loves to be outdoors as much as possible, either on her feet, on a bike, on skis, or on her knees in her garden.
When asked to cite some of her favorite places to play in Cape, Anne has a long list. In addition to walking Two Lights, she loves to cross-country ski on Crescent Beach. "The snow and tides have to align perfectly; you can't do it every winter, but if the conditions are right, it's magical. In summer, I love to walk to Great Pond, where the Greenbelt and CELT trails are beautiful, and there's often a refreshing breeze. I also enjoy Two Lights at high tide during a big storm. People gather along the rocky cliffs and cheer for the waves as if they were watching fireworks! It can be spectacular."
Anne first volunteered for CELT at a Harvest Festival, organizing the pie contest. (Anne loves to cook.) She joined the Board of Directors in 2009, and has served on committees for governance, lands, stewardship, and accreditation. She's been Secretary and Vice President, and chaired the accreditation committee, a huge undertaking. "CELT's staff and many volunteers put a tremendous amount of work into that effort, and we're looking forward to the Accreditation Commission determination in March.
 "CELT's accreditation work really inspired me to focus on our duty to 'permanently preserve' Cape's cherished lands. Forever is a long time, but as I learned more about conservation nationally, and CELT's practices locally, I was able to envision how our work will benefit people who live in Cape Elizabeth 100 or 200 years from now.
"Our short-term goal is to manage our properties in a way that encourages use and enjoyment by everyone in our community; we also are evaluating some specific conservation projects that will protect additional parcels. My long-term goal is to have someone 200 years from now say, 'CELT did a great job back in the early 21st century; we're enjoying these birds, woodland animals, trails, and natural places because of their hard work and careful planning.' "