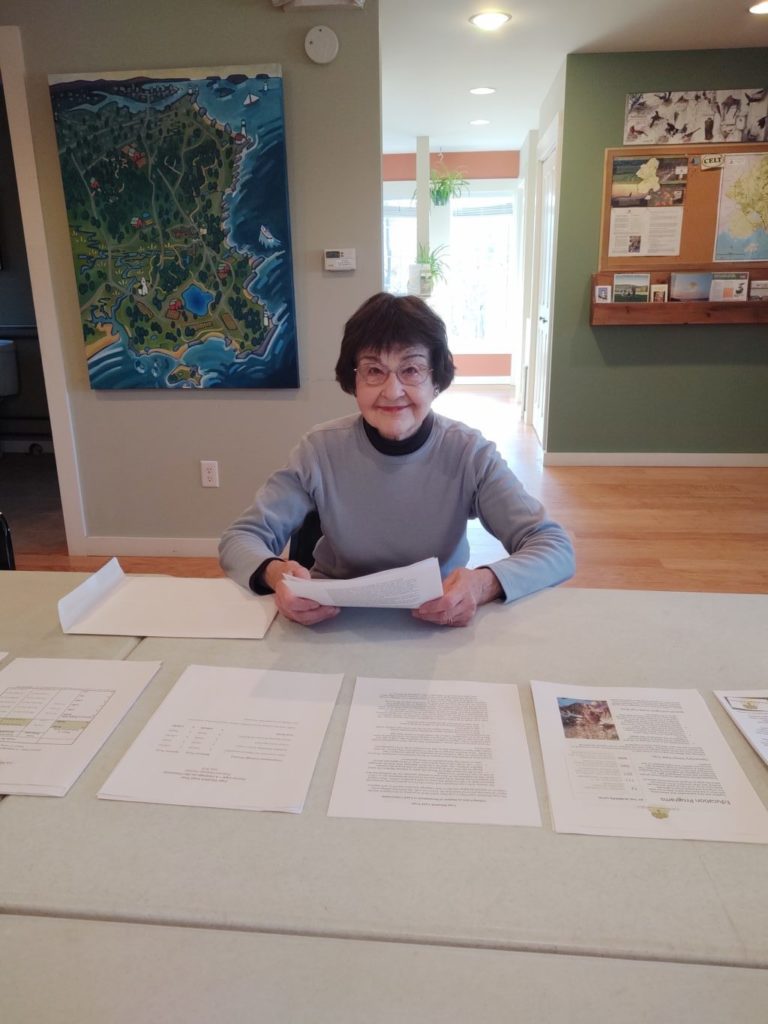 If you received a letter or invitation from CELT in the past year and a half, chances are that it was stuffed, sealed and stamped by Ginny Blackwood. Ever since checking the "Office" box on her membership form last summer, Ginny has come in one afternoon per week to help with mailings, copying our lands files, and just about any other task that requires patience and attention to detail.
"If you want to do a job, do it well, or don't do it at all," Ginny said, during a break from assembling new member welcome letters at the CELT office.
Ginny grew up in the Portland area and moved to Cape Elizabeth with her husband shortly after their marriage. Their four children all grew up in Cape, and came up through the Cape public school system. As their children graduated and headed off to various parts of the country, Ginny and her husband relocated to Tucson, AZ, where for eleven years they enjoyed the warmer climate and low humidity.
Over the many years in Cape, Ginny has been an active member of St. Alban's Episcopal Church, where she sings in the choir and serves on the Alter and Flower Guilds. It was her church community that convinced her to move back from Arizona after her husband passed away.
Ginny developed her administrative chops working for a long list of organizations, from banking and insurance to health organizations, including most recently Cape Elizabeth Family Medicine. "The most rewarding was when I was working for the Multiple Sclerosis Society in Maine, and the American Diabetes and Muscular Dystrophy associations in Tucson, AZ."
Now retired, Ginny enjoys helping at CELT, proofing for the Cape Courier, and all her church activities. Asked what resonates most about CELT's mission, she said "I just like seeing that the land is being preserved… so that we still have farms available, beautiful land for trails, and so that we preserve the history and beauty of Cape Elizabeth."
When informed that, by CELT's best estimates, she has mailed around 3000 envelopes, Ginny chuckled and replied "Wouldn't be surprised!" Thank you, Ginny for all your hard work, both with CELT and with the greater Cape community!