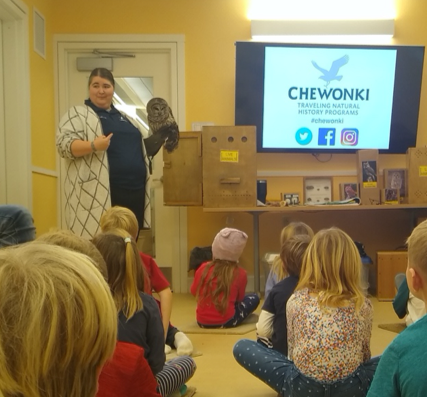 The conference room was packed. Eighteen students; one classroom teacher; one chaperone; one Chewonki Travelling Natural History Program educator; and three live owls. Over the course of two days, each first-grade class from PCES spent an hour learning about Maine's native owls and their adaptations through illustrations, specimens, and live examples.
"Meeting and learning about the Owls is ALWAYS a HIGHLIGHT of their year!" said Deb Sampson, 1st grade teacher, in an email to CELT.
Since 2006, the CELT Mini-Grant program has sponsored the entire cost of bringing Chewonki's owls to the first grade. The program offers up to $4,000 annually in education programs to Cape Public School teachers, who apply to the volunteer CELT Education Committee. Other recent Mini-Grants have sponsored classroom materials, raised bed plantings, and a number of other projects.
Last week's presentation started with a little Q&A, as Chewonki instructor Colleen walked the students through basic adaptations of owls. The students passed around an owl skull, a talon, and even an entire taxidermy wing. With the basics covered, it was time for the main event: live owls!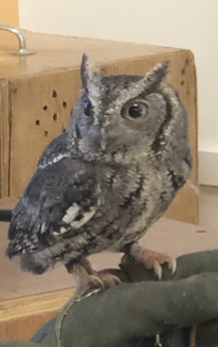 Ozzie, so named because Megascops asio (Eastern Screech Owl) doesn't quite roll off the tongue, was the first to emerge. Mostly blind in both eyes, Ozzie has been in the care of Chewonki for several years now, and provides a living illustration of the owl's incredibly sensitive sense of hearing. Adorably, Ozzie stayed quietly facing Colleen the entire time, comforted by the safe and familiar sound of her voice.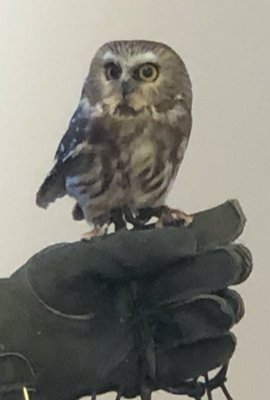 Haven joined us next. A Northern Saw-Whet Owl (Aegolius acadicus), Haven is named after Avian Haven, where he was rehabilitated. Like all of Chewonki's owls, Haven has an injury that prevents him from being released into the wild: in this case, blindness in his right eye that gives it an orange tint.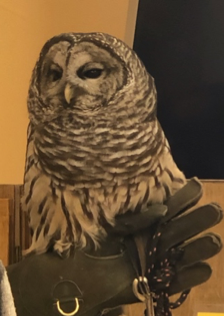 Last to meet us was Luna, a large Barred Owl (Strix varia). Female owls are typically bigger than male owls when full-grown, which led Chewonki to assume that Luna was a girl – only to discover, via genetic testing in November, that he is actually a big male.
Too soon, it was time to head to recess. As the first graders lined up in the hallway and put on their boots and jackets, the hushed voices, smiling faces, and mittened thumbs-ups confirmed that this program continues to inspire year after year.
Special thank you to Janie, Rachel, and everyone at Thomas Memorial Library for accommodating our program at the last second. It was a blast!