Yes, you read correctly. This year, both CELT and the Town of Cape Elizabeth are taking a break from treating individual trees for winter moth on our properties. Declining populations and impacts from the past couple of years indicate that Town-wide controls, such as parasitic flies released in 2018, might be doing enough, and individual treatment of trees may no longer be necessary.
"I don't [think] that we've had complete defoliation for two to three years in most sections of Cape Elizabeth… at some point, you've got to do a test run and see how those controls are working," said Todd Robbins, Town Tree Warden, in a recent phone call with CELT.
Winter moth (Operophtera brumata) first arrived in Cape Elizabeth in the early 2000s. By 2010, the population was large enough to draw the attention of Town and State officials. Over the following years, the population spread rapidly up the coast along Shore Road and back towards Scarborough from an initial epicenter between Two Lights and Crescent Beach State Parks.
In the fall, the flightless females climb trees to lay eggs in the canopy. In the spring, caterpillars emerge and feast on young leaves. In the worst case, the caterpillars eat all of the leaves, a process called defoliation. While most healthy trees can survive this once, they typically cannot withstand multiple consecutive years of defoliation.

By David notMD – Own work, CC BY-SA 4.0, Link
Because large-scale defoliation hasn't happened the past couple of years, the risk of not banding this year is limited, even if the winter moth population has an unexpected rebound. That being said, for individual homeowners, banding is still an option, especially for protecting trees that might be facing other challenges.
"I would never tell somebody not to. It's a recommendation to observe. If someone wants to protect their tree, I'm all for it… if you do have an old tree that's, you know, been stressed from the years of droughts, and it's 100-year-old tree… definitely," said Todd.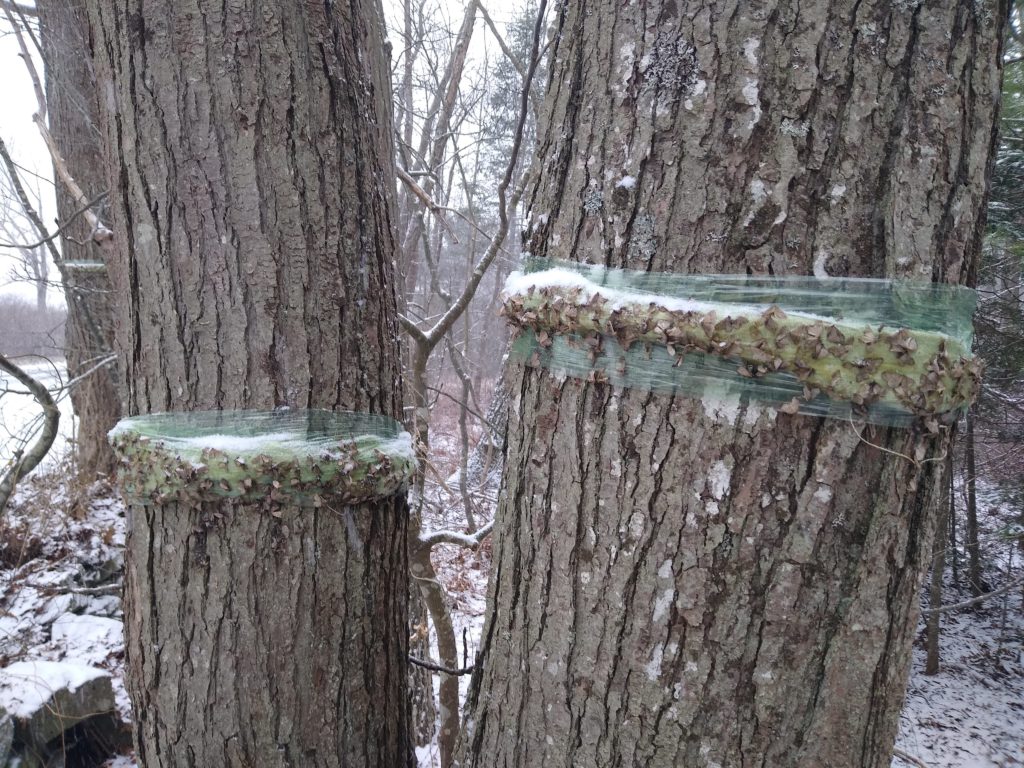 If you do choose to band your tree, now is the time to start. The hatch usually occurs on or around the week of Thanksgiving. Various tutorials are available online, including this concise set of instructions from the Town of Harpswell. If you have additional questions, please email stewardship@capelandtrust.org, or leave us a voicemail at (207) 767-6054.