Ownership
Town owned with CELT easement
Location
On the northern and eastern shore of Great Pond. Get directions to Great Pond Preserve here.
Access
Public access to the trails can be found from the following locations: Fenway Road, Vernon Road, Sweet Fern Road and Route 77 across from the Kettle Cove Creamery and Cafe.
If the trail is accessed from Fenway Road, you may park along either side of Fenway Road; however, please avoid parking in the cul-de-sac.
Parking at Kettle Cove Ice Cream and Shack for trail use is limited to three parking spots facing Route 77 between the telephone pole and the fire hydrant. These parking spots are made available to the public through the generosity of the business owner — if these spots are full, please come back later or access the Great Pond Trail from another entrance.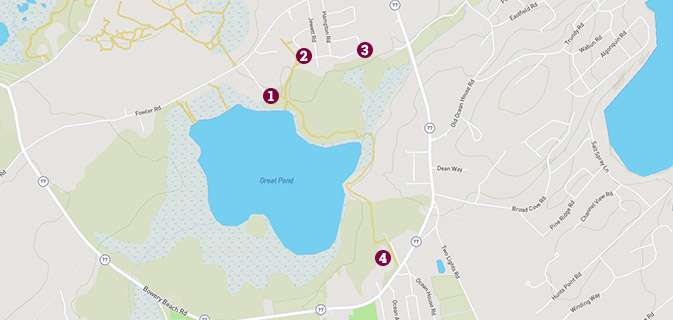 Description/History
One of Cape's hidden outdoor gems, the 28.8-acre Great Pond Preserve consists of two CELT-owned tracts connected by a network of trails that are shared with the town-owned Greenbelt system. The trail, named after its most prominent feature, is the largest freshwater body of water in Cape Elizabeth and provides exceptional walking, running, and biking trails.
Home to a wide variety of aquatic and terrestrial wildlife, many residents use the pond for boating, fishing, and bird watching in summer and in winter. Skating and ice fishing are popular pastimes. Great Pond itself is home to pickerel and largemouth bass. The marshlands and forests surrounding Great Pond provide excellent wildlife habitat for wading birds, ducks, geese, deer, and the occasional moose.
From the trailhead off Fowler Road, you'll pass the town boat racks, where the trail branches left and connects with a town property and trail around a small pond. Vernon Road and residential areas are nearby.  The trail branches right and leads you to a sandy beach used for access to the water.  Continuing along the edge of the pond, you'll reach a system of marked trails and a boardwalk on the left, purchased and constructed in 2017, to explore a lush forest and extensive wetlands near the pond. These trails also connect with Sweet Fern Road and adjacent areas. From that trail junction, the main trail descends to a 700-foot boardwalk, which follows the curve of the pond, providing views over the water and marsh with their abundance flora and fauna.
At the end of the boardwalk, a short steep rise up stone steps with a railing brings you back onto CELT property, where you'll be rewarded with the best views of the pond from a rocky lookout on the eastern shore.
Rules
Please cherish and help care for this natural preserve.
Limit trail use to daytime hours only. Carry out all waste and stay on marked trails.
Please, no:
foraging
commercial use of property
motorized vehicles
fires and camping
hunting
alcoholic beverages and illegal substances
*Notice for Dog Owners
Please keep dogs within sight at all times and remove all dog waste. Please keep dogs out of sensitive habitat areas. No commercial dog walking at any time. Reminder: Maine Law requires dog license and rabies tag on collar at all times.
Date Protected
1990, 2017