Like many educators, 8th Grade Experiential Learning Teacher Morgan Kerr has had to be creative to keep his students engaged and safe during the pandemic. Cape's chilly winter temperatures and the snowy terrain make it harder for outdoor learning opportunities. Kerr crafted an innovative solution to expand nature-based education for his middle-schoolers: snowshoes.  "Winter is a very unique time to really explore the world around us. The snow and loss of foliage allows us to explore areas where we might not be able to in the summer, spring, or fall. For the experiential program in particular, we will use [snowshoes] to further expand our study of the importance of salt marshes and its importance to Cape Elizabeth's and Maine's coastal ecology."

Thanks to the generous support of CELT and CEEF, Kerr was able to purchase 25 sets of snowshoes for CEMS. With small cohort classes, 2-3 classes of students are able to use them at a time. Long term, Kerr is hoping teachers will take advantage of the new equipment and incorporate snowshoe excursions into their winter curriculum.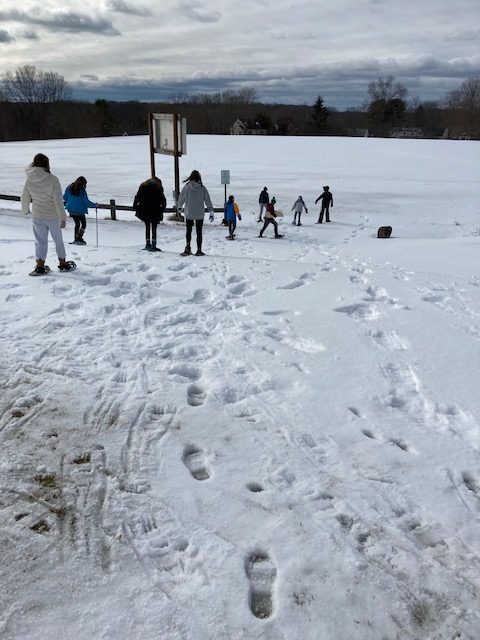 "Students in the experiential learning class explored the frozen marsh, which would be unreachable during any other season, and bushwhacked their way to the Gull Crest trails.  The remote learning team and other classes have also been able to take advantage of the snow.  We can only hope that winter decides to last a little longer!"
CEEF Grants Co-Chair Sheri Bragg hopes word of Kerr's outside-the-box thinking will inspire more grant applications. "CEEF is so excited by the creative ideas we've been receiving from Cape teachers, staff and students during this challenging school year. We specialize in funding innovative grants that fall outside the school budget and the CEMS Snowshoe Grant is a wonderful example of the positive impact these grants can have on Cape students." 
CELT Education Coordinator Philip Mathieu echoed that sentiment. "The pandemic has really amplified the importance of outdoor and environmental education. We are thankful for the opportunity to collaborate with the 8th-grade program and glad that we could partner with CEEF to fund the full cost of this project."
Both CEEF and CELT rely on the generous support of community members to fund their grant programs. To learn more or donate, visit ceef.us and capelandtrust.org.