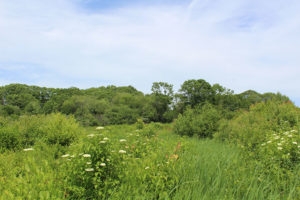 Oftentimes the properties CELT acquires come with longstanding names, for example, Robinson Woods. Our latest acquisition did not. Since closing on it 8 months ago, we have referred to it simply as, "498 Spurwink." The Board of Directors is pleased to announce that it has been officially named Pollack Brook Preserve.
Since purchasing the property last August, we've put a lot of elbow grease into it! The house that stood there was demolished, along with an old greenhouse and paved driveway (thanks to L.P. Murray for their partial donation of services). Antique cars and old farm equipment were hauled out of the woods, local farmer Bill Bamford mowed the fields, and volunteers helped clear a path from the fields into the woods for a future connecting trail with the Runaway Farm loop.
Join us for two celebratory events:
Saturday, April 27th from 9:00 am-Noon – Invasive Plant Removal and Trash Pick-Up Workday! We'll work on clearing out the bittersweet, honeysuckle, and barberry from the abandoned orchard, and spend some time cleaning up the hedgerow near the Gull Crest athletic fields. We'll have some equipment to share, but please bring loppers or folding/pruning saws if you have your own. Email christian@capelandtrust.org if you'd like to be involved!
Thursday, May 9th from 5:30-6:30 pm – Guided Walk to celebrate our new property. All welcome. Please RSVP to Natasha@capelandtrust.org.