Over the next couple of weeks, you will most likely see bands around many of the trees in Cape Elizabeth, a community effort to reduce the infestation of the winter moth. But there is another invasive species to be on the lookout for while hiking in Maine: Emerald Ash Borer, also known as EAB.
The EAB is a metallic green beetle about ½ inch long, most likely transported to the US in wood packing materials coming from Asia. While the adult EABs cause minute damage by eating the leaves of ash trees, the larvae eat the inner bark. This is a serious problem because the inner bark acts like a transportation system, moving food from the leaves to other parts of the tree. The range of the EAB infestation has been progressing up through New Hampshire and has been found recently in Aroostook Co. and York Co. While EAB has not been found in Cumberland Co., experts say it is only a matter of time before it is. 
You may not spot the small insect, but there are other signs to look for, like large amounts of woodpecker damage as the woodpeckers eat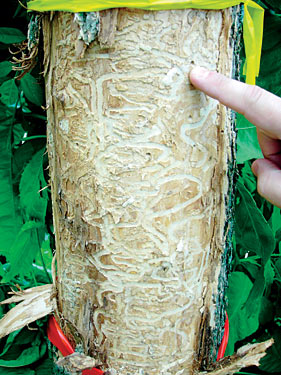 the EAB larvae in the trees. In the springtime, you can also keep an eye out for d-shaped holes in the bark of ash trees where the adult beetles have emerged.
According to the Emerald Ash Borer Information Network, the insect has been found in 35 states as well as five Canadian provinces. Here in Maine, we have three native ash trees, black, green, and one of Maine's most valuable timber trees, white ash. You can learn more about the efforts the Maine Forest Service is doing to prevent the destruction of ash trees by checking out the Maine Gov. website.
Natasha Rathlev, Education Coordinator