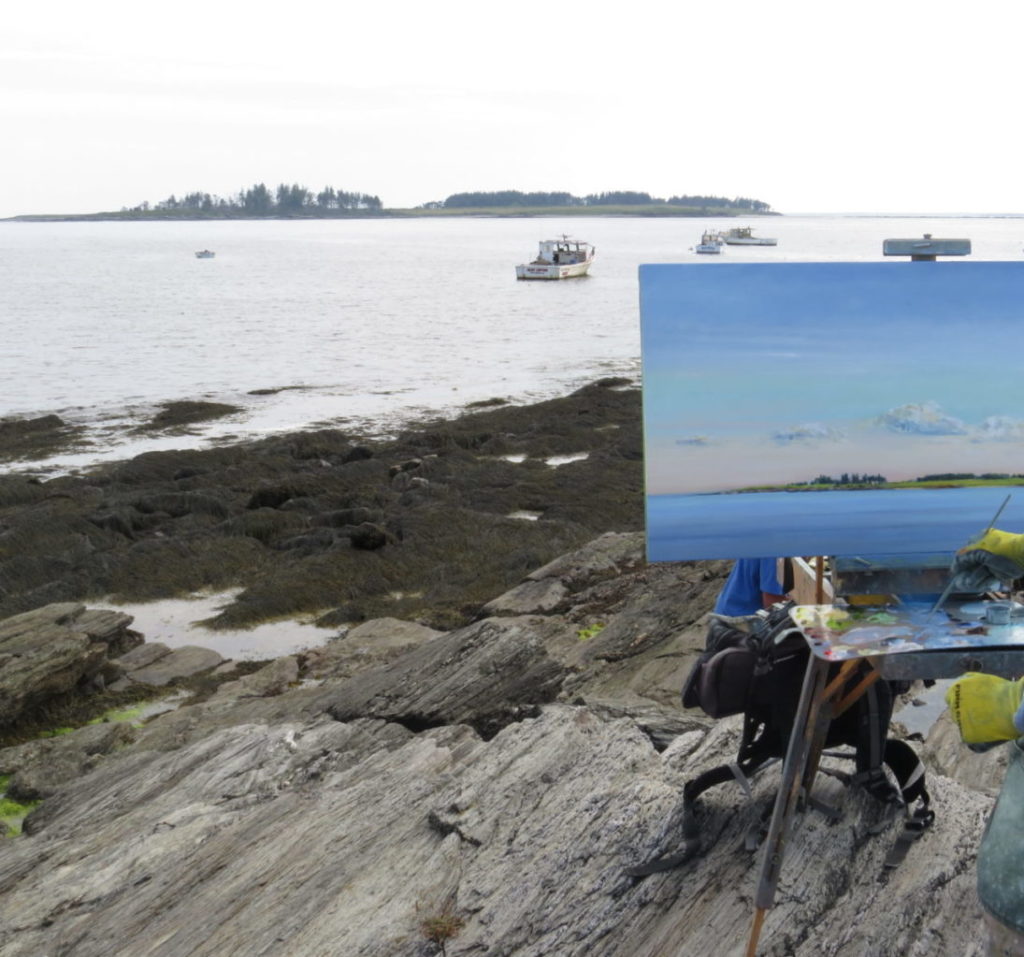 CELT's annual art auction kicks off with the Artists Weekend August 13-15 followed by Art Viewing and Online Auction August 28-29. Read on to learn more about this year's incredible artists, and head to capelandtrust.org/paint for more information on the event.
Lyn Asselta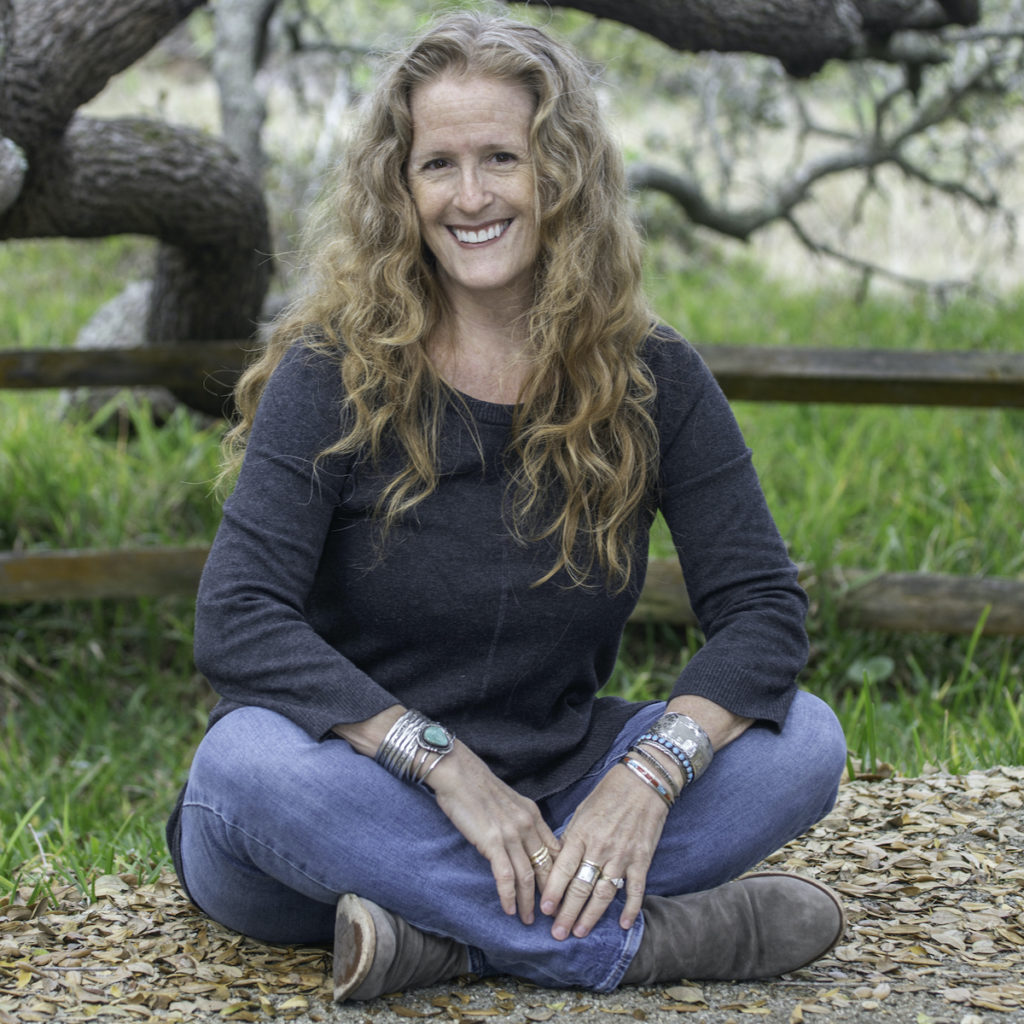 Lyn Asselta is a Pastel Society of America Master Panelist, an Int'l Association of Pastel Societies Eminent Pastelist, and a member of the Salmagundi Club of NYC. Her work has been shown in the USA, France, and China, and has been featured in Pastel Journal magazine, Plein Air magazine, and Pratique des Arts. She is an internationally known workshop instructor and has recently, happily, moved back to her home state of Maine.
Olena Babak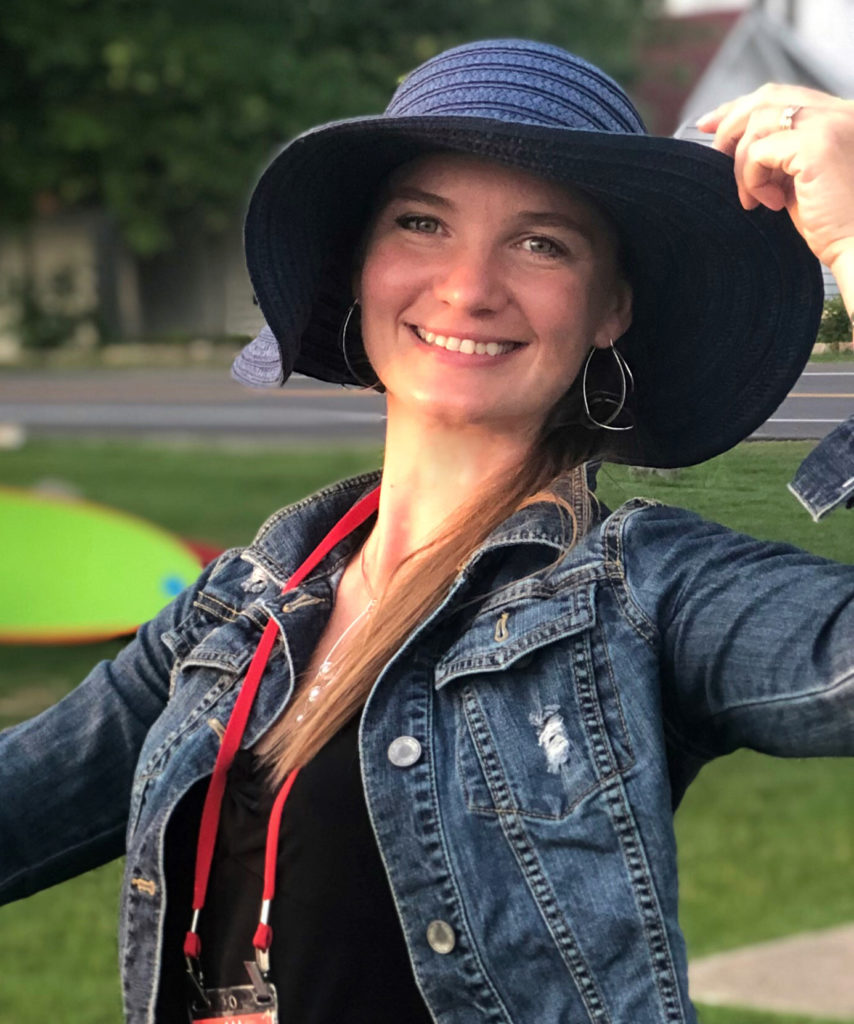 Olena Babak is an award-winning, classically trained artist, whose landscapes and figurative works can be found in galleries, public and private collections in the U.S. and abroad.
Some of her awards: Best of Show in Tilghman and St. Michaels, Easton Plein Air, Best Marine Cape Ann Plein Air, Artists Choice Plein Air Richmond, 1st place Quick Draw & People's Choice Award Finger Lakes Plein Air, Best Representation of Rockies National Park, 1st place Booth Bay Plein Air and many others.
Her work has been featured in "Plein Air Magazine", the "Poet's and Artist's: 100 Great Drawings," and the "Classicist" as well as "Strokes of Genius" series.fggg
Charles Fenner Ball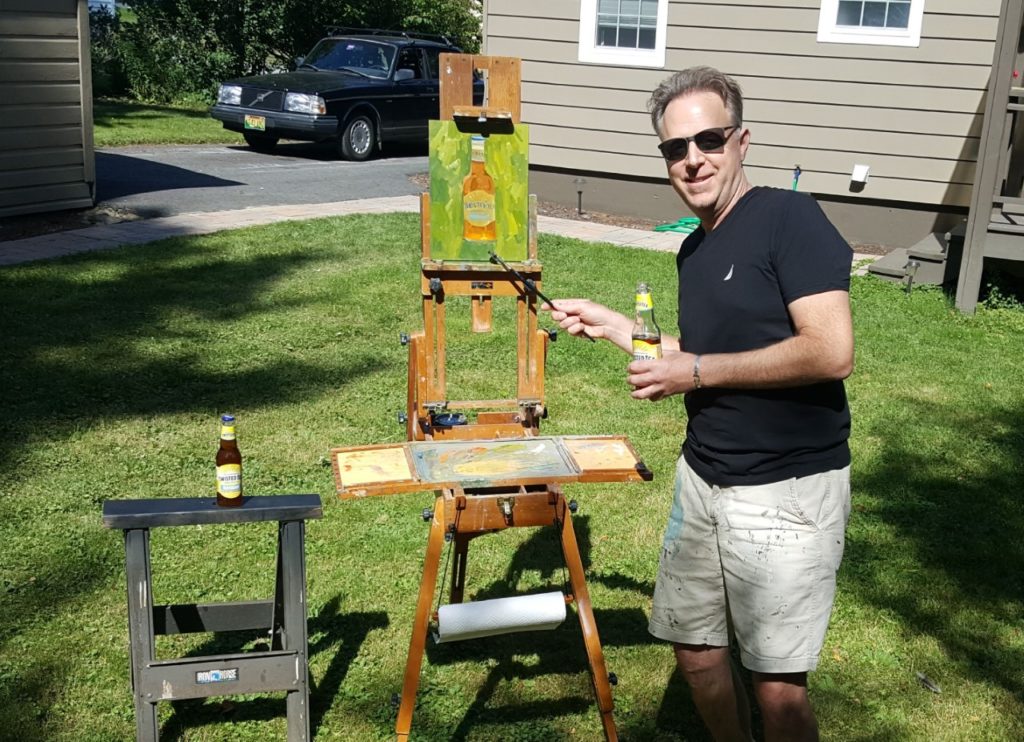 The classic children's book, 'Harold and the Purple Crayon', made a big impression on me as a child. This fictional character created mysterious and exotic places with his simple drawing tool. His world was brought to life right out of thin air. I've always been captivated by how a work of art is something that never previously existed, commanded into being by the​artist.
There's often an inherent sense of mystery in paintings, and I try to capture that spirit in my own work. Ideally, I offer the viewer a sense of escapism and enchantment, some sort of ideal place in nature to be momentarily immersed in – a place of mystery, beauty, and intrigue.
Fenner lives in Bangor, Maine and is represented by The Jud Hartman Gallery in Blue Hill and Camden Falls Gallery in Camden.
Catherine Breer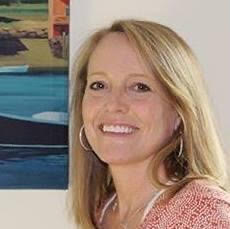 Catherine Breer grew up in Seoul, Korea, the daughter of Methodist missionaries. She earned her B.A. in Art History from Emory University. While at Emory, she studied painting and drawing at the Atlanta College of Art and went on to attend graduate school at the The School of the Museum of Fine Arts, Boston. She lives in Freeport and paints as often as she can.
Kenneth DeWaard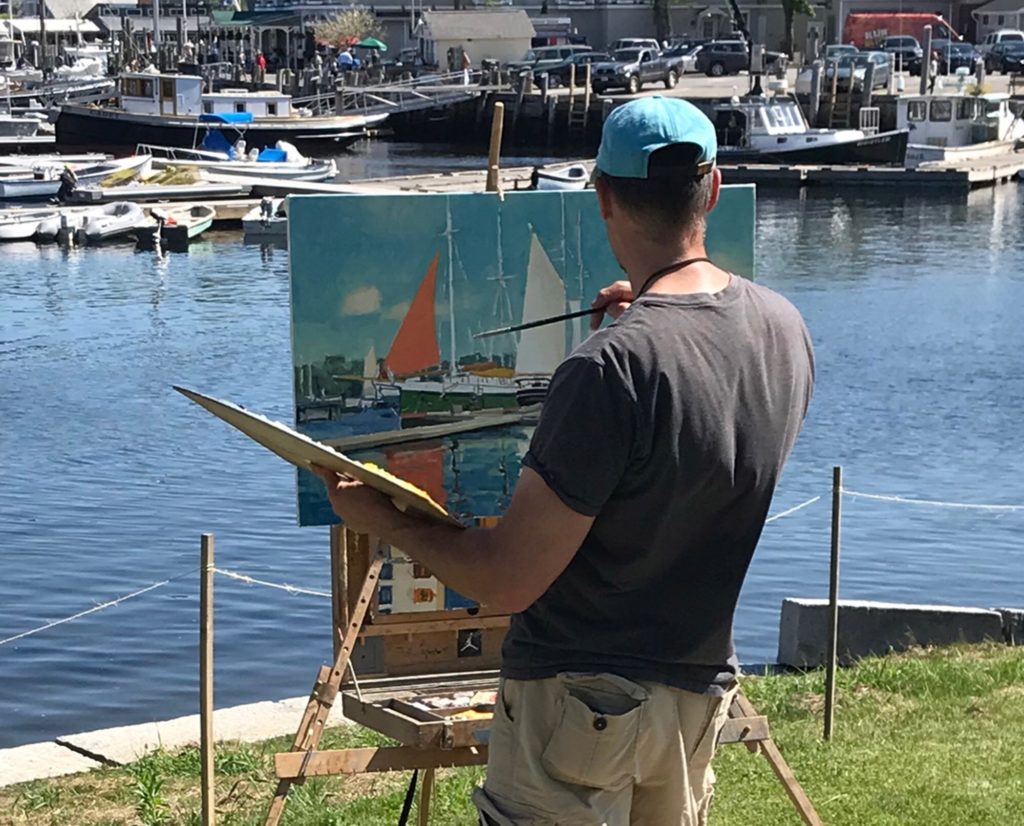 Kenneth DeWaard has been painting en plein air for more than a quarter of a century. He began his career studying watercolor under Irving Shapiro at the American Academy of Art in Chicago and then continued his early training at the acclaimed Palette and Chisel Academy of Fine Art with Scott Burdick as well as an independent study with Daniel Gerhartz. He has won numerous awards around the country at various plein air events such as Easton, Door County, Cape Ann, Laguna Beach, Callaway Gardens, Sonoma, Richmond, and Florida, just to mention a few.
Marsha H. Donahue
Marsha Donahue is a native of central Maine with degrees from American University and Maine College of Art. Working in galleries in Washington, DC and Portland while pursuing a career as a painter, she has just closed North Light Gallery in Millinocket after 17 years, moving to Belfast to paint full time. Her work of the Katahdin region is exhibited at Caldbeck Gallery www.caldbeck.com and Bayview Gallery www.bayviewgallery.com.
Mike Dorsey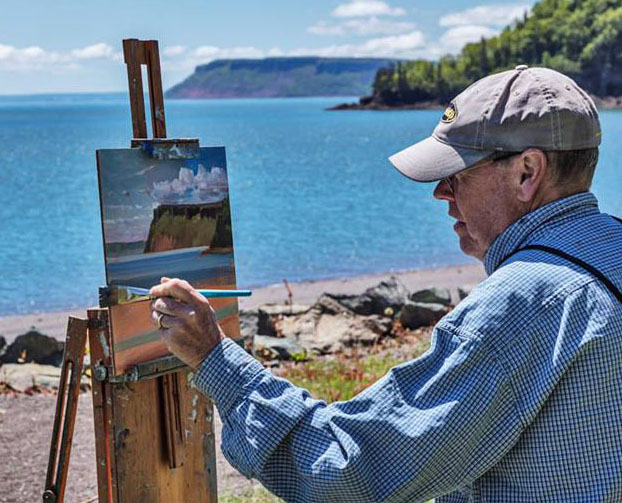 A Signature Member of the American Society of Marine Artist, a juried member of the distinguished Rockport Art Association and Museum, and the NorthShore Art Association, he is a Master Artist Level member of the Newburyport Arts Association, and an Artist Member of Oil Painters of America. As a graduate of the RISD, he won National and international awards for animation. Mike is represented by Roux & Cyr International Fine Art Gallery, Portland.
Carol L. Douglas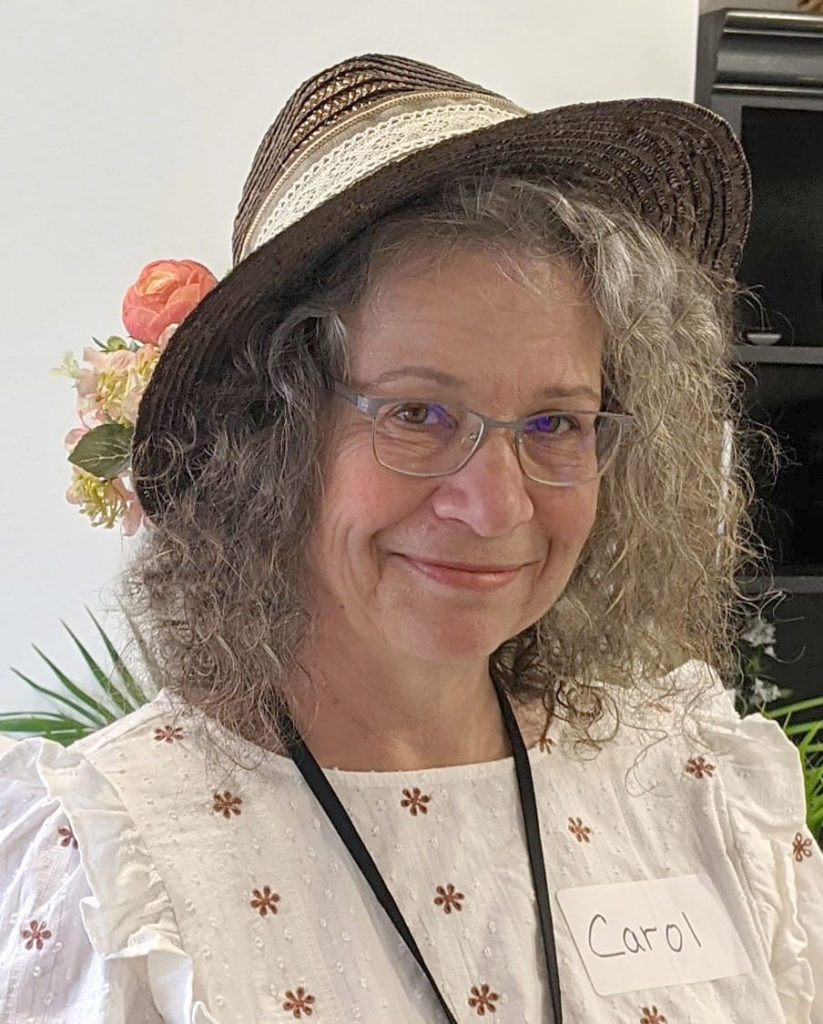 Carol Douglas paints and teaches in Rockport, Maine.
She has taught plein air painting in Maine, New Mexico, Florida, and New York, including two watercolor plein air workshops annually aboard schooner American Eagle. Her blog, Watch Me Paint, is ranked one of the Top 75 Art Blogs (number 7) by Feedspot.
Douglas studied at the Art Students League of New York. Her passion is wilderness painting. In 2016, Douglas traveled 10,000 miles across Alaska and Canada to paint in the northern backwoods. In 2020, she painted the glaciers of Patagonia. She has also painted in Scotland, Australia, and elsewhere.
Cooper Dragonette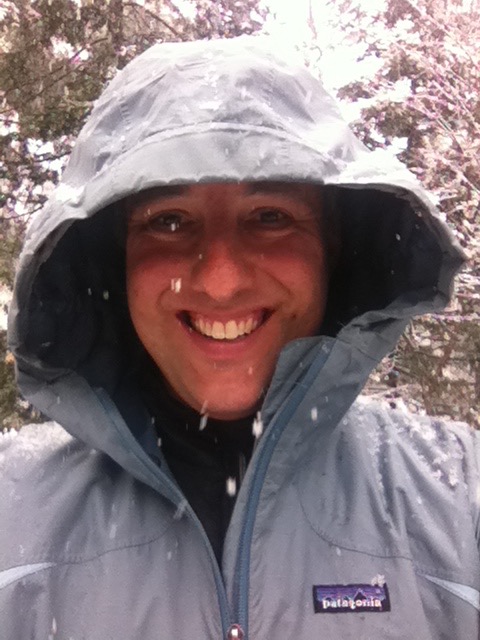 Cooper graduated from the University of Southern Maine with a focus in arts education. Upon graduation, he was a drawing and painting high school teacher in Maine for nearly ten years. While teaching, he continued to develop his work as an artist and a painter. In 2012, he left teaching to devote his time to making art. His work has won numerous awards and has been featured in several magazines. He participates in several annual plein air events and is currently represented locally by the Portland Art Gallery. He is an Artist Member of the Plein Air Painters of Southern Maine, and lives in Cape Elizabeth with his wife, Jill, and their two sons.
Erin McGee Ferrell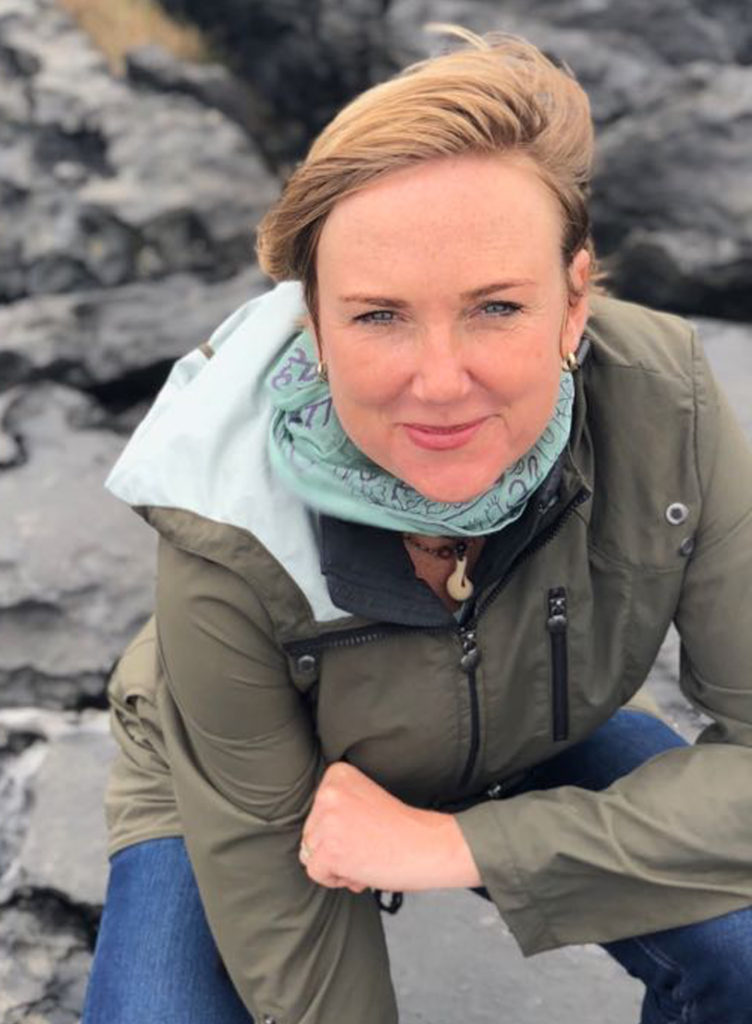 Nationally recognized as a Maine Artist, Ferrell has showcased her work this year at the 2021 Third Biennial Maine Landscape Show (GreenHut Gallery Portland) and the 2021 Assoc of Hawaiian Artists ALOHA SHOW Honolulu.
She is a graduate of Mount Holyoke College and University of the Arts Philadelphia. McGee Ferrell studied at Pennsylvania Academy of Fine Arts, University of Louisville in Italy, School for International Training in Nigeria, Maine College of Art, and the Art Students League of New York.
Margaret Gerding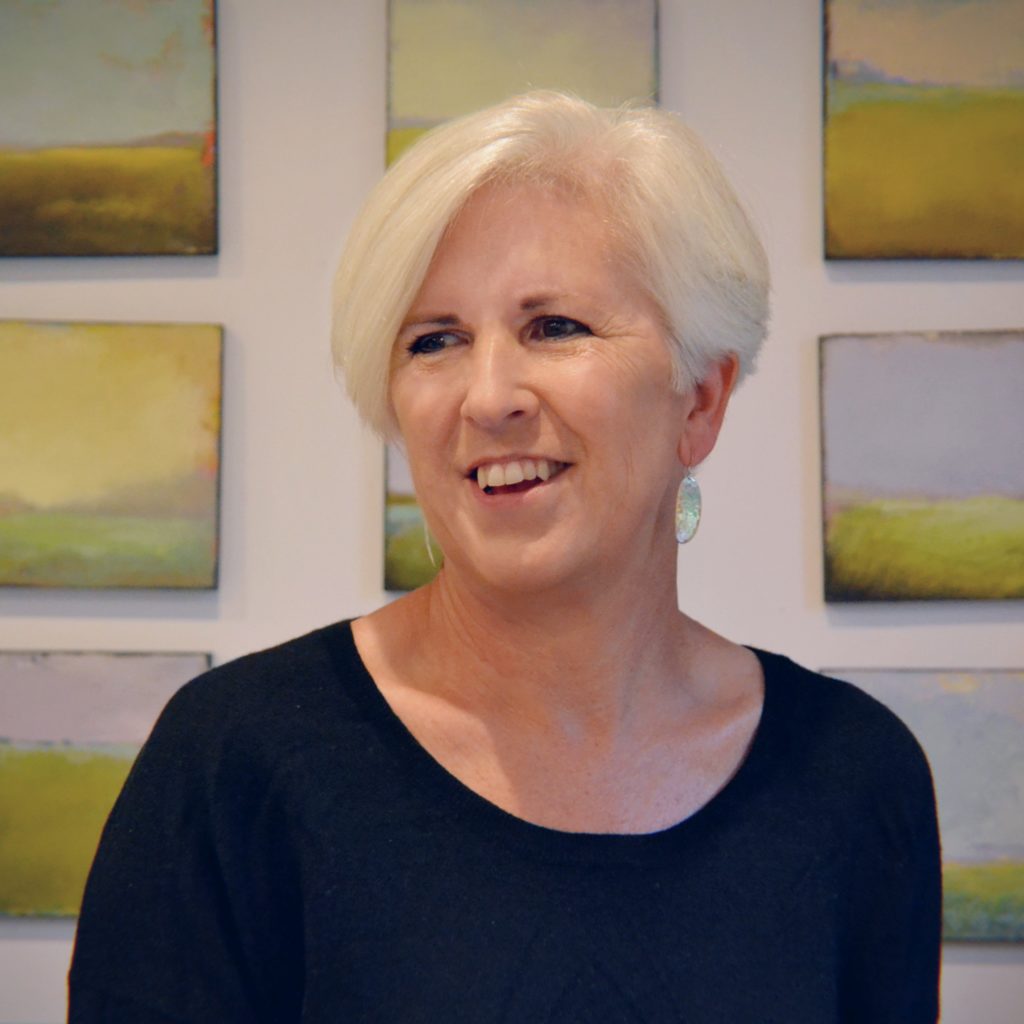 "There is something unique about being alone with nature—a quiet that connects me like no other. It is only in this solitude, that the landscape reveals itself. Living in Kennebunkport, I am immersed in the ever-changing beauty of Maine." Gerding is represented by numerous galleries, including Maine Art Hill in Kennebunk, Arden Gallery in Boston, Edgewater Gallery in VT, Powers Gallery in Acton, MA, and SoNo Fine Art in CT.
Frank Gregory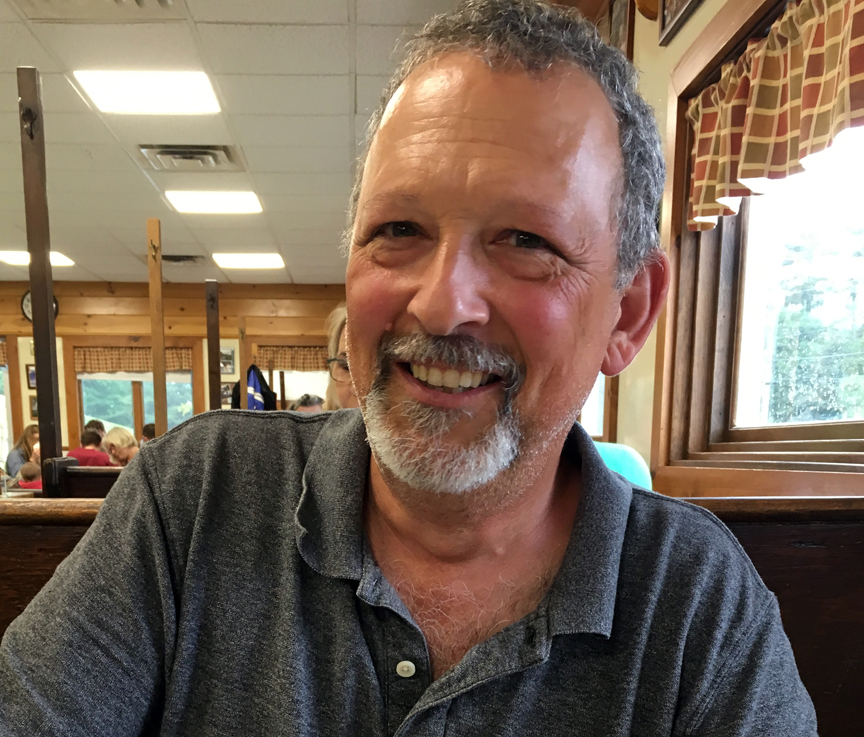 Frank Gregory has been painting in Maine and the rest of New England for over 30 years. He has had work in several exhibits at The George Marshall Store Gallery in York, Maine, and was also included in this year's biennial exhibit at Greenhut Galleries in Portland. Frank is also a gallery artist at The Ray Wiggs Gallery in Provincetown, MA. He graduated from the Massachusetts College of Art in 1985 with a BFA in Painting. Please visit frankgregory.com to view all of his work.
Lindsay Hancock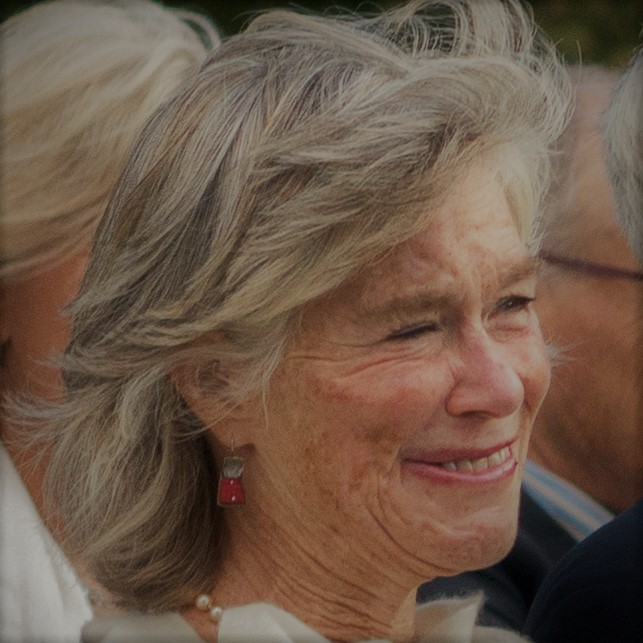 Lindsay paints when she is not working as an independent grant writer and fundraising consultant for arts, cultural, educational, and environmental organizations in Maine.
Her work is represented by Elizabeth Moss Galleries and has appeared in Greenhut Galleries' "Biennial Portland" or "Maine, The Painted State" exhibits. Lindsay's "View from Jenny's Window" (2016) is included in Paintings of Portland by Carl and David Little and a 2017 commissioned work is permanently installed in the Shaeffer Theater at Bates College.
Lindsay has also shown her work at dozens of other galleries. Lindsay received a BA in Fine Art from Colby College in 1976.
Alison Hill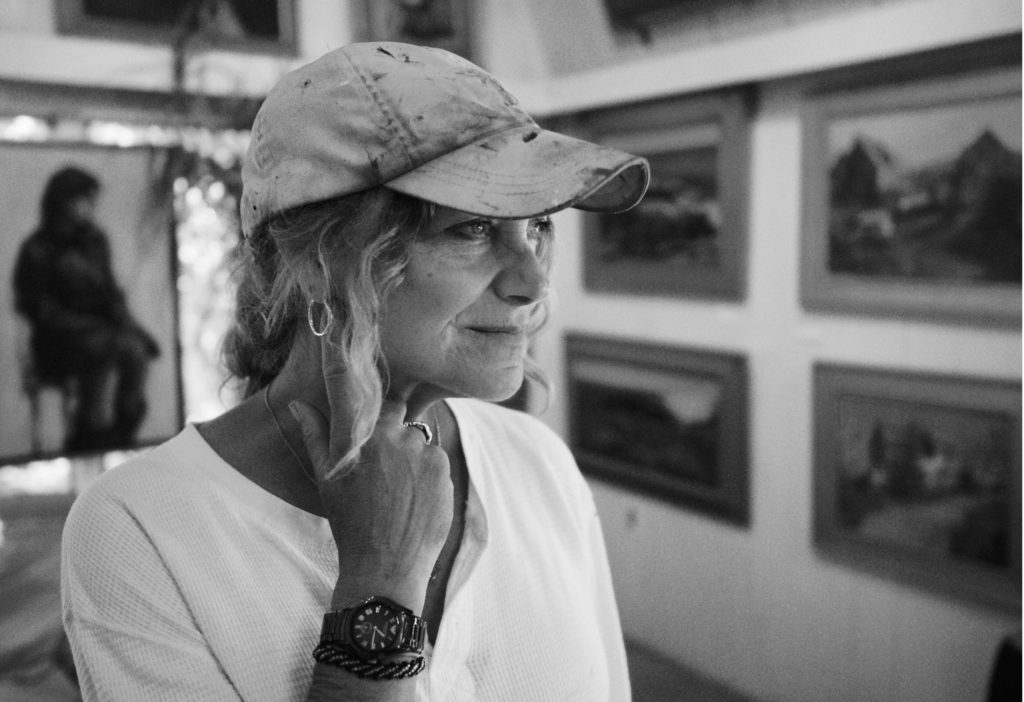 Alison Hill is a full-time artist living on Monhegan Island, Maine. In the summer she runs her own gallery, and in the off-season she focuses on painting and commissions. She has taken classes at Lyme Academy, The Art Student's League, and has studied with Don Stone, Tom Hughes, Sharon Sprung, among others. She is constantly challenging herself with new ideas and subjects and feels that has been her toughest but most effective teacher.
Jill Hoy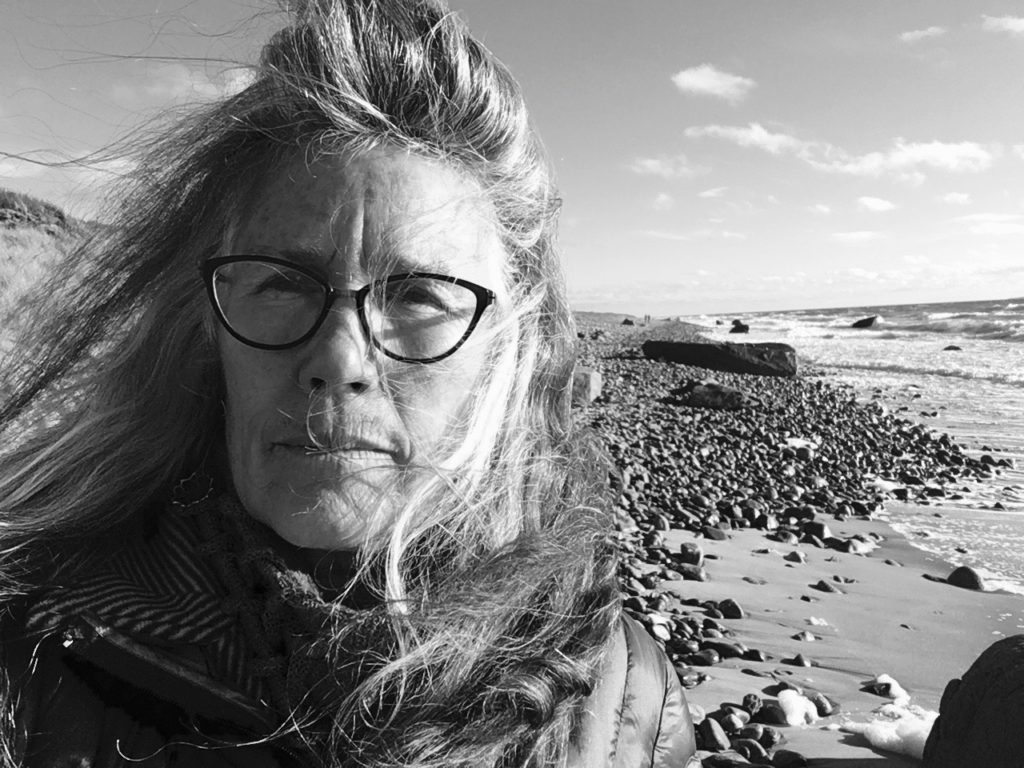 Jill Hoy lives a half-year plus in Stonington, where she has run the Jill Hoy Gallery for 38 years. It is open well into the fall, though increasingly by appointment in November. She has summered on Deer Isle since she was 9.
Maine has educated her as a plein air oil painter with its speeds of change, its rhythms: tides, wind, weather, light, habitat and power. "I merge into the environment, and channel it into notations of gesture, calligraphy, and the colors I see. The effect is alive, vital: a kinetic weave of moments."
Jill shows at Portland Art Gallery as well. Her work is in the Collections of the Portland Museum of Art, Harvard Business School, Fidelity Investments, John Hancock, Key Bank, MBNA, Boston Public Library and innumerable private and corporate collections. The balance of her year is spent in an artist coop in David Sq, Somerville, MA. She was married to the late great painter Jon Imber; they have a son, Gabe.
Anne Ireland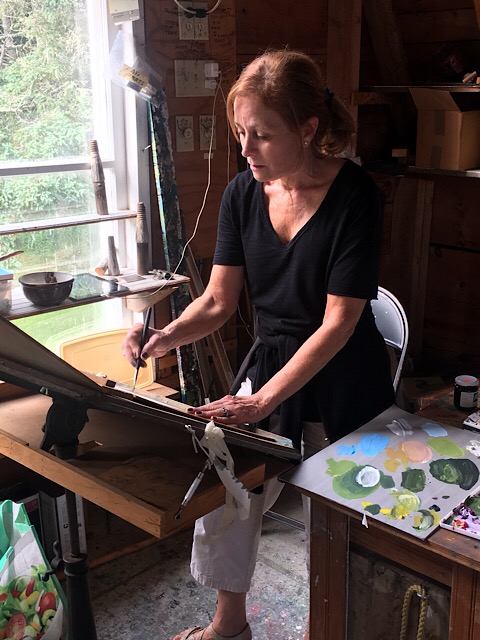 Anne received her BFA in painting with honors from the Maine College of Art in 1994. Her art has been shown in solo exhibitions at Elizabeth Moss Galleries, the Maine Jewish Museum, The Gallery at Somes Sound, and the Maine College of Art. She has shown in numerous shows throughout Maine including Thos. Moser Gallery, Greenhut Galleries, Susan Maasch Fine Art, Gleason Fine Art, and the Maine Art Gallery. She has been awarded residencies at The Studios of Key West, Chalk Hill Art Residency, and the Stephen S. Pace House. She is currently represented by Elizabeth Moss Galleries and The Gallery at Somes Sound.
Marguerite Lawler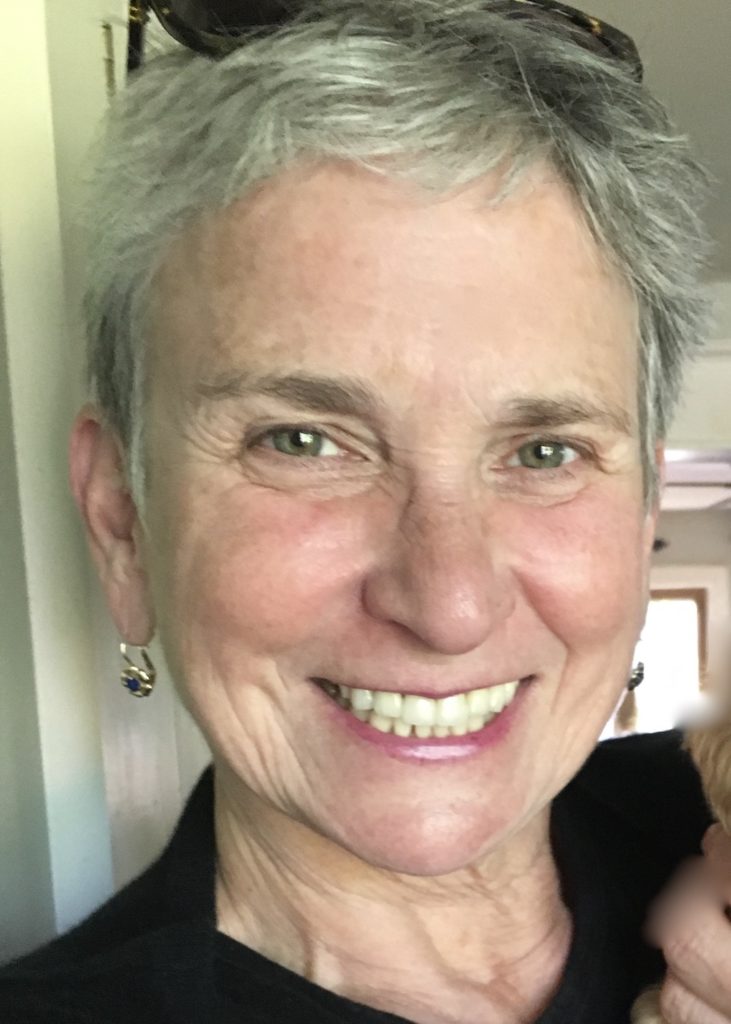 When on location, the focus of Marguerite Lawler's paintings is to make sense of the chaos of nature. She engages with the contained space of an environment and depicts her experience on canvas through the use of shadows and the forms they create. Marguerite Lawler's education includes a BFA from Rhode Island School of Design and an MFA from City University of New York. Marguerite's paintings have been featured in Maine Home and Maine Decor Magazines along with Maine College of Art publications. Her work is in both private and corporate collections.
Janet Ledoux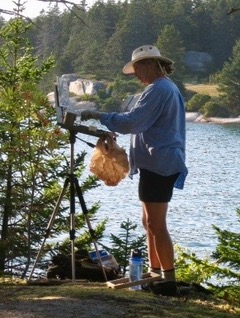 Maine painter Janet Ledoux makes oil paintings that capture the changing light and weather and the people in the landscape. Her work is noted for strong design and inventive color. A juried member of the historic Ogunquit Art Association, Janet is widely collected. Raised and educated in Connecticut, she completed a 20-year career as an award winning Illustrator. She began painting and exhibiting full time in 2000.
Nathaniel Meyer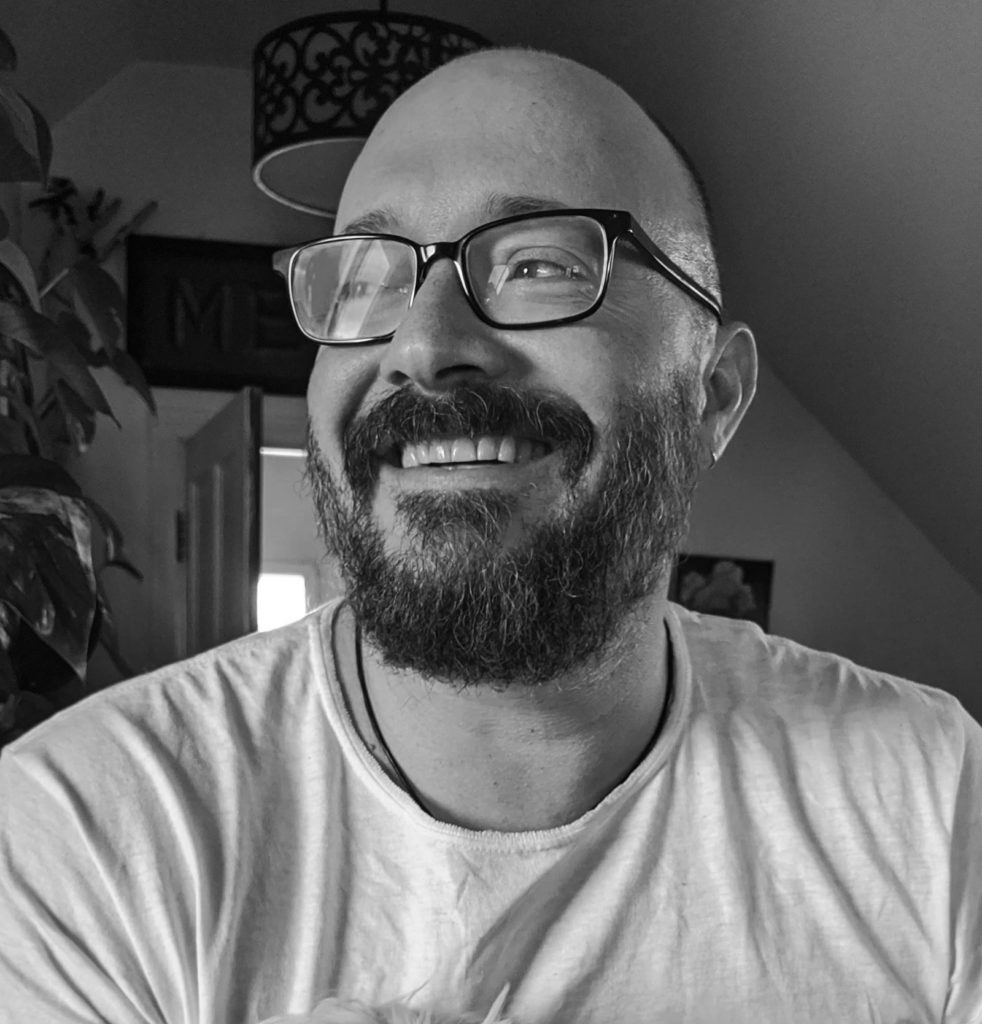 Nathaniel Meyer is a narrative landscape painter based in Portland, Maine. Recipient of the 2015 Monhegan Artists Residency on Monhegan Island, Maine, Nathaniel has exhibited his work nationally and internationally. You might recognize his work from his recent solo show at Elizabeth Moss Gallery in Falmouth and its accompanying review in the Portland Press Herald. This past fall, Nathaniel's work was exhibited and added to the permanent collection of the Munakata Shiko Memorial Museum of Art in Aomori, Japan.
James Mullen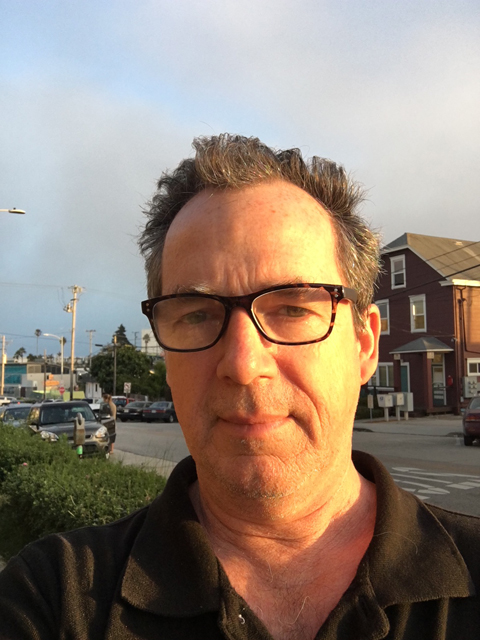 James Mullen has been painting the Maine landscape for over thirty years, and finally moved here twenty years ago to accept a position at Bowdoin College, where he teaches painting and drawing. He has had over thirty solo exhibitions in that time and has participated in dozens of juried shows nationally. His work is in multiple public and private collections around the country, and he thinks Winslow Homer rules.
Tessa G. O'Brien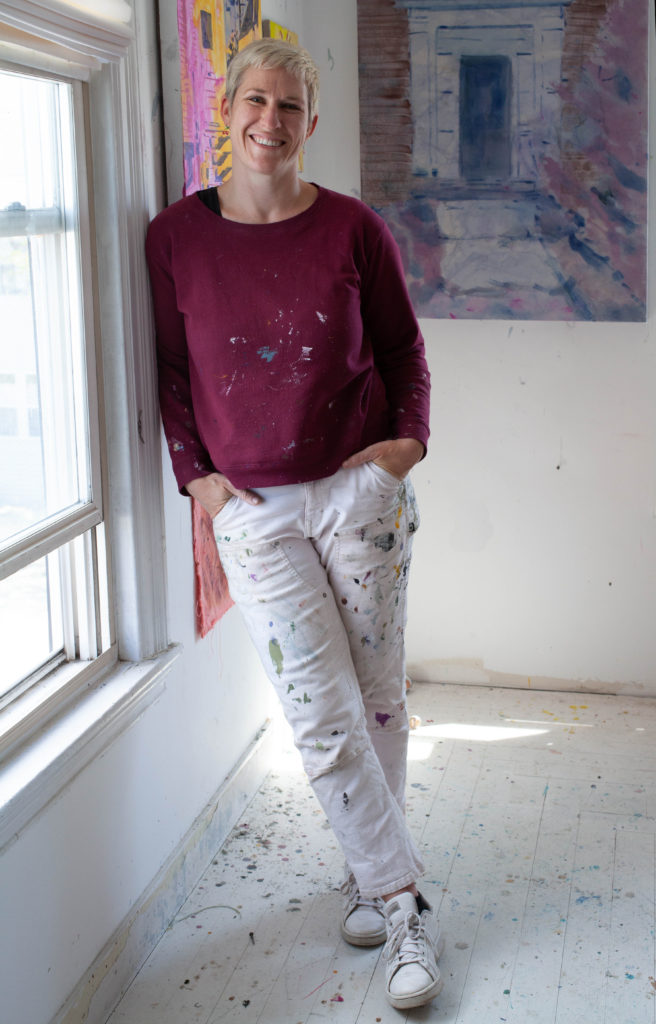 Tessa G. O'Brien has shown throughout the US, including solo exhibitions at Dowling Walsh Gallery in Rockland, ME, & Elizabeth Moss Galleries in Falmouth, ME. Residencies include the Tides Institute in Eastport, ME, the Joseph A. Fiore Residency at Rolling Acres Farm in Jefforson, ME, Monson Arts, Haystack School, Vermont Studio Center, Hewnoaks, and the Stephen Pace House in Stonington, ME. She has been awarded grants including the Ellis Beauregard Travel Grant, St Boltophs Club Foundation Emerging artist award, Maine Arts Commission Project Grant, and the Joseph A Fiore Painting Prize.
O'Brien co-founded the Portland Mural Initiative with her partner Will Sears, and operates a mural and sign painting business called Better Letter Hand Painted Signs. She also serves as a co-director at Able Baker Contemporary gallery in Portland, ME. Tessa received her B.S from Skidmore College, and her MFA from Maine College of Art, and currently resides in South Portland, ME.
John David O'Shaughnessy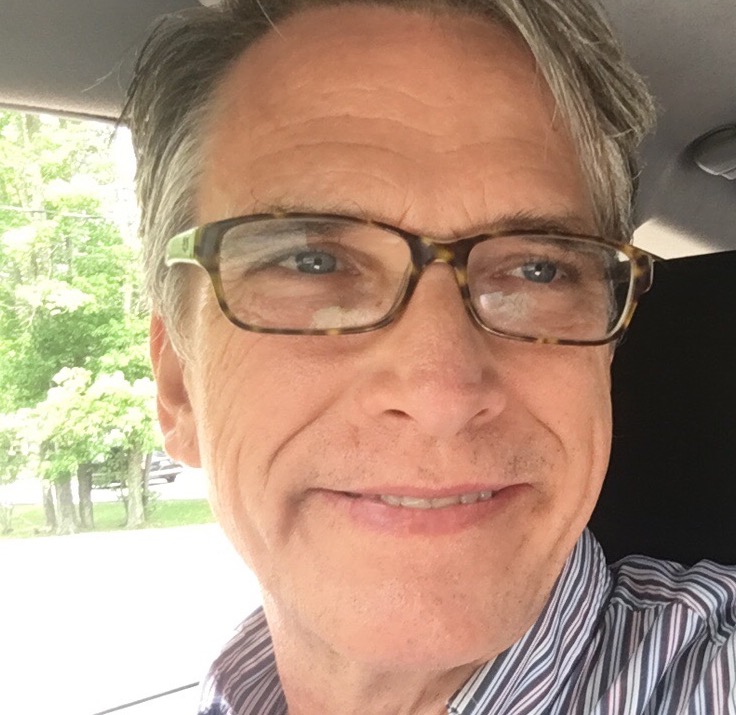 John David O'Shaughnessy studied Painting at Massachusetts College of Art with Rob Moore, Jeremy Foss, Dan Kelleher and George Nick where he received his Bachelor degree in Fine art in Painting. He has developed his eye over the years through work in fabric design, window display and product design. His paintings are known for carrying an intensity of movement that are held in bold gesture, saturated, improvisational color, and an unrelenting pursuit of fugitive light. John teaches drawing, painting and printmaking at the Currier Museum of Art along with other venues. He shows his paintings in galleries throughout Maine, Massachusetts, New Hampshire and Vermont. He is a member of Ogunquit Art Association in Maine.
Colin Page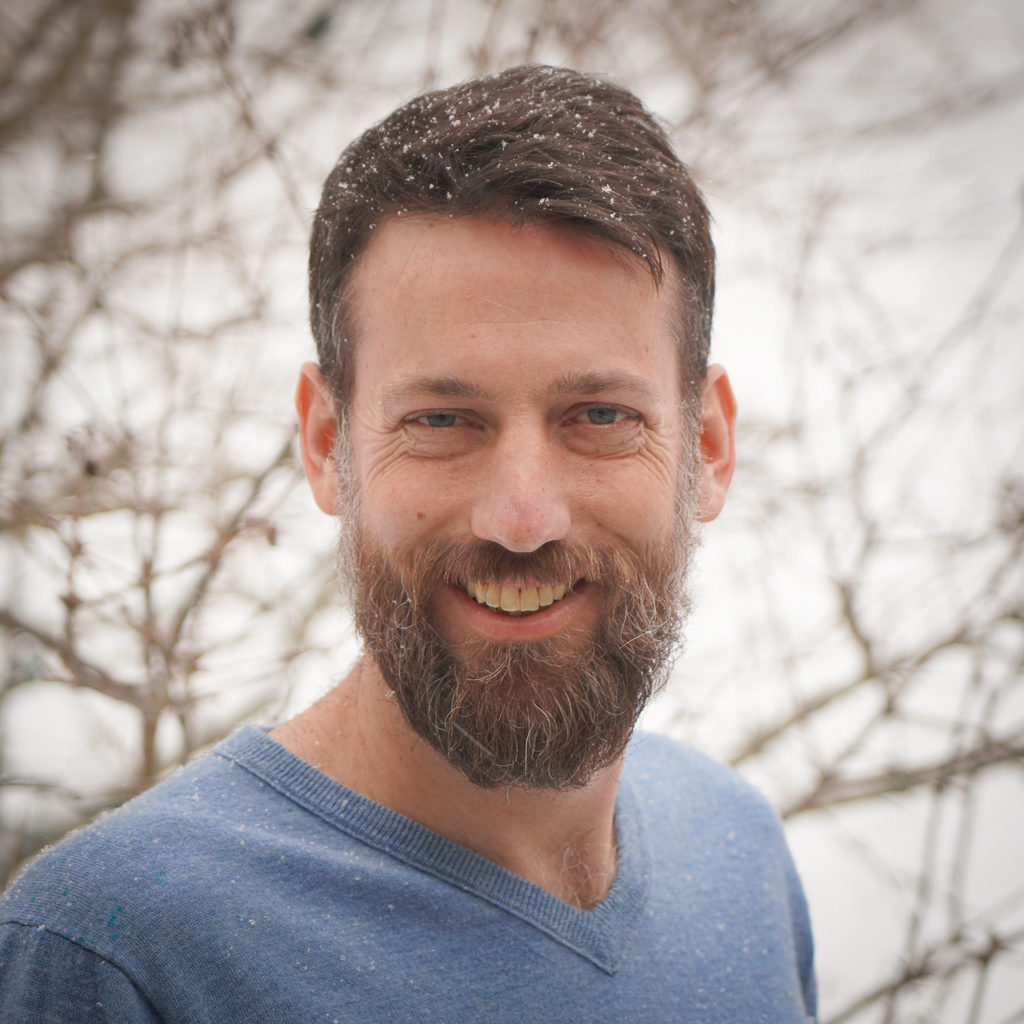 Colin does the majority of his work outside, working from life to capture the light and atmosphere of his subject matter. He studied painting at Rhode Island School of Design and at Cooper Union, receiving his BFA in 2000. He recently had solo shows at Courthouse Fine Art Gallery in Ellsworth, Debra Huse Gallery in Balboa Island, CA, and Anglin Smith Fine Art in Charleston, SC. He has also participated in numerous group shows internationally. This spring Page Gallery opened in Camden. The gallery shows paintings by Colin, along with several other artists with a connection to midcoast Maine.
Liz Prescott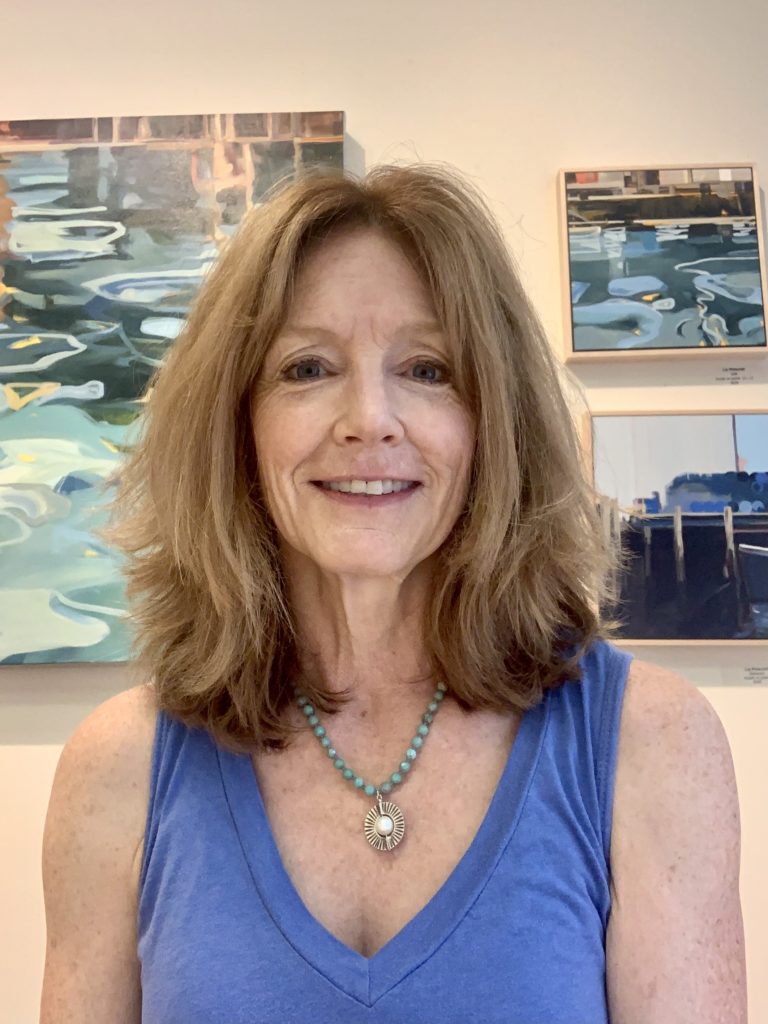 Liz Prescott is a painter based in Freeport, Maine. She is a graduate of Maine College of Art (BFA 2000) and Vermont College of Fine Arts (MFA 2003 Visual Arts). Liz is a member of the Union of Maine Visual Artists (Portland Chapter) and actively involved in the development of Meetinghouse Arts in Freeport. She has taught studio classes and plein air workshops in Maine for over 15 years. Liz enjoys views across her neighbor's farm fields every day. To contact Liz or see more of her work please visit www.lizprescott.com or www.instagram.com/lizprescottartist
Holly Ready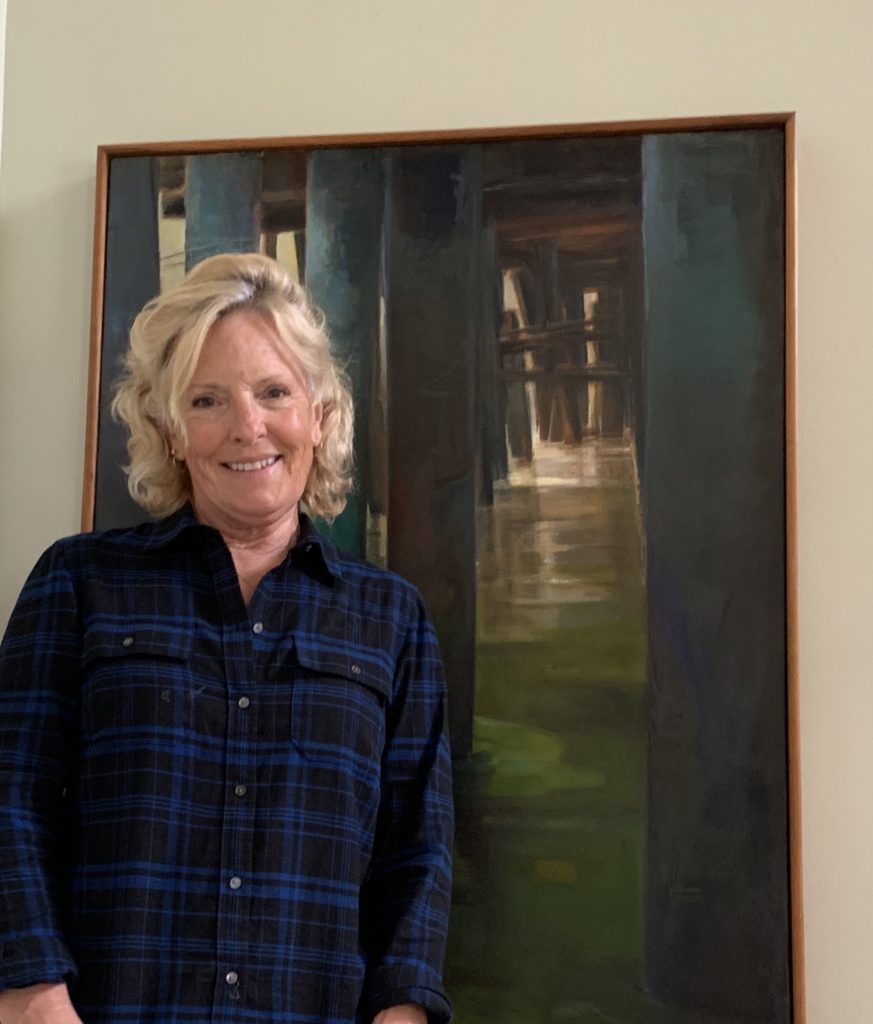 Holly is a Cape Elizabeth artist, whose work is greatly influenced by her surroundings. Her work is recognizable through the strong use of color in portraying the essence of light, most often in landscapes. A 1994 graduate of Maine College of Art, she has worked as a gallery director, run art workshops, been a signature artist for a number of charitable auctions, and currently runs Holly Ready Gallery on Two Lights Road in Cape Elizabeth, which also serves as her studio. Her work has been exhibited at a number of galleries in Maine and around the country.
Kathleen Robbins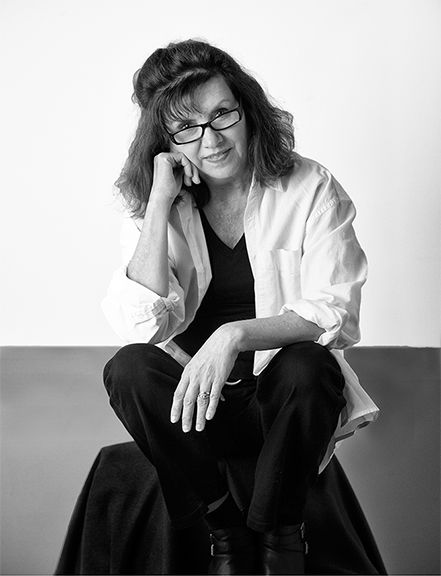 Kathleen Robbins earned her MFA at Massachusetts College of Art where she later became a faculty member. A resident of the Button Factory Artist Studios in Portsmouth, many of her landscapes reflect the Seacoast area and recently the Maine coast. Professional experience also includes her work over the past decade, as an art therapist at Exeter Hospital.
Björn Runquist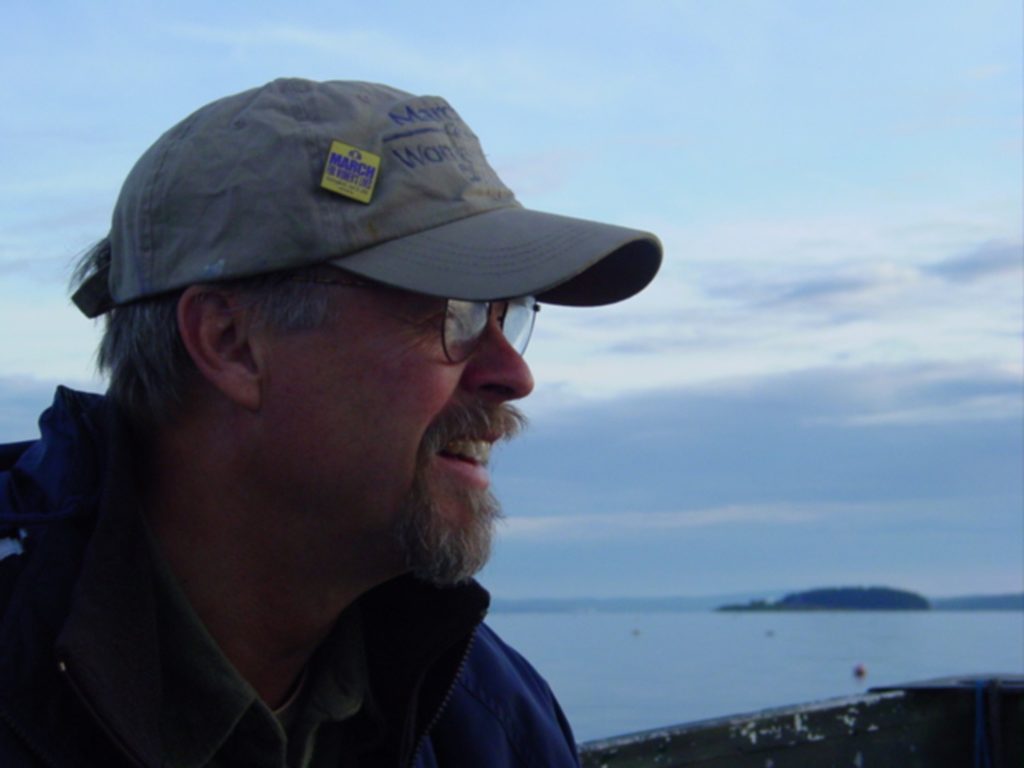 Björn Runquist has work in the permanent collection of the Farnsworth Museum and has exhibited widely in galleries on the East Coast from Florida to Maine, including the Caldbeck in Rockland, the Connecticut Biennial at the Bruce Museum in Greenwich, The Center for Maine Contemporary Art in Rockland, and the Allan Stone Gallery in New York. He was featured in Maine Home & Design in January 2018. He is also listed as one of Maine's 60 artists "to collect now, while you can".
Matthew Russ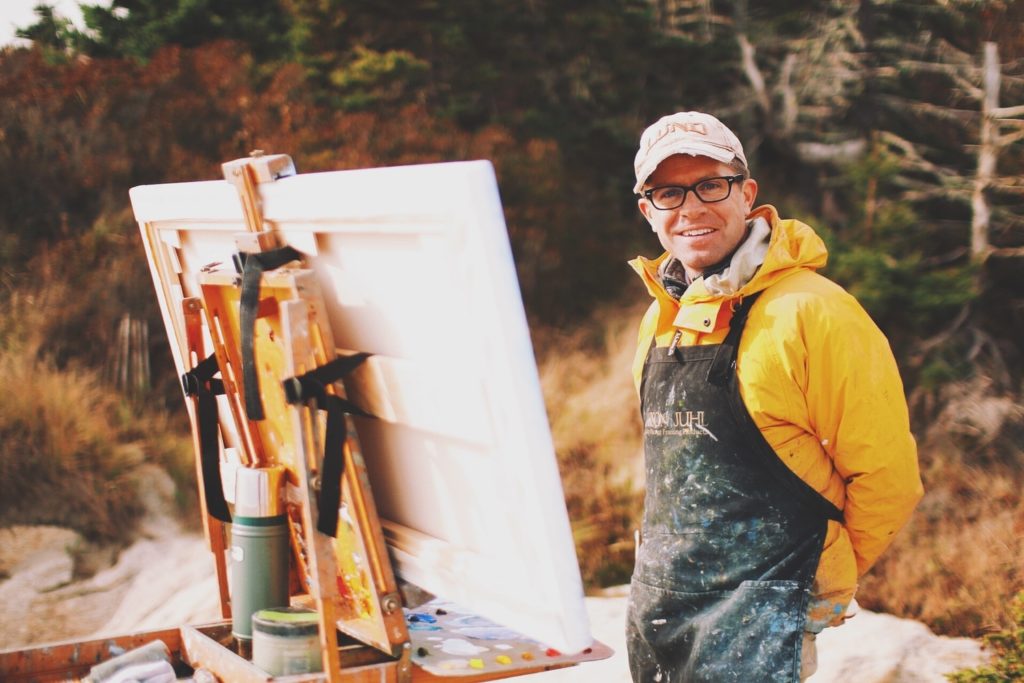 Matthew Russ was born in Portland and raised in Cape Elizabeth. He studied at Colby College, majoring in studio art with a concentration in oil painting. He lives in Waterville, where he maintains a studio that serves as a staging area for outdoor painting excursions throughout the state. He is represented by Portland Art Gallery. For more information, please visit www.matthewruss.com
John Santoro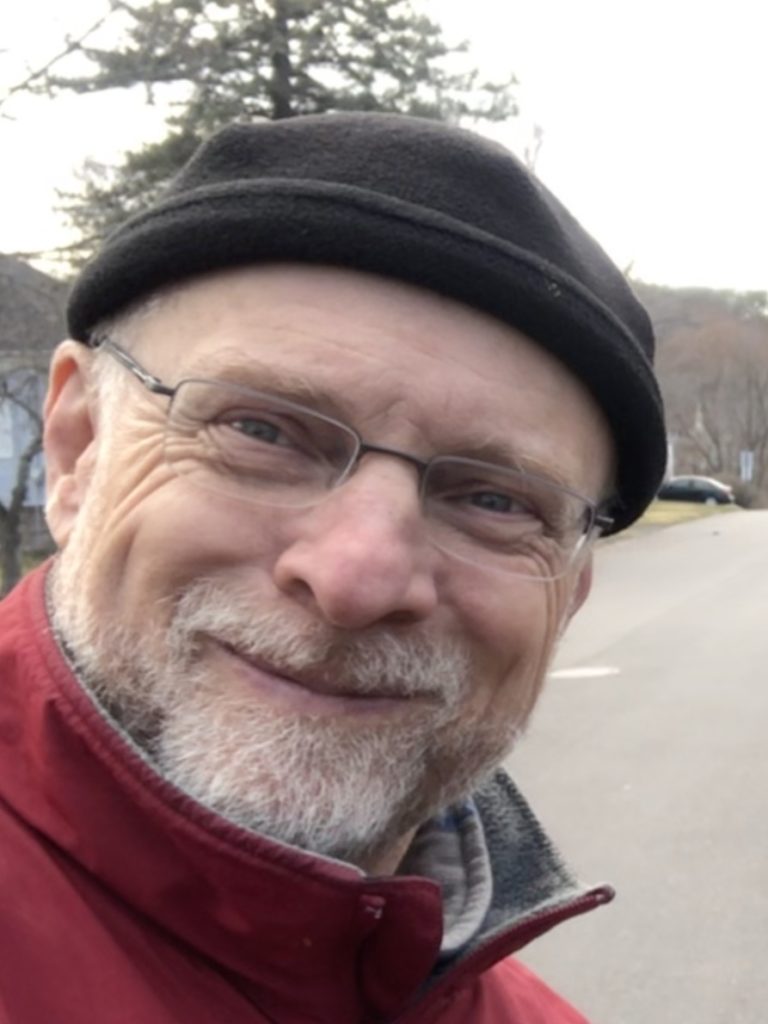 Portland based artist John Santoro grew up in New York's Hudson Valley and received his MFA from the Vermont College of Fine Arts. John works primarily in oils, painting the marshes, fields and quiet places along Maine's southern coast. His work is held in private and corporate collections across the country.
Janet Sutherland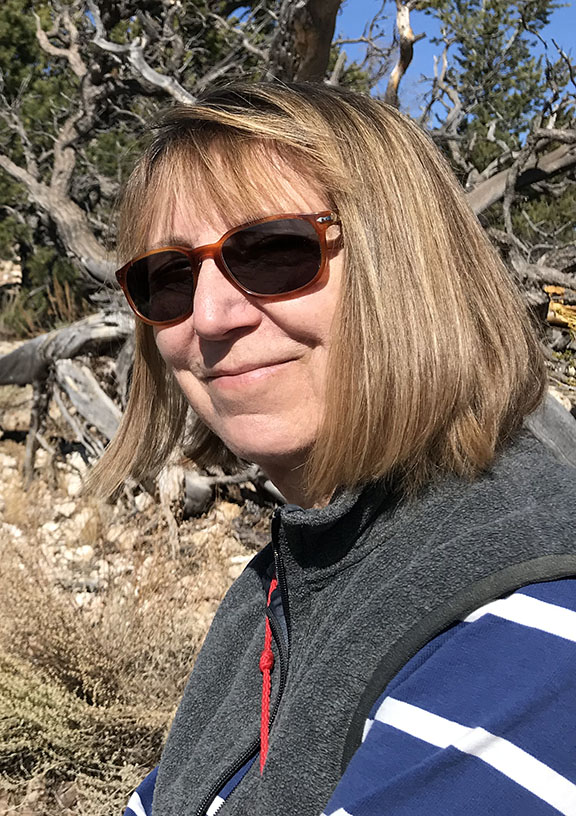 A Cooper Union School of Art graduate, Janet has painted plein air for over two decades and regularly participates in juried national events. A recipient of numerous awards, she has been juried into the Oil Painters of America and the Rockport Art Association & Museum, among others. Her work is shown at Roux & Cyr International Fine Arts, Portland, ME.
Graham Wood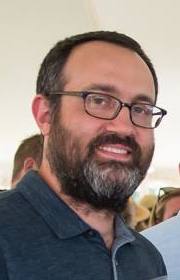 Graham Wood lives in Cape Elizabeth with his wife Lucy and their twins, Emmett and Edie. He has an MFA in Painting from The School of Visual Arts in NY. For Graham, there is nothing like painting in nature. He is inspired to capture what he sees and relishes the peacefulness of being in nature. Standing in front of the ocean is a meditative break from the daily routine. He is the owner of Ocean House Gallery & Frame and makes art and plays music.